Pittsburgh Penguins: Top 8 Things to Watch Against the Calgary Flames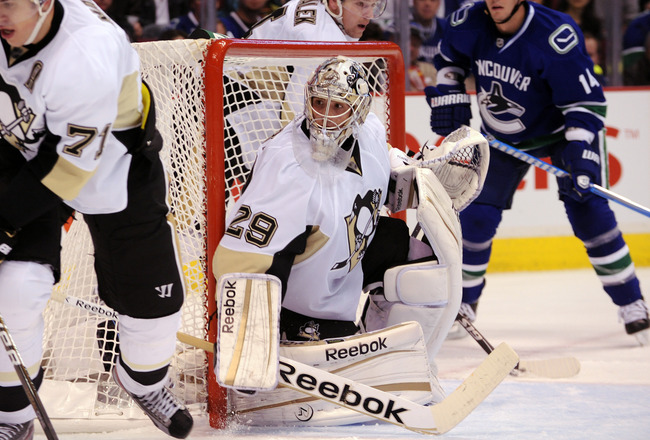 Marissa Baecker/Getty Images
The Pittsburgh Penguins opened their 2011-2012 season with a 4-3 shootout victory over the Vancouver Canucks. Their next game is in Calgary against the Flames.
It is probably advantageous for a team to see their flaws early on in the hockey season. Both teams got a glimpse of areas where they can improve in Thursday night's game.
For the Pens, there were some pleasant surprises and some areas that reared their ugly head just as they did last season.
With any luck, the Penguins will take two more points in Calgary tonight. If you are looking for some in game commentary, follow me on Twitter @shootinthepuck .
The eight slides that follow will likely be topics of discussion. There will also be things that surprise us as well.
After one game, the Penguins certainly showed that they have room to improve. They also reminded their fans what a strong, talented team they are with their ability to find some way to get two points.
Marc-Andre Fleury
Marissa Baecker/Getty Images
Marc-Andre Fleury showed both sides of his game in the season opener. He had some mental lapses, an awful goal and some absolutely stellar play.
In the end, Fleury got the two points. Certainly, Penguins fans would like him to eliminate the avoidable mistakes. If he does that, the team should have a much easier time winning.
Matt Cooke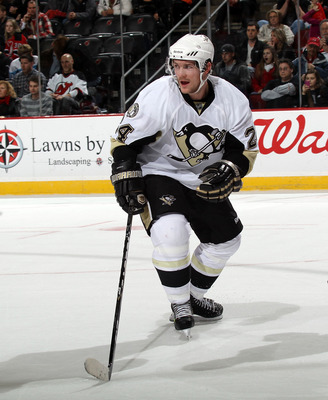 Bruce Bennett/Getty Images
Matt Cooke certainly will not win the Art Ross or Rocket Richard trophy this season. But after one game, he contributed a lot more positives than negatives.
He drew a penalty, scored two goals (one power play, one shorthanded) and more importantly did not attempt to injure anyone. Cookie was very humble in his post-game interview.
While I still remain skeptical that he can avoid trouble over 82 games, I am pulling for him to keep it together both for his sake and the betterment of the team.
Evgeni Malkin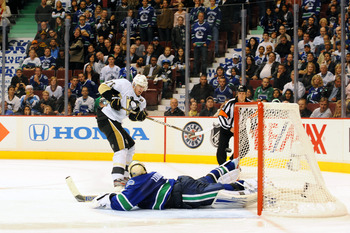 Marissa Baecker/Getty Images
Evgeni Malkin tried way too hard in the opener. For some reason, that is a criticism people have been repeating over and over after the first game.
After his past two season, I'm unclear why anyone would be unhappy with Geno trying to make a difference. This is the more motivated player that he has proclaimed himself to be.
Yes, he can grip the stick a bit less tightly, and ideally he would stop taking dumb penalties. What you have to love is how strong he looked skating and the fact that he mentally hung in the game until he ended it with a nice shootout goal.
Power Play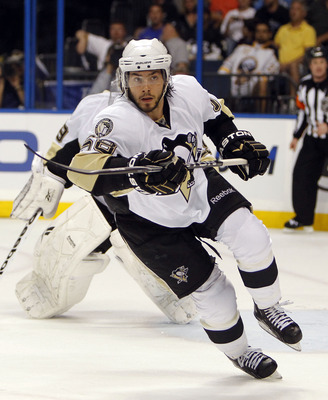 Eliot J. Schechter/Getty Images
The Penguins power play seemed to make a conscious effort to have five guys on the ice moving around. Sometimes it looked pretty confused, but the end result was two goals.
If the Penguins make teams pay for penalties, they are an infinitely more dangerous team. Last season teams caught on to the fact that this team was a train wreck with the man advantage. Using a solid power play as a deterrent will go hand in hand with their success, especially in the playoffs.
Jordan Staal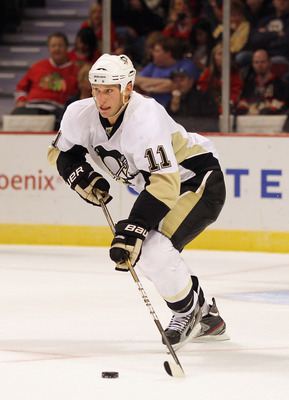 Jonathan Daniel/Getty Images
Jordan Staal left the game with what was described by coach Dan Bylsma as "dehydration." The local media seems to think a controversy is brewing, reporting that Staal had a wrapped toe earlier in the week.
Bylsma continues to emphasize Staal will play against the Flames. Even if he does, if they are hiding an injury, Staal may be limited.
Playing with a Lead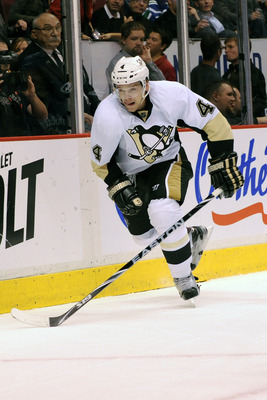 Marissa Baecker/Getty Images
The Penguins had leads of 2-0 and 3-1 in the Canucks game. As we witnessed all too often last season, the team wasted the chance to claim two points without the other team having a shot at them (and gaining the overtime point).
This team has to get better with leads. There is too much talent here to be content with blowing leads and not closing games out.
Steve Sullivan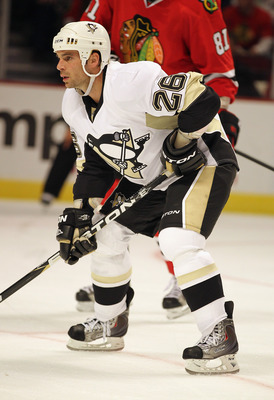 Jonathan Daniel/Getty Images
Steve Sullivan was one of those signing that did not receive much fanfare. To be honest, I did not think very much of it either.
While it was only one game, Sullivan looked shot out of a cannon. If he plays like that all season with Evgeni Malkin and James Neal, he will be in the running for the Masterson Trophy.
James Neal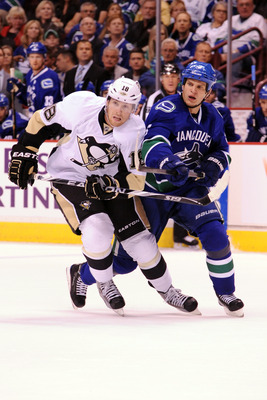 Marissa Baecker/Getty Images
James Neal played a great opening game. His goal was not pretty, but that is exactly what he needed to see. Get the puck at the net and good things can and will happen.
The only gaffe I noticed in the game was a time when Neal found himself with the puck at the back of the slot, yet still forced a pass to Malkin. If Neal can keep getting the puck at the net and not looking to be fancy, he should have a great season.
Keep Reading

Pittsburgh Penguins: Like this team?