Washington Capitals: 5 Players Who Could Have Made the Team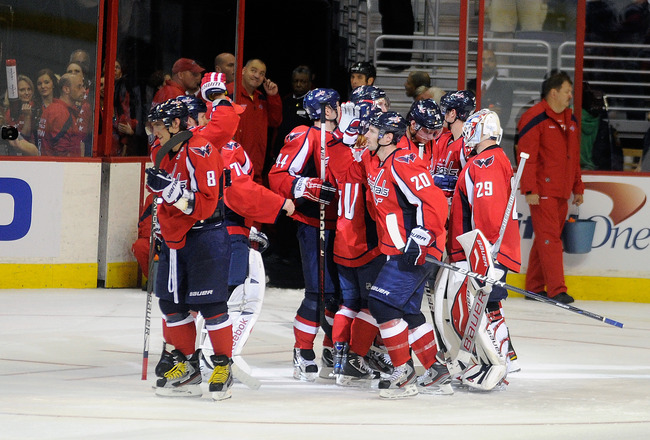 Greg Fiume/Getty Images
It has been five months since the demise of the Washington Capitals in the Eastern Conference semifinals, and the look of the team has drastically changed. Out are old-new additions Jason Arnott and Marco Sturm. In are gritty two-way players Joel Ward and former Capital and Potomac, MD native Jeff Halpern.
Unfortunately, not everybody could make the team out of training camp, but there were some players that could have added so much to the team had they not been cut. Five players come to mind immediately.
Dmitri Orlov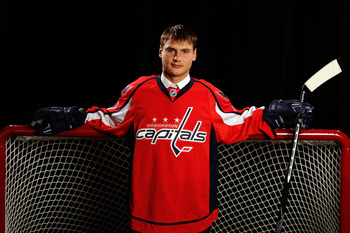 Jamie Squire/Getty Images
Personnel has always been a concern on the blue line, with many different players rotating in and out of the starting six. Luckily for Washington, five of those defensemen this season are likely permanent fixtures: Mike Green, Roman Hamrlik, Karl Alzner, John Carlson and Dennis Wideman. However, the sixth spot has always been a position to debate.
Jeff Schultz is a Boudreau favorite, and has shown glimmers of hope in the past. Unfortunately, he is also extremely inconsistent, and offensively ineffective. More misfortunes for Washington are the injuries to veterans John Erskine and Tom Poti. While Poti's injury may be a blessing in disguise, allowing Washington to get under the salary cap, it drains the depth on the blue line.
However, the man who should get the job is Dmitri Orlov. The 20-year-old, former second-round draft pick has spent two seasons splitting time between the Hershey Bears of the AHL, and Metallurg Novokuznetsk of the KHL. Orlov is physically adequate at 6'0" and 200 pounds, and is one of the most talented prospects in the organization for Washington.
Christian Hanson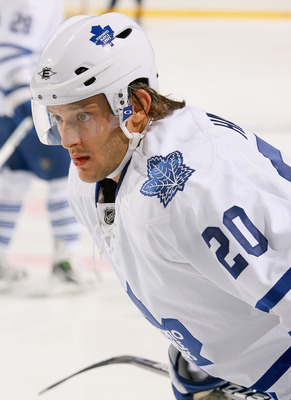 Rick Stewart/Getty Images
Christian Hanson is a bit of an unknown commodity, but has 42 career NHL games under his belt for the Toronto Maple Leafs. Hanson also plays a position that is a concern for Washington. Hanson is a gritty, third-line type of center, something that Washington has addressed as one of their concerns.
As it stands, Brooks Laich is going to fill the third-line center spot, however it has been shown he is more effective while playing on a wing, rather than a center spot. Mathieu Perreault and Marcus Johansson are much too small to play this spot, while Jeff Halpern is currently centering the fourth line.
Hanson is not the only choice for this spot though, as there is another physically imposing center who could have filled the spot as well...
Mattias Sjogren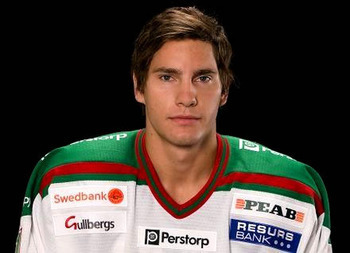 That man is Mattias Sjogren. Now, I'm not as big of a fan of Sjogren as some people are, but he has the ability to wow people. He was regarded as a possible Rookie of the Year candidate before training camp; now, he is playing in Hershey.
Sjogren is very similar to Brooks Laich in the style of play and size, but Sjogren's youth definitely showed in training camp and preseason games, as he did not make too much of an impact.
Luckily for Sjogren, he will probably get another chance to prove himself if somebody gets hurt, or if a third- or fourth-line player stops performing. However, I find it difficult to believe D.J. King or Jay Beagle deserve a roster spot more than him.
Braden Holtby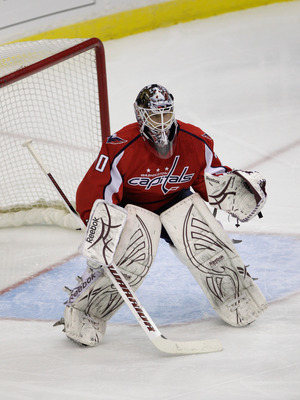 Rob Carr/Getty Images
This is more of a respect of his talent, rather than him being better than Michal Neuvirth or Tomas Vokoun. Braden Holtby is the future of the Washington Capitals organization in net, and is ready for NHL action. Unfortunately for him, there are two better goalies in front of him.
The signing of Tomas Vokoun definitely caused him to lose a roster spot, but it could end up helping Holtby. Another year in Hershey, with a few NHL cameos, could refine his game even more, and make Michal Neuvirth expendable.
Cody Eakin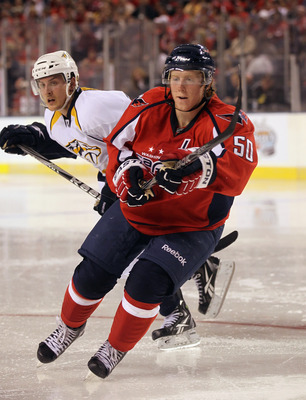 Bruce Bennett/Getty Images
Last but not least is the man who should have been guaranteed a roster spot from the beginning of camp in my opinion. I will admit I like Cody Eakin more than most others, but he possesses all the qualities you want in an NHL player.
Eakin was a member of the 2011 Canadian World Junior team, as well a key player for the Western Hockey League champion Kootenay Ice. He may be a bit undersized for the NHL, but he is athletic enough to make up for it.
He also is much more offensively talented than some of the players who made the team over him, without sacrificing much defensive ability. He also has a very high motor, something that certain players in Washington (see Alexander Semin) don't. It is a shame Bruce Boudreau could not find a roster spot for Cody Eakin, because he could provide so much to the team.
Keep Reading

Washington Capitals: Like this team?