NHL Predictions 2012: Predicting Pittsburgh Penguins' Western Canadian Road Trip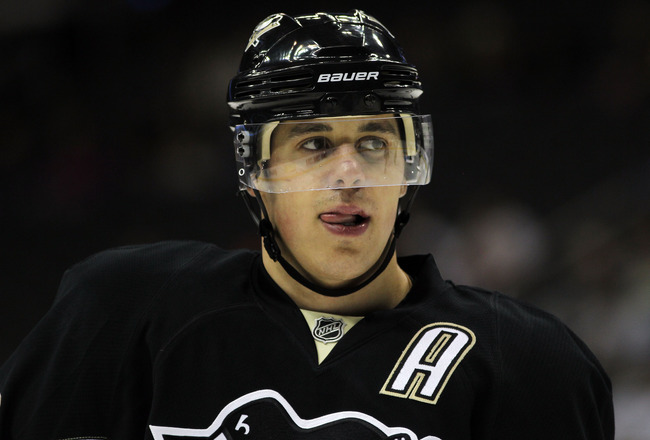 Jamie Squire/Getty Images
It's a hockey night in Vancouver!
At long last, the Penguins' season opens tonight in Vancouver. The Penguins actually open their season in a difficult way because they have to face all three Western-Canadian teams right off the bat.
Not only are two of these teams very competitive, but the travel is brutal for the first three games. The Pens play three games in four nights and travel all over Western Canada.
It'll be tough for the Penguins to start 3-0, but they are more than capable of doing it.
One thing is for sure that most of these games will be close nail-biters!
Here are some fearless predictions regarding the Penguins' three-game Western-Canadian road swing.
Penguins 3, Canucks 2 (F/OT)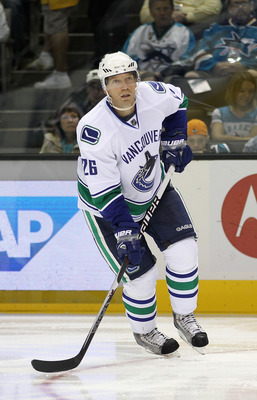 Ezra Shaw/Getty Images
The Pittsburgh Penguins were crushed by the Vancouver Canucks last time they played in British Columbia. No-name goalie Alexander Pechursky made his debut appearance in mop-up duties because the Penguins didn't have a legitimate backup they could dress.
This time around, expect to see a game with plenty of shots on both sides and a plethora of great saves from two elite Canadian goaltenders.
The Penguins will need to get on top of the Canucks early to set a tempo and get the crowd out of the game. This won't be hard to do because it's the first game of the regular season. If any of the players aren't amped, then they don't have a pulse.
The Canucks defense is a bit thinner this year because of the loss of Christian Ehrhoff. Meanwhile, the Penguins have unbelievable star power with Evgeni Malkin, Chris Kunitz, Kris Letang and James Neal.
The Penguins will cash in on the power play and Malkin will record the game-winning goal in a tight game between two heavyweights.
Flames 5, Penguins 2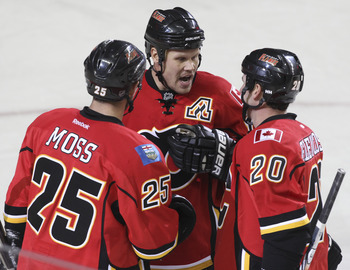 Mike Ridewood/Getty Images
This is the Flames' opening game and after a disappointing season last year; they really want to start off strong. Emotions will be running high for the fans in Calgary.
Meanwhile, the Penguins will be coming off an emotional game against Vancouver on Thursday. The Pens are a great team but it's only natural to come down a bit emotionally after such a huge game against Vancouver.
The Flames have a great goaltender in Miikka Kiprusoff who will shine in timely moments to give the Flames momentum. Their offense, stacked with guns like Jarome Iginla, Alex Tanguay and Olli Jokinen, will put some pucks in the back of the net to hand the Penguins their first loss.
Penguins 3, Oilers 0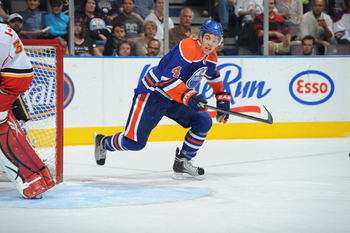 Dale MacMillan/Getty Images
Dan Bylsma and the Penguins have always been known for bouncing back after a tough loss. They will do this after losing to the Flames. The Oilers are a weak team, who are still rebuilding despite having great young players like Ryan Nugent-Hopkins and Taylor Hall.
Marc-Andre Fleury will record his first shutout and the Penguins offensive firepower will be too much for the lowly Oilers. The Penguins will wrap up their second win and fly back to Pittsburgh to take on the Panthers to open up their home schedule.
Keep Reading

Pittsburgh Penguins: Like this team?