NHL Predictions: 10 Old Faces in New Places Under Pressure to Win Now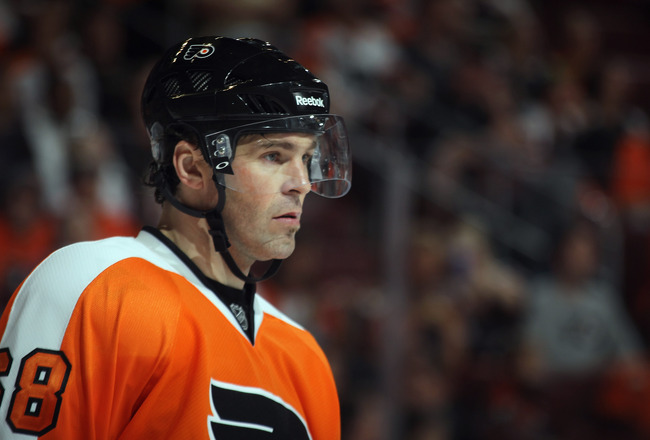 Bruce Bennett/Getty Images
The Philadelphia Flyers didn't sign Jaromir Jagr to a contract just to fill a roster spot. There are expectations in place. But Jags isn't the only new player in a new city that will be counted on throughout the season.
This offseason saw a lot of moving and shifting among NHL veterans, with several key players finding new homes either through free agency or via trades. They will all be counted on to help take their respective teams to the next level and stay consistent in the style of play that made them an attractive asset in the first place.
Teams added depth scorers, defenders to round out cores or a guy to set up their shop in their top six all in hopes of being pushed over the top. Here's a look at 10 guys who found new teams this summer who will be counted on to bring winning ways along with their skills.
Brad Richards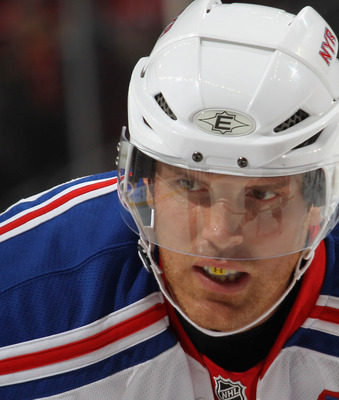 Bruce Bennett/Getty Images
It's like Uncle Ben said: With a huge contract comes great responsibility. Or something like that.
Brad Richards was the most sought after free agent this summer, and the New York Rangers landed their No. 1 center to go along with Marian Gaborik. Gaborik automatically becomes a threat for at least 40 goals with the addition of Richards, and the Rangers are a more dangerous team on opening night this year than they were last year.
Brandon Dubinsky has been skating on the first line with those two, giving New York a ferocious top three to start out with. This is a team that has their identity, and they didn't bring in Richards to run (skate?) in place. The pressure is on in New York for Richards, who will be expected to help launch the Rangers to new heights in the Eastern Conference.
Jeff Carter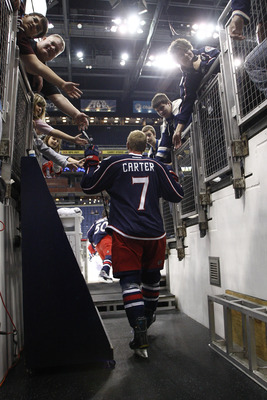 John Grieshop/Getty Images
Columbus has been aching for a reason to be a legit hockey city for the better part of the decade. Fans are getting antsy, and Jeff Carter was brought into town to put the Blue Jackets over the top and to form a Wonder Twins-esque duo with the current face of the team, Rick Nash.
Carter wasn't a cheap date, though. He cost the Jackets Jakub Voracek, a first round pick that turned into NHL-ready Sean Couturier, and a third rounder. That's a lot of futures from a team that wants to start winning right now.
The road to the playoffs isn't a joy ride in the Central Division, home to the Chicago Blackhawks, Detroit Red Wings and Nashville Predators—all three teams represented the division in the playoffs last season. Carter will be expected to produce at a high volume, and if he flops, it's going to be a bad start to what figures to be a long, long relationship given his contract.
Dany Heatley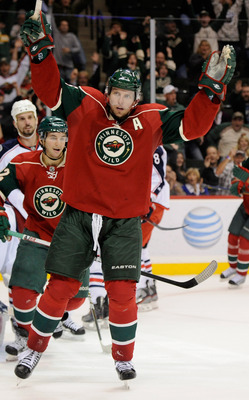 Hannah Foslien/Getty Images
The Minnesota Wild want to be a more offensively dynamic team and took a big step in that direction by acquiring sniper Dany Heatley from the San Jose Sharks. In Heatley, the team has the most legit scoring threat since Marian Gaborik left town, and he's expected to put up some solid numbers for the Wild.
He's joined on the top line by fellow former Shark Devin Setoguchi and underrated-like-thin-mint-Girl-Scout-cookies center Mikko Koivu. The trio clicked in preseason, and fans of the squad should be excited at the prospect of this highly effective line.
But a good preseason doesn't mean anything.
Heatley is going to have to improve on his point totals from last season in Minnesota for the Wild's offseason to seem like anything more than a wash as far as offense is concerned.
Mike Richards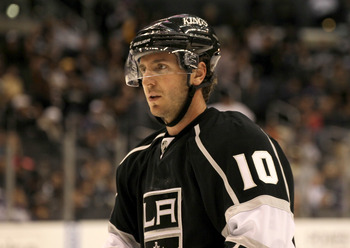 Stephen Dunn/Getty Images
Seeing Mike Richards in black instead of orange is going to take some getting used to. The Flyers sent Richards to the Kings for some serious futures, and he'll be relied upon to anchor the second line for Philadelphia-West.
He's one of the best two-way players in the game and knows what to do in all three zones with or without the puck. Looking at the Cup champions since the lockout, it's clear that a team has to be strong up the middle to contend for the title. And the Kings are now just that because of Richards.
LA will count on him to do everything for him that he did for Philly—backcheck like a madman, throw the occasional big hit and put up a healthy dose of points. Richards, along with several other key acquisitions for the Kings, will be looked to to help elevate the Kings from a team that barely made the playoffs to contending for a Pacific Division crown.
Tomas Vokoun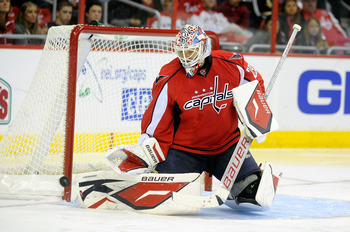 Greg Fiume/Getty Images
Could Tomas Vokoun be the missing link for a Capitals team that seems to be made up mostly of daisy chains come playoff time? They are betting yes, given the one year contract that he was given this summer.
The deal was undoubtedly the biggest steal of the offseason, with Vokoun taking substantially less money than he was worth (or could have made for all the extra time to work on his golf swing in Florida) for a chance just to see a postseason hockey game.
He was probably like a kid in a candy shop when he first walked into the locker room, seeing guys like Alex Ovechkin and knowing that they were on his side now and that he had a legit shot at making some noise in the playoffs.
But this wasn't a one way street-type deal. The Caps are expecting Vokoun to solidify a position that has been somewhat shaky come the postseason. Anything less than a trip to the Cup finals will probably be considered a shortcoming for both Vokoun and his new team.
Ilya Bryzgalov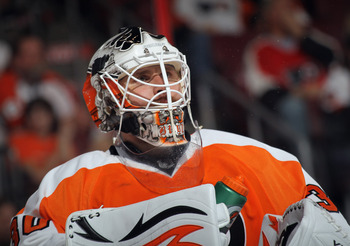 Bruce Bennett/Getty Images
There isn't a goalie on the face of the planet under as much pressure as Ilya Bryzgalov in Philadelphia. The team gave itself a Joan Rivers kind of facelift over the summer to make room for the Russian netminder to fit in under the cap.
Spin it with whatever kind of drama you want. Mike Richards and Jeff Carer were both moved in strait up hockey deals in part to make room for Bryzgalov's cap hit. If he comes on board and is the goaltending savior that the Flyers think he is, then these moves go off without a hitch.
But if the team in front of him has issues gelling and the team starts drooping below .500, fans will turn on him first. This is a long contract that implies a long relationship. If he tanks, Bryz will be in the seventh circle of hockey hell—trapped in Philadelphia's net after the team made moves to accommodate him for several years in succession.
Jaromir Jagr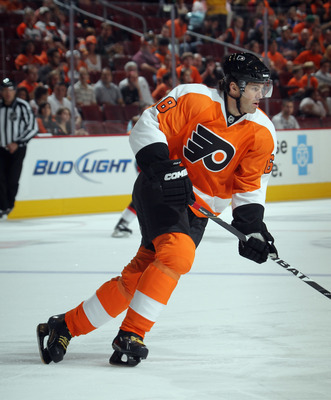 Bruce Bennett/Getty Images
I got my first Jaromir Jagr card in 1993. I was six years old at the time. And now the old timer has found his way back to the NHL after taking a few years off to play in the KHL. And he's in a Flyers uniform. This is all very strange to me.
Regardless, Philly will be counting on Jagr to show flashes of his old self to help prop up a top six that is just a tad bit weaker than it was been in years gone by. The Flyers got younger in trading Mike Richards and Jeff Carter and will most likely be better off for the deals in the long run. But there is some pressure on Jagr to perform well and put up good numbers to help ease the offensive burden on James van Riemsdyk and Claude Giroux.
Simon Gagne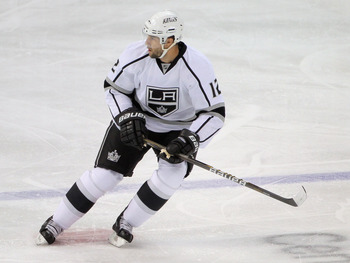 Doug Pensinger/Getty Images
The LA Kings had been in the hunt for a goal scoring left wing for a few offseasons now and hope they found their guy in Simon Gagne. While it seems like he has been in the league forever, he is only 31 and should still have some good hockey left in him.
Gagne's days as a 40-goal scorer probably came and went with his various injuries, but he fits in nicely for the Kings and their top six. Health is always the question for him, though, and LA could be playing with Flyers...erm, I mean fire, by counting on Gagne and Justin Williams to stay off of the injured reserve and on the ice to put on points.
If he stays healthy, then he'll be relied on to provide secondary scoring for the Kings. If he spends half the season injured, then he'll be a disappointment.
James Wisniewski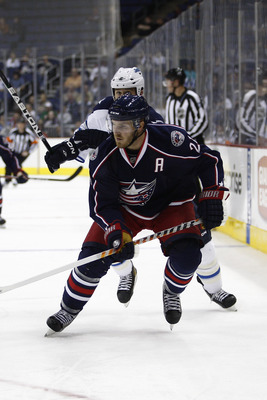 John Grieshop/Getty Images
James Wisniewski's tenure as a Columbus Blue Jacket hasn't gone exactly according to plan. He was smashed by Breandan Ban-ahan with an eight game suspension for a late hit on Cal Clutterbuck during the preseason.
I would normally make a snappy remark along the lines of "who gets suspended during the preseason?" But that remark is clearly off-target at this point. But I digress.
The Blue Jackets were in the hunt for a premier puck-moving blue liner and think they found their guy in the young and feisty Wisniewski. The team will be counting on him to get the puck to their talented forwards like Rick Nash and Jeff Carter and to run the power play effectively.
Anything less than Wisniewski being a top-15 or top-20 defender won't fly given his large contract.
Christian Ehrhoff
Richard Wolowicz/Getty Images
Like James Wisniewski, Christian Ehrhoff was brought into town to feed the puck to the talented forwards in Buffalo and to quarterback the power play. He managed to raise his stock significantly during his time with the Vancouver Canucks, where he became known for his smooth skating and pinpoint passing.
He brings those skills to a revamped Sabres team that will face heightened expectations to win across the board due to the influx of talent during the offseason. That Ehrhoff isn't the only newcomer may ease some of the pressure to perform, but he will still be counted on to be a top-15 defender. Again, anything less for the money he is making could be considered a bust.
Keep Reading