NHL Predictions 2012: Possible Dark Horse Winner for Each NHL Trophy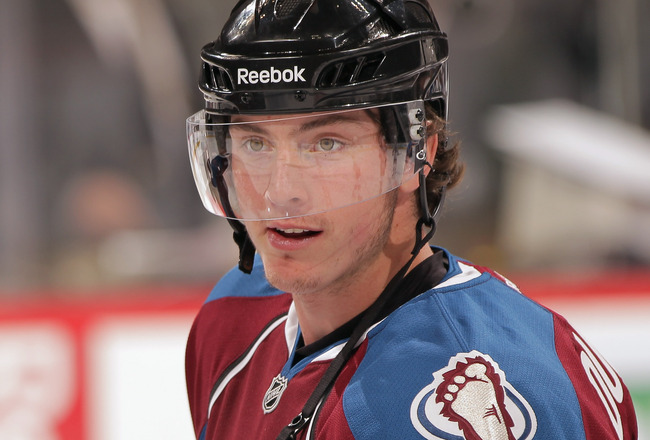 Doug Pensinger/Getty Images
You always hear hockey fans saying that they are sick of having the same few players crammed down their throat by advertisements and media coverage. Well, this article is for those fans.
Let it be known, this is a slideshow predicting one player who could win each major NHL trophy. And there is not a mention of any players named Sidney, Evgeni, Alex, Daniel or Henrik.
In a sense, it's hard to consider the players here "dark horses" based on how talented they are. But these are guys not many pundits are picking to take home extra hardware at the end of the season.
Are some of these selections long shots? Of course! But that's the point. It's no fun if every writer on the face of the planet predicts that Crosby will win the Art Ross despite missing 20 games. Or however many it ends up being.
So without further delay, here are my dark horse selections for each major NHL trophy.
The Calder Trophy: Mark Dekanich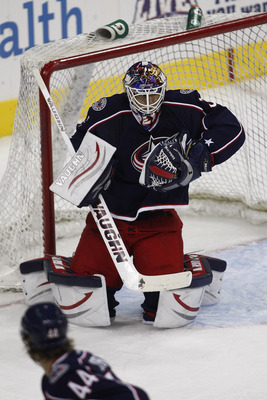 John Grieshop/Getty Images
My selection of Mark Dekanich for the Calder Trophy won't surprise anyone who reads my posts with some regularity. I'm really high on this kid and so are the Columbus Blue Jackets, who brought him in on a one-way deal this summer.
Few teams in the NHL develop goaltenders as well as Nashville does, and that is the system that Dekanich is coming from. He was lights out in the AHL last season, just like he has been at every level he's played at.
The Blue Jackets are only a goalie away from making some noise in the Western Conference, and Dekanich could be that guy. Steve Mason has disappointed mightily since having an outstanding rookie campaign and is more than likely on a short leash in Columbus. If Mason struggles early, look for Dekanich to take the reins and never look back.
If Dekanich takes over the starting job quickly after returning from his current injury, I wouldn't be the least bit surprised to see him lead the Blue Jackets into the playoffs and maybe even take home the Calder at the end of the season.
The Lady Byng Memorial Trophy: Michael Grabner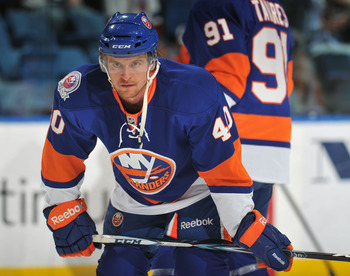 Christopher Pasatieri/Getty Images
The Lady Byng Trophy has belonged to the same two players since the lockout ended in 2005: Martin St. Louis and Pavel Datsyuk. It's time to get a little new blood going for the trophy, and Michael Grabner fits the bill perfectly.
He's coming fresh off a 30-goal season for the Islanders, and if he can turn in another high-quality season while staying out of the box he could sneak onto a few ballots for the Lady Byng.
Last season through 76 games the former first-round pick only had 10 PIM.
The James Norris Memorial Trophy: P.K. Subban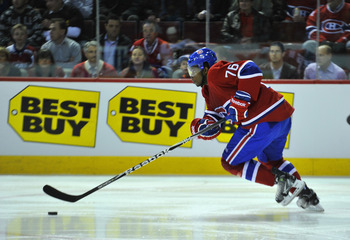 Phillip MacCallum/Getty Images
P.K. Subban had an outstanding first full season and will have no trouble building off of his 38-point year. While some younger players struggle a bit to figure out where they fit in in the NHL, this is a guy who is chock full of confidence and knows his own game well.
To bring home the Norris, Subban will have to be sharper in his own end, as a minus-eight won't fly in the best-defender-in-the-NHL conversations. I know it's beyond a stretch to think that he could improve his game to the point of winning the Norris Trophy, but the skill set is certainly there.
He could very well end up in the top 10 in scoring for blue liners this season, and if he can find a way to hone his game in the defensive zone, Subban's name could pop up in Norris chatter.
The Vezina Trophy: Jimmy Howard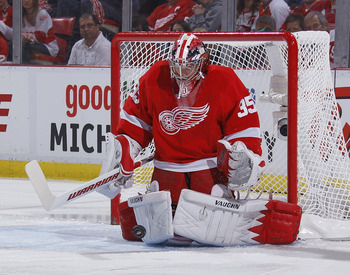 Gregory Shamus/Getty Images
After Jimmy Howard had a rock solid rookie season, his numbers sank a bit last year. Most of that can be blamed on Detroit's oddly mediocre defense, and it's hard to argue that the group will be much better off without Brian Rafalski.
More responsibility will fall on Howard this season as Detroit's newcomers and younger skaters settle in. If his play in the second round against San Jose was any indication, it seems that Howard has found a new level—if he can play like that on a consistent basis, a Vezina could arrive on his shelf soon.
Frank J. Selke Trophy: Patrick Marleau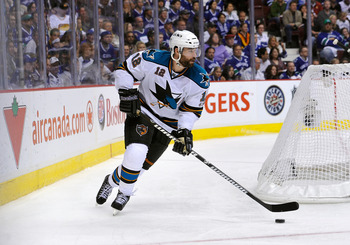 Rich Lam/Getty Images
This would be a tough trophy to win when guys like Pavel Datsyuk are putting up excellent offensive numbers while notching two million takeaways a year. But one of the guys that seems to get lost in the East Coast shuffle when it comes to defensively sound forwards is Patrick Marleau.
He doesn't have a ridiculous plus/minus stat line, but I am iffy at best on that particular measure of a forwards worth when it comes to defense. Marleau is a guy who plays quite a bit on the power play, and those goals don't count in this calculation.
He is responsible in all three zones and uses his outstanding speed to backcheck when he gets caught up ice. And he is a rare top-line forward that plays on the power play and on the penalty kill.
Lady Byng Memorial Trophy: Matt Cooke
Jamie Sabau/Getty Images
Matt Cooke has looked like the second coming of Mario during his first three games, and he hasn't taken part in any professional wrestling-type, career-ending hits either.
I'm starting to think the man is reformed.
Someone get this man a trophy for his newly found level of sportsmanship!
Art Ross Trophy: Ryan Getzlaf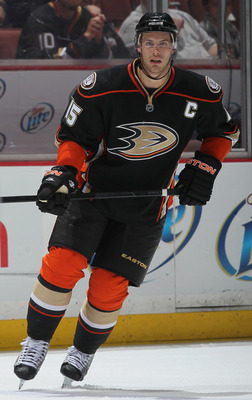 Jeff Gross/Getty Images
This pick doesn't look great so far, as Ryan Getzlaf didn't score at all during Anaheim's trip to Europe. But that's why they play all 82 games.
He skates on one of the most offensively talented lines in the NHL with Corey Perry and Bobby Ryan. That is an untapped gold mine of points for Getzlaf, who only put up 76 last season. I don't mean only as to say that 76 points isn't solid.
It's just that there is a lot of untapped talent there. Ryan is only going to improve, and Perry emerged as one of the league's elite goal scorers last season. And Getzlaf is at the center of it all. As injuries continue to hamper Evgeni Malkin and Sidney Crosby, and Alex Ovechkin is having issues with his coach, this might be the season we see a dark horse win the Art Ross.
Keep an eye on Getzlaf once he settles in. He's due for a monster season.
Ted Lindsay Award: Matt Duchene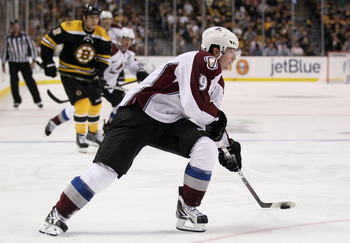 Elsa/Getty Images
Matt Duchene is the kind of player that tends to take home the Ted Lindsay Trophy.
He is capable of taking over long stretches of hockey games—the only thing missing for the young pivot is a particular level of consistency. If he's able to find that, and maintain his top gear through longer stretches, then his name could be mentioned as a top-15 player in the league.
He's that good.
This may not be his season as the Avalanche still have some growing pains to deal with. But he is heading into his third NHL season, and that is when the younger guys have been really breaking out since the lockout. Duchene has increased his point production through his first two years.
The next step is elite status.
Maurice Richard Trophy: Thomas Vanek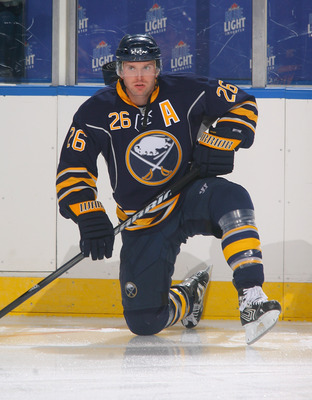 Rick Stewart/Getty Images
According to ESPN.com, Thomas Vanek is on pace for 82 goals. So if he can maintain his current scoring rate, then clearly the only forward that has a prayer of catching him is Phil Kessel.
All sarcasm aside, I honestly believe Thomas Vanek has the goal scoring talent to take home the Rocket Richard trophy. It appears that he's found a high level of chemistry on Buffalo's top line, and the entire top-six group figures to improve their numbers based on the higher level of defenders that are feeding them the puck.
His career high is 43 goals, and that was in 2006-2007. So Vanek is a dark horse in every sense of the word. But if he can continue to roll with a line that he clicks with, maintain power-play time and keep skating with confidence, then he is a player who could come out of nowhere (kind of like Corey Perry) to win the goal scoring race.
Keep Reading