NHL Predictions: Picking All 16 Playoff Teams in 2011-12
Bruce Bennett/Getty Images
The NHL regular season starts today. Let the hockey fanatics rejoice!
This season sees the return of the NHL to Winnipeg, Sidney Crosby starting the season on the Penguins' bench and Drew Doughty finally suiting up for the Kings in Los Angeles. Among all the story lines unfolding, the big question is this: Who are the elite 16 who will make the playoffs this year?
Here are my picks for playoff-bound teams and the positions in which they'll finish. Let the debate commence.
Eastern Conference: 8. Winnipeg Jets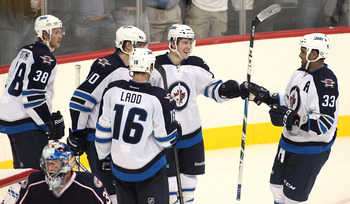 Marianne Helm/Getty Images
Call it the feel-good story pick.
Sometimes, a change of scenery can do a team some good (think 1995-96 Colorado Avalanche). This club wouldn't be a playoff contender on paper, but with a great storyline around the NHL returning to Manitoba and fans who are sure to rock the house, we may see this team overachieve.
The Jets could surprise this season, and you'd better believe they'll be tough to play against at home. Who wouldn't love to see this team make the playoffs in their first year back in Winnipeg?
7. Pittsburgh Penguins
Jonathan Daniel/Getty Images
They Sidney Crosby saga has distracted from the fact that this is still a very good hockey club that is capable of making the the playoffs again this season.
With or without Crosby, they have a potent offense led by Evgeni Malkin. If Marc-Andre Fleury can have a consistent year in goal, the Pens should make the postseason.
6. Montreal Canadiens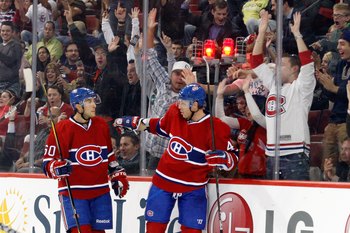 Richard Wolowicz/Getty Images
With Carey Price between the pipes, Montreal will continue to deliver this year. This team seems to be constantly billed as the "over-achiever," but they've performed well and have had several deep playoff runs of late.
It's time to start giving this team some credit for being a top-tier club.
5. Buffalo Sabres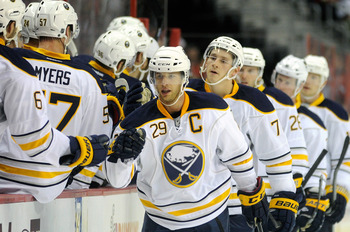 Greg Fiume/Getty Images
Ryan Miller and company will look to improve on last year's seventh-place finish.
The team made some good moves in the offseason, so we should see a strong performance out of this group. Thomas Vanek and Jason Pominville lead the attack, and veterans Christian Ehrhoff and Robyn Regehr anchor the blue line.
4. Tampa Bay Lightning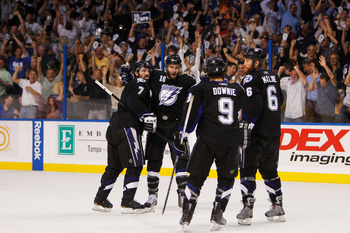 Eliot J. Schechter/Getty Images
Lecavalier and the Lightning finished with 103 points last season and made a deep run into the playoffs.
There is no reason they won't be able to accomplish the same thing this year. Lecavalier, Martin St. Louis and Steven Stamkos lead one of the most threatening offenses in the NHL. The team put up 247 goals last year—look for similar numbers in 2011-2012.
3. Philadelphia Flyers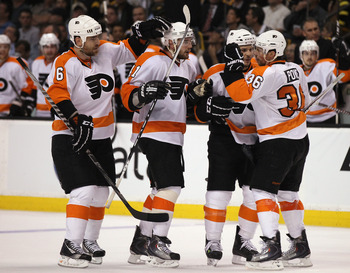 Elsa/Getty Images
The Flyers acquired an elite goaltender in Ilya Bryzgalov. If he plays to his potential, the Flyers will have a good year.
Storylines for the Flyers this season include the return of Jaromir Jagr to the NHL, and a veteran defensive corps that features Chris Pronger and Kimmo Timonen.
2. Boston Bruins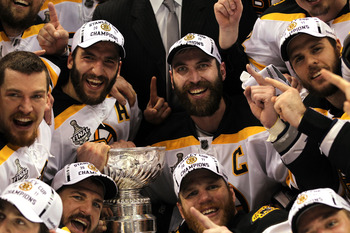 Bruce Bennett/Getty Images
The Bruins seem set for another monster year.
The team's young stars like Tyler Seguin will only have more experience under their belts to draw from. If Tim Thomas can deliver a repeat performance, this team will give a strong showing to repeat as Stanley Cup Champions. The future is bright for hockey in Boston.
1. Washington Capitals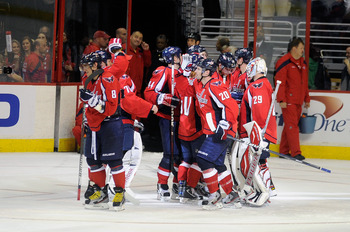 Greg Fiume/Getty Images
The Washington Capitals have been an offensive powerhouse the past few seasons. The team has struggled defensively at times, which has been blamed for their lack of playoff success.
The addition of Tomas Vokoun in net gives the Caps a veteran presence between the pipes that should help address some of the team's issues in their own zone.
Western Conference: 8. Colorado Avalanche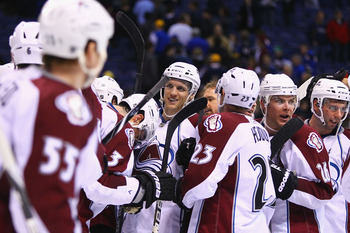 Dilip Vishwanat/Getty Images
I realize this is going to be a controversial pick to squeak into the playoffs in the eighth spot, but the Avalanche made some serious moves in the offseason that should really improve their squad.
They'll have a potent offense led by Paul Stastny, Matt Duchene and Milan Hejduk. Their defense has been solidified with the likes of Jan Hejda and Erik Johnson, and their goaltending is much-improved through Semyon Varlamov and veteran J.S. Giguere.
This is a team that will surprise this year.
7. Anaheim Ducks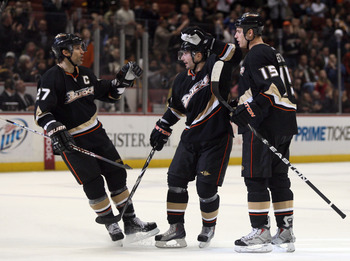 Victor Decolongon/Getty Images
Young captain Ryan Getzlaf and veterans Saku Koivu and Teemu Selanne lead a Ducks team that features a slightly different look from last year. This is a team that will have to find its stride and chemistry fairly quickly, but if they do, we'll see them in the playoffs again this season.
6. Nashville Predators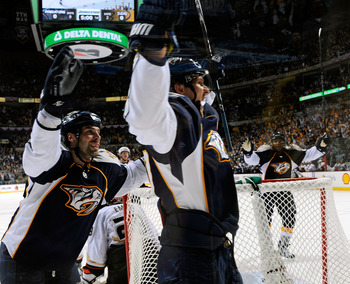 Frederick Breedon/Getty Images
The Predators are going to be a tough group to play against this season. Their defense is highlighted by one of the league's elite goaltenders in Pekka Rinne, and two of the toughest blue-liners in Shea Weber and Ryan Suter. Look for this team to make the playoffs with one of the lowest goals-against averages in the NHL.
5. Los Angeles Kings
Christian Petersen/Getty Images
Now that the Drew Doughty saga is behind them, the Kings can focus on the season ahead. This is one of the best young squads in the league, and they will only get better as they gain experience. It would be a surprise if this team didn't make the postseason again this year.
4. Chicago Blackhawks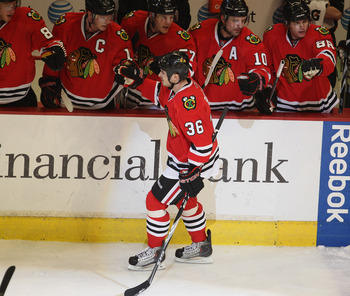 Jonathan Daniel/Getty Images
Chicago still has one of the youngest, most talented teams in the NHL. Just two seasons removed from a Stanley Cup championship, the hunger and passion is still present in this group.
Look for Jonathan Toews and Patrick Kane to have career seasons and lead the 'Hawks to a good finish and a playoff berth.
3. Detroit Red Wings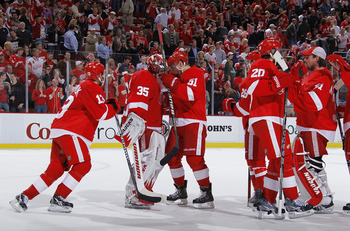 Gregory Shamus/Getty Images
The Wings are still one of the most veteran groups in the league heading into 2011-2012, but age certainly hasn't diminished their skill. This is a group that ended last season with 104 points, and there is no reason to think they won't do the same thing again this year.
2. San Jose Sharks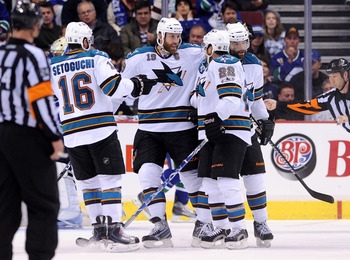 Harry How/Getty Images
The Sharks have been proven playoff contenders for years. The issue is not whether this team will make the postseason, but how far they'll be able to advance.
They face some stiff divisional competition from the Los Angeles Kings, but they should be able to win the NHL Pacific again this year.
1. Vancouver Canucks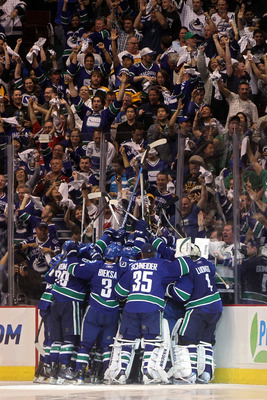 Bruce Bennett/Getty Images
The Canucks have proven that they can win during the regular season with the team they have, and they'll be even more hungry after last year's miss in Game 7 of the Stanley Cup finals.
They won the President's Trophy with 117 points last season, and with a chip on their shoulder, they should be capable of repeating in 2011-2012.
Keep Reading