Toronto Maple Leafs: 2011 NHL Season Opener Just a Day Away
October 5, 2011
Dave Sandford/Getty Images
Break out that bottle opener and put the beer on ice. Adjust the television and make sure you've got enough cash to pay the pizza delivery guy. Dust off that old Gilmour jersey hanging in the back of the closet and set your cell phone to vibrate, because the Toronto Maple Leafs are about to start a new season and nothing else matters.
Some of you might be feeling a bit anxious. Perhaps an air of trepidation has crept into your hockey psyche after watching a few, rather uninspired preseason games. Have early injuries, suspensions and some lackluster play got you feeling a little grumpy?
If that's the case, then you need to sit yourself down on that cushy sofa, then slap yourself hard across the face and snap out of it. It's was only the preseason. It means absolutely nothing. I promise, in just a few weeks it will all be a vague and distant memory.
There is a lot to be hopeful for in Leaf's land. This season looked as promising as any in recent times and it still does. Remember how the Leafs had great preseason performances the last two seasons? None of that meant diddly-squat as the team floundered in the regular season and were also-rans by Christmas.
I am actually quite happy with the mediocre exhibition season. Already, I am convinced this year isn't going to be a repeat of last year.
While some lines have remained intact for the first time in recollection, and show obvious chemistry for it, there still exists a state of flux with others.
Even pros need time to gel and adjust.
No matter how incongruous certain lines may have looked early on, it is by no means a statement of permanency. Don't ever forget that the Leafs are still a rebuilding team, and all we can ask for is improvement year-to-year.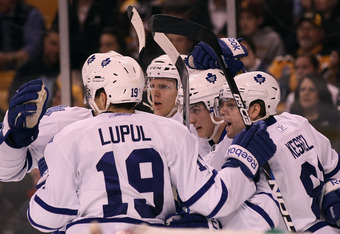 Elsa/Getty Images
I promise you right here, right now, that is exactly what you are going to get.
Sure, the starting lineup against the Canadiens won't be optimal, but it is a noticeable improvement over last year's opening day squad that won its first four games.
Even if Toronto doesn't start the season 4-1, it won't be the end of the world. The NHL isn't a sprint; it's a long, grueling marathon.
More than just a fast start, the Leafs need to play .500 hockey or better at least until the All-Star break. To use last year as an example, I would rather they avoided an eight game losing streak than started the season with four straight wins.
The late addition of centre David Steckel has thrown a monkey wrench into everyone's expected starting lineup. I can't imagine Brian Burke traded for him to have him sit in the press box. Steckel's face-off prowess means Philippe Dupuis will be scratched for the opener. Here is my guesstimation of what the Leafs opening night lineup will look like:
Line 1: Joffrey Lupul – Tyler Bozak – Phil Kessel
Line 2: Matt Frattin – Mikhail Grabovski – Nikolai Kulemin
Line 3: Joey Crabb – Matthew Lombardi – Colby Armstrong
Line 4: Mike Brown – David Steckel – Jay Rosehill
DP 1: Dion Phaneuf – Carl Gunnarsson
DP 2: Luke Schenn – John-Michael Liles
DP 3: Mike Komisarek – Jake Gardiner
Goaltenders: James Reimer – Jonas  Gustavsson
Colton Orr, Philippe Dupuis and Cody Franson will be riding the pine. Steckel may be centering the fourth line, but I expect him to be on the penalty kill every time the Leafs have a face-off in the their own end.
The Leafs finished the preseason with a 4-4 record. Admittedly, there were some ugly parts to their game. The power play, the penalty kill, the efficacy of the top line, neutral zone turnovers and defensive zone coverage when playing five-on-five could all be improved, but there were some shining moments as well.
Gardiner's defensive speed, Frattin's offensive acumen, Grabovski's heart and the overall synergy of his line and the Leafs display of perseverance—to come from behind and win a couple of games—were all something to cheer about.
Sometimes we dwell on the negative too much and lose focus of the positive. Things are going pretty well for the Leafs and their fans. The puck drops for real tomorrow night; the book on the preseason is closed and a new chapter in Leafs history is about to be written.
Are you as psyched as I am? 
The climax of anticipation gives way to a feeling of eternal optimism and a fresh start to a new season. I am sure the Leafs will put on a good show.