NHL: Power Ranking the 50* Best Players Heading into the 2011-12 Season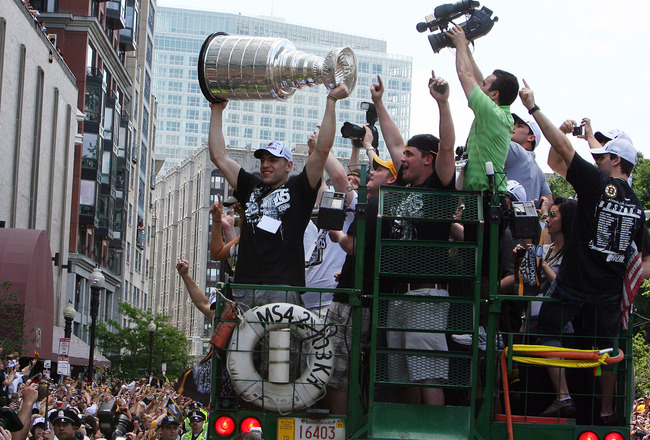 Gail Oskin/Getty Images
In just a couple days, the Boston Bruins will begin their title defense, and the rest of the NHL will officially have a chance at the game's ultimate prize for the first time since last October.
Across the league, every team has leaders and every market has a few players whose faces are on billboards, tickets and pocket schedules. But not every market has a superstar.
As we prepare for the beginning of the coming season, here are the 50 best players in the National Hockey League. Yes, there is an asterisk in the title of this piece, but you'll understand why soon.
TBD: Sidney Crosby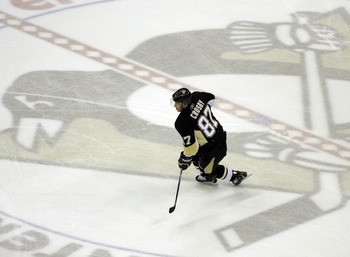 Justin K. Aller/Getty Images
We will be ranking 49 players in this top 50 because it's impossible to determine where Sidney Crosby, without a doubt one of the elite players in the game, fits after his concussion.
On Monday, Crosby stayed on injured reserve with the caveat that he could return without the normally-mandatory seven days because of the length of his injury (and the prestige of the player).
If he can return to 90 percent of what he was last year, the Pens chances of winning the Cup increase exponentially.
49. Roberto Luongo, G, Vancouver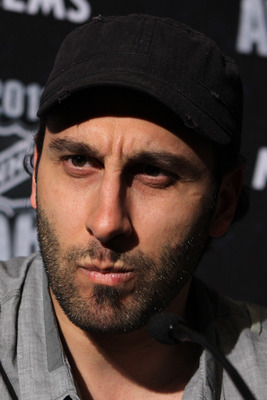 Bruce Bennett/Getty Images
One of the better regular season goaltenders in the NHL, Luongo has an outstanding track record of success in Vancouver. The trouble with Luongo is, outside of the 2010 Winter Olympics, he hasn't won anything but individual hardware.
The Canucks will return a good lineup to a fairly weak division, and are front-runners for another President's Trophy. But it will likely fall on Luongo's shoulders to determine their postseason fate again in 2012.
48. Andrew Ladd, F, Winnipeg
Marianne Helm/Getty Images
Moving from Atlanta from Winnipeg won't help Ladd's chances of appearing on national television, but the captain of the Jets is one of the really good young captains in the NHL. With the young roster around him maturing, he could emerge as a 70-point player this season. But the leadership (and two rings) he brings to the dressing room is where a bigger impact is felt.
47. Chris Stewart, F, St. Louis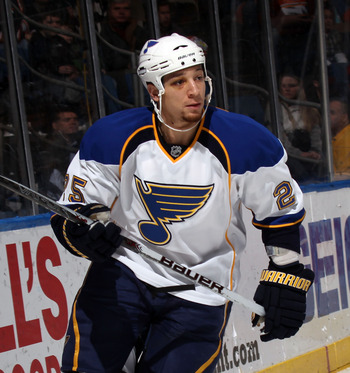 Bruce Bennett/Getty Images
If Stewart can repeat his numbers after being traded from Colorado to St. Louis over even 70 games this season, more people will recognize the quality this young power forward brings to the ice. He'll turn 24 on Oct. 30, is listed at 6'2" and 228 pounds and can fly up and down the ice. He posted 15 goals in only 26 games with the Blues last year, and will show what he can do against some of the better teams in the Western Conference while skating in the Central Division.
46. Christian Ehrhoff, D, Buffalo
Richard Wolowicz/Getty Images
After a career-high 50 points with Vancouver last year, Ehrhoff left the Western Conference for greener pastures in Buffalo.
And by "greener," we mean 10 years and $40 million greener.
With hopes sky high surrounding a vastly improved Sabres roster, a lot of eyes will be on Ehrhoff to not only eclipse 40 points for a fourth straight season, but to take Buffalo to the promise land.
45. Lubomir Visnovsky, D, Anaheim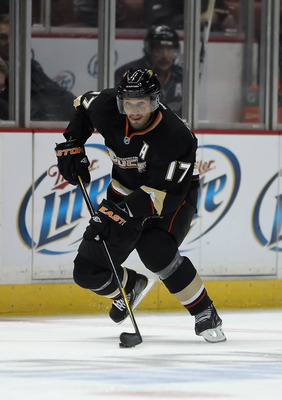 Jeff Gross/Getty Images
Visnovsky has been one of the better defensive blue liners in the game for a number of years, and probably should have been invited to Las Vegas as a Norris candidate after reaching a career-best 68 points. Because of the powerful scoring up front, including the reigning MVP, the group of defensemen in Anaheim is often overlooked but Visnovsky is one of the best.
44. Carey Price, G, Montreal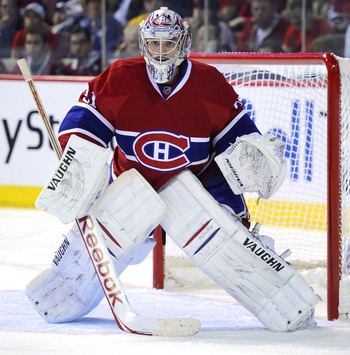 Phillip MacCallum/Getty Images
When the Habs decided to stick with Price over Jaroslav Halak last summer, a lot of people scratched their heads. Only 12 months later, Canadiens fans have confidence that their hyped goalie is worth the attention he's received for years and can lead them to the next level. Now if someone would just score in front of him...
43. Patrice Bergeron, C, Boston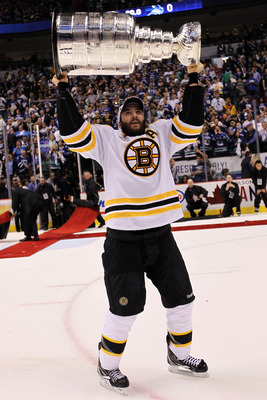 Bruce Bennett/Getty Images
He doesn't talk as much as Brad Marchand, isn't as tall as Zdeno Chara, and isn't as noticeably dominant as Tim Thomas, but an argument could be made that Bergeron is the most valuable Bruins skater. With the Cup victory this spring, Bergeron is a member of the exclusive Triple Gold Club, and is one of the best two-way forwards in the NHL.
42. Dustin Byfuglien, D, Winnipeg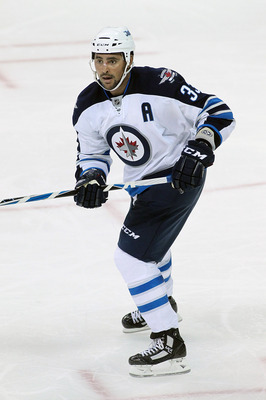 Marianne Helm/Getty Images
He was a freight train in Chicago as a forward, and became a force of nature as a top-scoring defenseman in Winnipeg last year. His size is almost impossible to deal with, and he brings the puck up the ice with ferocity. The only question for the Jets moving forward is whether or not his legal issues in Minnesota will impact his ability to skate a full season.
41. Marc-Andre Fleury, G, Pittsburgh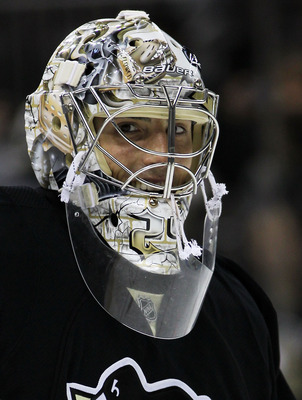 Jamie Squire/Getty Images
"Flower" has a Stanley Cup ring already, and the former No. 1 overall pick was one of the primary reasons the Pens were even a consideration in the postseason last year. With a number of Pittsburgh's key players coming back, he'll have a better group of defensemen in front of him and more scoring to support his efforts on the ice.
40. John Tavares, C, New York Islanders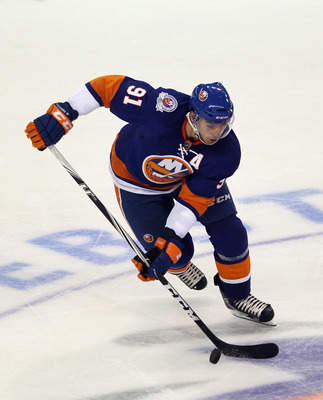 Bruce Bennett/Getty Images
After scoring 29 goals last year while still finishing puberty, Tavares has actually scored more goals in his first two NHL seasons than Patrick Kane. The difference: he doesn't have the supporting cast that Kane did in Chicago. If he can stay healthy and continues to grow in his game, Tavares could be a 50-goal scorer before long.
39. Henrik Lundqvist, G, New York Rangers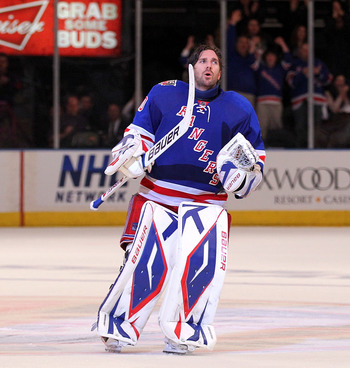 Bruce Bennett/Getty Images
He doesn't get the headlines (or offensive support) of Luongo or the defensive work in front of him that Tim Thomas has enjoyed in recent years, but Lundqvist is undeniably one of the best netminders in the game. His 213 wins and 35 shutouts in only 406 career appearances, and string of five consecutive 35-plus-win seasons, are all strong indications that he's elite.
38. Bobby Ryan, F, Anaheim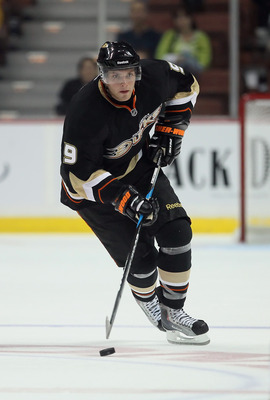 Jeff Gross/Getty Images
Ryan Getzlaf gets the posters and Corey Perry gets the postseason awards, but Bobby Ryan is one of the most talented players in the game in his own right. He has scored at least 31 goals in each of his three full seasons in the NHL, and at only 24 years old is just starting to realize his potential.
37. Matt Duchene, F, Colorado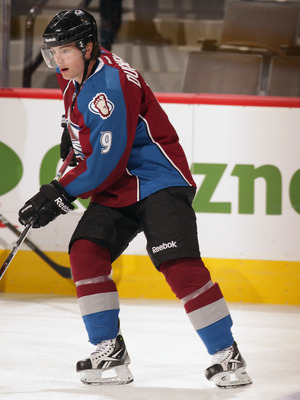 Doug Pensinger/Getty Images
One of the young leaders in Denver, Duchene has already scored 51 goals in just two NHL seasons. With the roster of the Avs in flux after the major trade with St. Louis last spring, struggled down the stretch with the wheels falling off around him. This season, with a fully healthy roster around him and some new faces to add to the potential production, Colorado will look for Duchene to jump past 70 points and into superstar status.
36. Nicklas Backstrom, C, Washington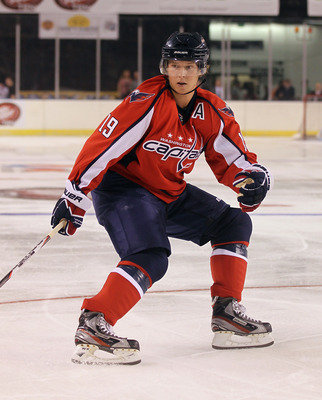 Bruce Bennett/Getty Images
Alexander Ovechkin gets the commercials and Alexander Semin gets the hate, but the superstar scoring machine not-named-Alexander in Washington is one of the better young centers in the game. Backstrom's production fell off 36 points last year after his first 100-point campaign, but the Caps expect him to get back to his 90-point form this year.
35. Patrick Sharp, F, Chicago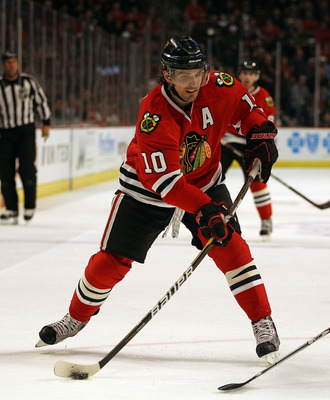 Jonathan Daniel/Getty Images
One of the most under-appreciate scorers in the league until he was named All-Star Game MVP last year, Sharp is one of the most important players on Chicago's roster; just look back at last year when he missed the final games of the year with a knee injury, and how close Chicago got to missing the playoffs, to see how vital he is to their production. He's a lock for 25 goals and 65-70 points, and could jump to the 40-goal and 80-point plateaus this year.
34. Drew Doughty, D, Los Angeles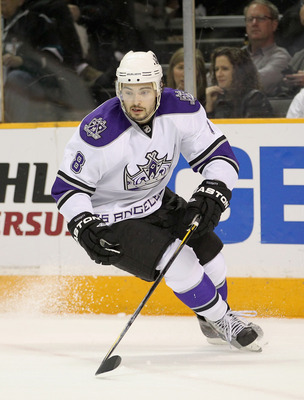 Ezra Shaw/Getty Images
Doughty got paid, and now he has to back up the Kings' willingness to make him the highest paid player on the roster. He took a step back last year, and the improved Kings will need him to be back to 2009-10 form to make a deep run.
33. Patrick Marleau, F, San Jose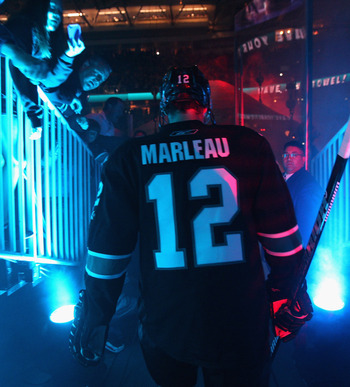 Ezra Shaw/Getty Images
Like Sharp, Marleau is one of the most under-appreciated players in the game. He's scored at least 32 goals in five of the last six seasons and is, if healthy, almost guaranteed to give the Sharks 70 points. When GM Doug Wilson made some dramatic moves this summer, Marleau's position with the team was never in question.
32. Pekka Rinne, G, Nashville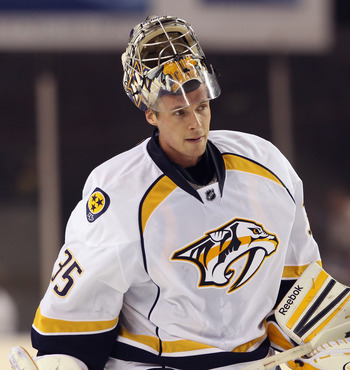 Bruce Bennett/Getty Images
This is a huge year for Rinne, who is in the final season of his contract on a team that probably cannot afford to keep him, Ryan Suter and Shea Weber. The Preds won a postseason series for the first time in franchise history last year, and Rinne was in Vegas as a Vezina candidate. Another strong season could see him back in the mix for some individual hardware, and a few extra million dollars.
31. Marian Hossa, F, Chicago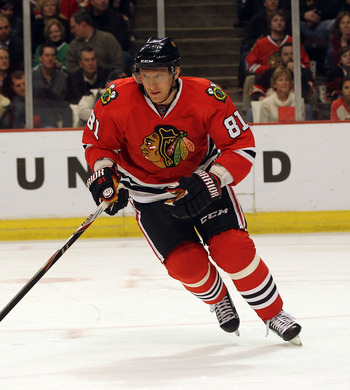 Bruce Bennett/Getty Images
A lot of people take for granted what Hossa can do on the ice. Consider that the spring of 2011 was the first time in three years that he didn't play in the Stanley Cup Finals, and there was an Olympic tournament in the middle of that stretch.
With a number of nagging injuries and short summers each year, Hossa's numbers haven't been huge...and yet he has scored 49 goals in 122 regular season games since joining the Blackhawks.
He's one of the best two-way forwards in the game, and is a magician with the puck. After a long summer, and finally totally healthy, Hossa is a sleeper to hit 90 points this year.
30. Kris Letang, D, Pittsburgh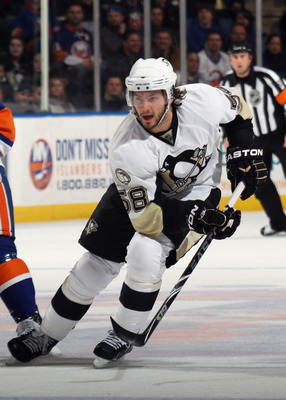 Bruce Bennett/Getty Images
A pleasant surprise in the injury-plagued 2010-11 season in Pittsburgh, Letang has emerged as one of the better defensemen in the game. They'll get a few big names back on the ice to begin this season, but a repeat of his 50-point performance from last year might be the key to a deep run into the playoffs for the Pens this year.
29. Luke Schenn, D, Toronto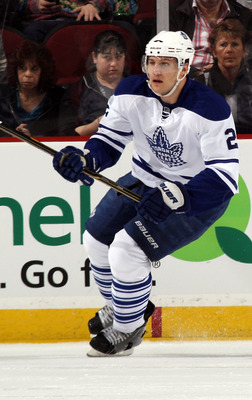 Bruce Bennett/Getty Images
Only two players in the entire NHL had over 200 hits and more than 150 blocked shots last year: Schenn and Chicago's Brent Seabrook. This year, as a 21-year-old, he begins a five-year, $18 million deal and a hunt to get Toronto back into the playoffs. The Leafs have a lot of talent coming on the blue line behind Schenn, and captain Dion Phaneuf might become expendable soon because of this young stud's play.
28. Loui Eriksson, F, Dallas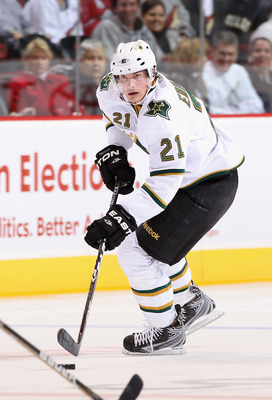 Christian Petersen/Getty Images
Loui who?
Dallas isn't very good, and isn't on national television very often (ever), but fantasy players know exactly who Eriksson is. Shockingly, he finished last year ranked 19th in the NHL with 73 points, ahead of names like Ryan, Sharp, Kopitar and Briere. He's a solid two-way forward who is the centerpiece of the rebuild in Dallas.
27. Brad Richards, C, New York Rangers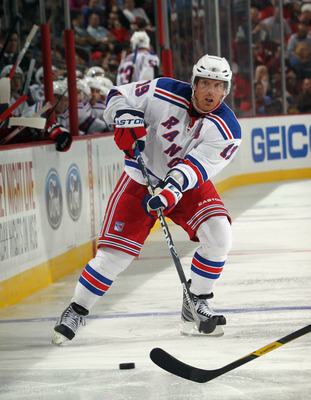 Bruce Bennett/Getty Images
New sweater, new (huge) salary, new expectations will be the story for Richards this year. The mediocre Stars are in the rear view mirror now, and the bright lights of New York will be squarely on him as the Rangers try to get back to the top of the Eastern Conference.
26. Duncan Keith, D, Chicago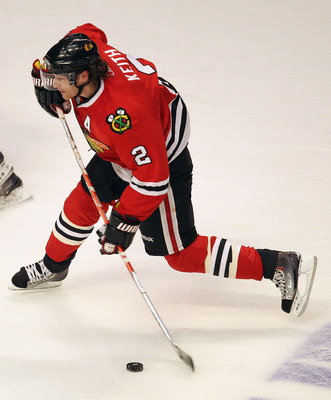 Jonathan Daniel/Getty Images
Keith won the Norris Trophy after the 2009-10 season, and was on the fast track to becoming of of the game's best. But he admittedly took a step back after the Hawks won the Cup in 2010, and saw his production and effectiveness fall off last year. If he returns to the form that won him the Norris, the Hawks will be back in the mix for the Cup this year.
25. Ryan Getzlaf, C, Anaheim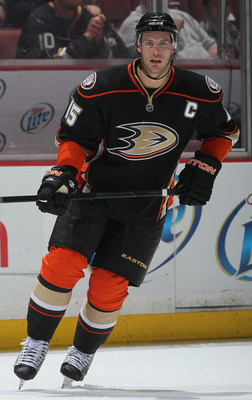 Jeff Gross/Getty Images
Not many top-line centers are as physical as Getzlaf, who put up 76 points in only 67 games last season. He'll have the privilege of skating between Bobby Ryan and Corey Perry again this year on perhaps the best scoring line in the game, but his health will be a major factor in Anaheim's playoff hopes.
24. Henrik Zetterberg, F, Detroit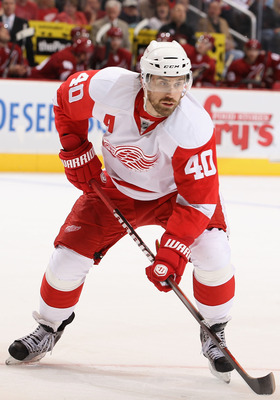 Christian Petersen/Getty Images
It's so easy to forget how good so many of the top players are in Detroit because none of them is fighting for inclusion in a highlight package, but Zetterberg is one of the best scorers in the NHL. He's a point-per-game player and is rarely stopped by anything short of elite defensive play. As long as he's on the ice, the Red Wings are a contender to win the Central and bring the Cup back to Hockeytown.
23. Joe Thornton, C, San Jose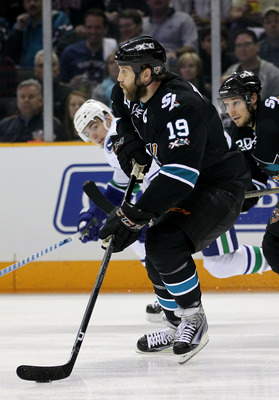 Ezra Shaw/Getty Images
He gets trashed for not winning the big game often, but Thornton has continued to be one of the better two-way centers in the game. He led NHL forwards in takeaways last year, and is one of the best faceoff men in the game. San Jose rearranged their roster to make another run at the Cup, but Thornton is still in the middle of it all.
22. Tim Thomas, G, Boston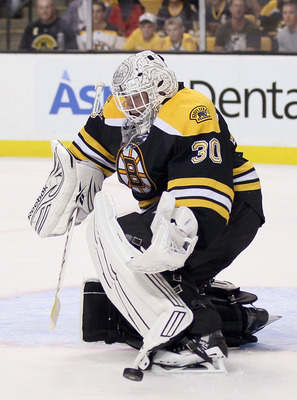 Elsa/Getty Images
Lots of people like to think Thomas is overrated, but he has a Stanley Cup ring and two Vezina Trophies in the last three years as proof that he's as good as advertised. In fact, since 1990, only four goalies have more than one Vezina: Ed Belfour (Hall of Famer), Dominik Hasek, Martin Brodeur and Thomas.
21. Claude Giroux, F, Philadelphia
Bruce Bennett/Getty Images
Giroux is, personally, the reason Philly will have a completely different look this year up front. Gone are Mike Richards and Jeff Carter, and the biggest reason GM Paul Holmgren felt comfortable enough to make two blockbuster deals is because Giroux exploded onto the scene with 76 points and a plus-20 rating last season.
20. Rick Nash, F, Columbus
John Grieshop/Getty Images
Like Loui Eriksson, a lot of people take Nash for granted because he's been on some really bad teams. But he's one of the best scorers in the game, and will get a chance to take his talents to a new level now that he finally has a legitimate center to skate with in Jeff Carter. Columbus made an effort to surround him with real talent this summer, and not it's up to their captain to take this team into the postseason.
19. Mike Richards, C, Los Angeles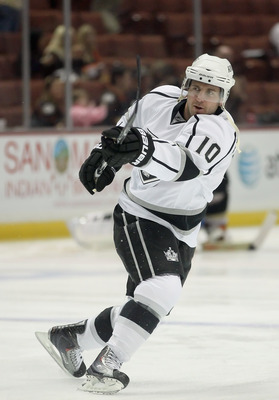 Jeff Gross/Getty Images
No more "C" on the sweater, no more orange sweaters, and no more Eastern Conference. But Mike Richards will tell you he's just fine with taking a secondary role on the Kings, who are one of the front-runners in the Western Conference. He's been a 70-point player in his career, and could be an 80-point player with the pressure off in LA.
18. Patrick Kane, F/C, Chicago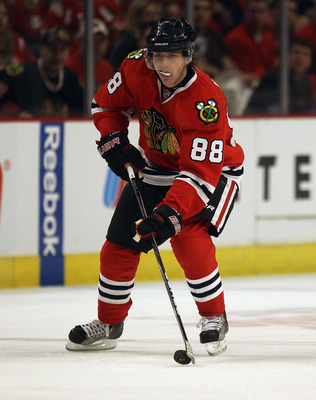 Jonathan Daniel/Getty Images
He was banged up last year but was still a point-per-game player for the Blackhawks. After a summer of working out, he reported to camp with his wrist in a splint but some new-found muscle on his frame and a new position on the depth chart: center. He grew up playing center, and will begin the season as the Hawks' second-line center with Marian Hossa on his right. If the brief glimpses fans saw in the preseason is any indication, a line with Kane and Hossa could give opposing coaches nightmares this year, and Kane might be a 100-point player.
17. Zdeno Chara, D, Boston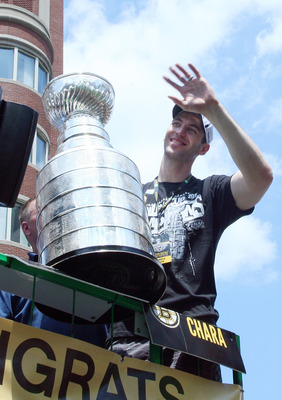 Gail Oskin/Getty Images
Yes, that's the Stanley Cup in his hands. He's won the Norris, a Cup, and is one of the most dominating defenseman of the last 20 years. But, when he can almost cover the entire faceoff circle with a stick in his hand, it's understandable how he could get in the way of so many good opportunities.
16. Jarome Iginla, F, Calgary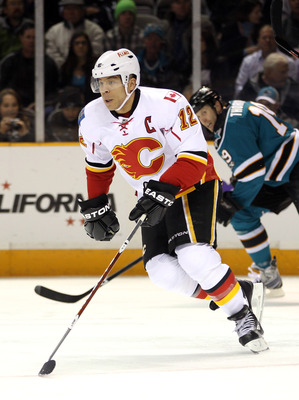 Ezra Shaw/Getty Images
When he retires, fans will look back at the Hall of Fame career of Jarome Iginla and wonder how many points he may have racked up if he only had a legitimate center next to him...ever. He finished last year sixth in the league with 86 points despite playing on a bad Calgary team, and will be forced to play through another rebuilding year on the Flames.
15. Ryan Kesler, C, Vancouver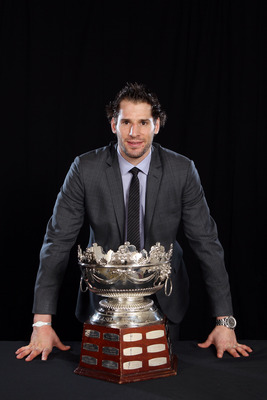 Jeff Gross/Getty Images
Not many second-line centers are as offensively explosive and defensively sound as Kesler, who at least won some personal accolades after his Canucks lost in the Stanley Cup Finals. He scored as many goals last year, 41, as Daniel Sedin did, and might be the next Canuck to hit 100 points in a season.
14. Ryan Miller, G, Buffalo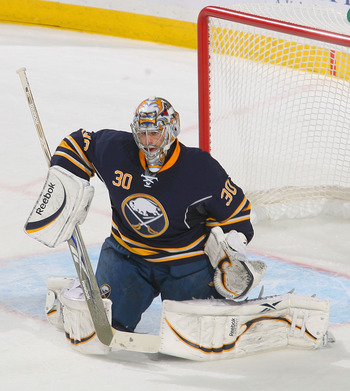 Rick Stewart/Getty Images
Buffalo went out and spent a lot of money this summer to give Miller an improved chance of playing meaningful hockey in May and June. He's only one season removed from winning the Vezina Trophy, and remains of the game's top goalies. With better scoring and blue line depth in front of him, this might be the year that Miller Time gets to the Finals.
13. Eric Staal, F, Carolina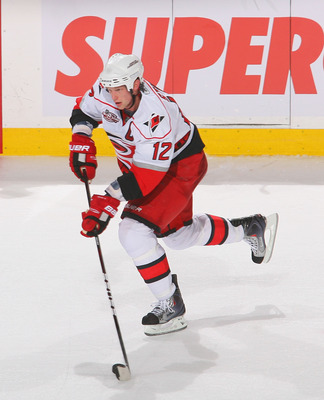 Rick Stewart/Getty Images
If we were ranking Most Valuable Parents in the NHL, the Staals would be at the top of the list. Jordan will be back on the ice in Pittsburgh this year, and hopes are that Marc isn't out too long at the beginning of the season. But the best of the group is Eric, who posted 76 points and eight game-winning goals for the Canes last year.
12. Nicklas Lidstrom, D, Detroit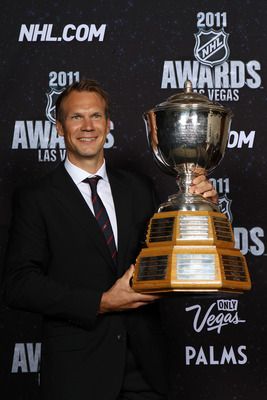 Bruce Bennett/Getty Images
He might not be the same player he was 20 years ago, but don't tell that to Norris Trophy voters. Lidstrom is, without question, a first ballot Hall of Famer who continues to be one of the best defensemen and leaders in the NHL. This might be his final season, which could mean something special is going to happen in Detroit.
11. Anze Kopitar, F, Los Angeles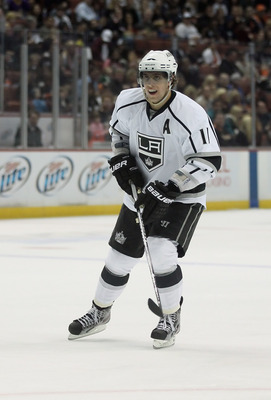 Jeff Gross/Getty Images
He might not have the biggest salary cap number in LA any more, but Kopitar is the force that drives their offense. With the addition of Mike Richards to the roster, the pressure to produce is going to be more spread out on the roster for the Kings this year, which also means the attention of opponents' best defensemen will be spread out as well. After posting 73 points last year in only 75 games, he might be line for a 90-point campaign.
10. Henrik Sedin, C, Vancouver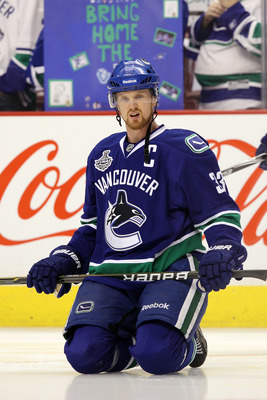 Bruce Bennett/Getty Images
He "only" posted 94 points last year, and brother Daniel jumped to the top of the league's point standings as the Canucks advanced all the way to the Stanley Cup Finals.
9. Steven Stamkos, C, Tampa Bay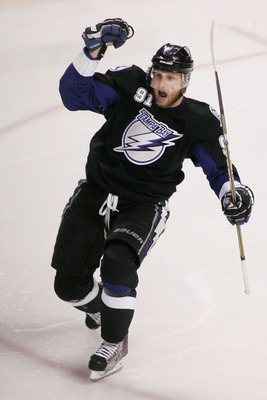 Justin K. Aller/Getty Images
Very few players in the game today can score 45 goals in a season and come away feeling like there was something more to be done. Stamkos now has his face on the cover of a video game and increased expectations in Tampa, where he could jump the 50-goal plateau this year and is expected to be back among the league's top-five scorers.
8. Daniel Sedin, F, Vancouver
Harry How/Getty Images
He led the league with 104 points last year.
7. Shea Weber, D, Nashville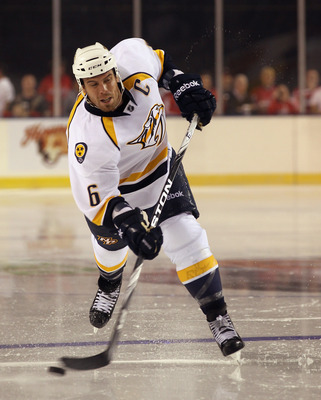 Bruce Bennett/Getty Images
Who had a huge party when Drew Doughty signed in LA? Drew Doughty.
But somewhere in Nashville, there was a smile on Weber's face, because he's 11 months away from getting paid himself. A massive physical force on the blue line, he has one of the hardest shots in the game and has no problem putting an opponent in the third row. This will be a fascinating year to see if he stays with the Preds (and what that ultimately costs the team in dollars and teammates) or if he's traded to begin a rebuilding process.
6. Pavel Datsyuk, C, Detroit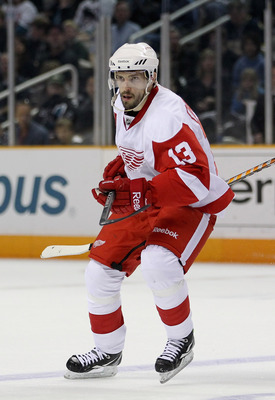 Ezra Shaw/Getty Images
Datsyuk is the best two-way forward in the game, and he's been nearly a point-per-game player throughout his career (651 points in 662 games). The Red Wings desperately need him to skate more than 56 games this year for them to win an improved Central Division and for a run at the Cup. Datsyuk is a magician with the puck the likes of which you only see in a few cities in the league.
5. Alexander Ovechkin, F, Washington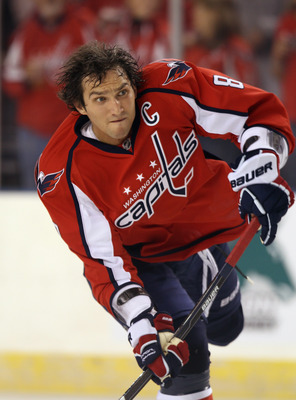 Bruce Bennett/Getty Images
He "only" posted 85 points last year, but comes into this season with a healthy Mike Green and, for the first time in his career, an elite goalie between the pipes. There's a lot of pressure on Washington this year, however, as it's the final season of Alexander Semin's contract and there could be major changes to the roster next summer.
4. Martin St. Louis, F, Tampa Bay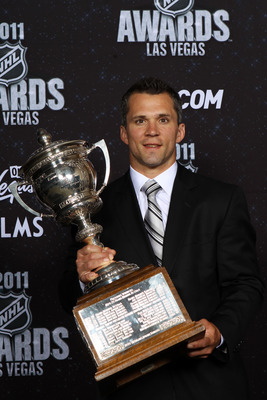 Bruce Bennett/Getty Images
After pouring in 99 points last year, one of the most respected forwards on the planet tasted playoff success. With Steven Stamkos continuing to mature next to him, St. Louis is the key to Tampa's Cup hopes. If he can get back to the 100-point mark this season, the Lightning could be headed deeper into the postseason.
3. Jonathan Toews, C, Chicago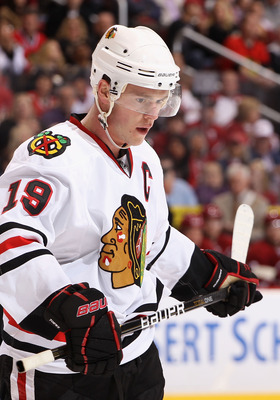 Christian Petersen/Getty Images
After being names the most outstanding forward in the Olympics and winning the Conn Smythe in 2010, Toews watched half of the Chicago roster leave town and most of the other key players on the Hawks go down to injuries at some point last year. He stepped up his game, and finished with 76 points and a plus-25 rating.
He's one of the best faceoff men in the game, an outstanding two-way forward who contributes on both special teams, and showed that he's a legitimate Hart candidate down the stretch last year. Very few players are as clutch as Toews, and, with improved depth around him on Chicago's lines this year, he might be ready to jump over 80 points.
2. Corey Perry, F, Anaheim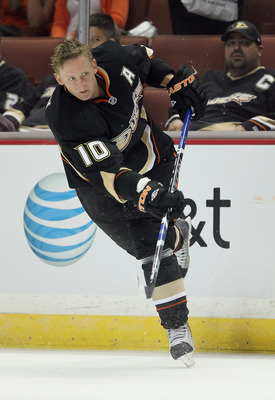 Jeff Gross/Getty Images
It's hard to put the defending Most Valuable Player anywhere on this list but the top, but it's also hard to determine who the most valuable player on his line in Anaheim is when they're all healthy. Perry exploded last year to set career highs almost across the board, including an astounding 50 goals and league-leading 11 game-winners. If Getzlaf and Perry are healthy all year, could his numbers actually get better?
1. Evgeni Malkin, F, Pittsburgh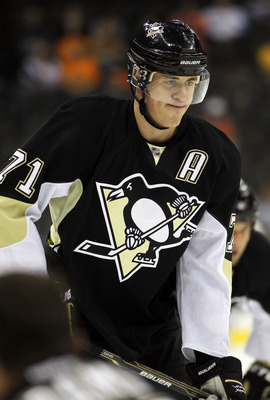 Jamie Squire/Getty Images
Malkin has skated in 82 games twice in his career. In those two seasons, he scored 219 points. He has 418 points in 352 NHL games, and many fans forget that is was Malkin, not Crosby, that won the Conn Smythe in 2009. It appears that Malkin is totally healthy to begin the season, and with Crosby out to begin the season it will fall on Malkin's shoulders to lead the Pens into the playoffs. He could jump back to the 110-point level and re-establish himself as one of the best scoring threats in the game.
Keep Reading