Clarke MacArthur's "No Hit League" Remark Example of Bad Attitude Towards Safety
October 2, 2011
Abelimages/Getty Images
Toronto Maple Leafs forward Clarke MacArthur was recently suspended for two regular-season games following this hit on Justin Abdelkader of the Detroit Red Wings during a preseason match.  Toronto fans were quick to defend their player and to back his stance that the NHL is going to become a no-hit league.
According to thehockeynews.com, MacArthur didn't shy away from criticizing the league after his suspension, saying the following:  "I just think there's going to be no hitting in this game, I think that's what is going to happen. No one wants to take five- or 10-game suspensions."
Well, it's good to see that at least the point of supplementary discipline isn't lost on MacArthur—even if the reason he was smacked with a suspension was.
Much to the chagrin of players and fans alike, this preseason has been littered with suspensions for head shots—nine, to be exact.  I know it's only been a few weeks, but how players still aren't getting this is beyond me.
It's simple:  if you hit a guy in the head, you're going to get suspended—regardless of intent, regardless of injury, regardless of speed, regardless of any other factor.
"You've really got to think when you're going to go finish your hit, you've really pay attention because the guy with the puck doesn't have any responsibility any more," MacArthur continued in his talks with the press.
The quote honestly left me with my jaw on the floor.
For MacArthur to act so irritated by the fact that "you've really got to think when you're going to go finish your hit" blew my mind.  Boy, the league really has some nerve, asking players to take responsibility for what they do with their bodies.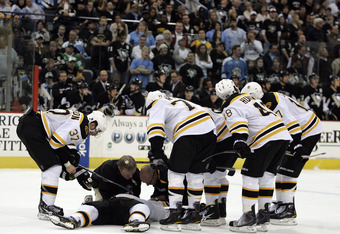 Justin K. Aller/Getty Images
If a forward winds up and takes a two-handed, baseball style swing with his stick and makes contact with another player's head, a criminal investigation usually ensues.  Is the damage really any less debilitating if the damage is the result of a body check?
And for whatever reason, the conclusion has been that by removing head shots from the game, the league is killing hitting all together.  That conclusion is so short-sighted that I can hardly get my head around it.
Again, it's simple—if you want to check an opponent, you have to take the body.
I don't see how removing every player's head from the field of play is akin to removing hitting entirely.  That isn't even remotely the case, and the line of thinking is ridiculous.  The notion that removing head shots from hockey will drain the "fire and passion" from the game is even more misguided.
Wanting to see guys laid out on the ice and taken off in stretchers in the name of the game's passion is one of the most absurd and obvious cover-ups for blood lust I have seen in sports.  I didn't get into hockey to see careers ended—to see guys like Marc Savard have their heads removed by neanderthal cheap-shot artists like Matt Cooke.
For whatever reason, there has been a parallel drawn between the hitting in hockey and the hitting in football.  This too is laughable.  Check out the inside of a pro-football helmet, and then look inside the helmet of an NHL player and maybe you'll see why.
The long and the short of it is simple:  this isn't the same game that was played back in the 50s and 60s because it isn't the same guys playing it.  The skaters are too big, too strong, and too fast to be allowed to hit each other in the head like the good ol' days.  The league isn't pussyfooting around that fact anymore.
It's plain and simple—play the game within these rules or face consequences.  The players were given a chance to clean up their acts over the last several years.  And we've seen time and time again that, when given the choice, most players will finish their brutal check before they think about having some respect for the health of their opponent.
The onus is on the hitter now.  This is a fact that players and fans alike are going to have to get used to.  And that includes the apparently clueless Clarke MacArthur.