5 Not-so-Bold Predictions for the Upcoming Hockey Season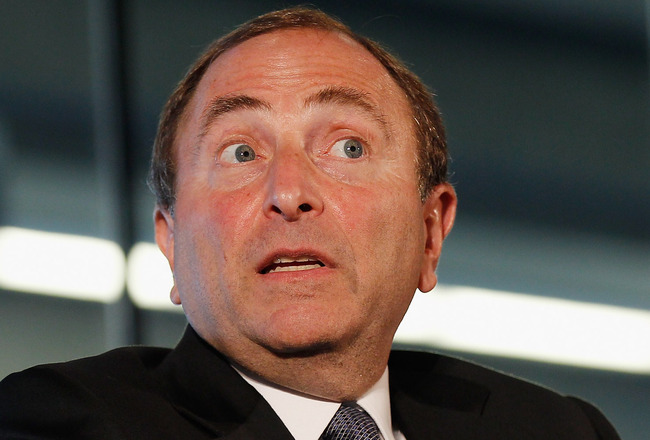 Mike Stobe/Getty Images
As another hockey season quickly approaches, many fans have been wondering what 2011-12 will bring. Will Sidney Crosby return to form? Will the Boston Bruins be able to repeat their championship performance? Will Montreal Canadiens fans finally realize that they're not watching soccer and end that annoying "Ole" chant? These are all tough questions to which we can only guess the answers.
Fortunately, there are a number of constants that we'll likely see in the upcoming year. Just as we expect Don Cherry to rant incoherently each Saturday night, we should also look forward to the following "givens" this season.
Sean Avery Will Demand Attention
"I took obvious dives before it was cool."
Jemal Countess/Getty Images
Everyone's least favorite hockey-hipster constantly receives attention each year, and he seems to thrive on it.
Whether he's taunting goaltenders or talking about his ex-girlfriend, Sean Avery has a definite knack for getting into the headlines.
Recently, however, Avery has taken on more of an activist role. He got some positive attention for his public stance on gay marriage, and rightfully so.
I think he'll take this to the next level this season; expect him to state that his first scoring slump is some sort of social protest. "I refuse to score another goal until dogs are finally given their fair right to buy property in the state of New York."
Pierre McGuire Will Get Too Excited About Teenaged Boys

I picture Pierre commenting this game from a windowless van...

Like many hockey fans, I look forward to the World Junior Championships each year.
I don't, however, look forward to the creepy commentary provided by TSN's Pierre McGuire. His excitement over teenagers is a little...too much. I honestly believe McGuire is a mustache away from being on some sort of police list.
Mike Milbury Will Be Annoying
One of the worst general managers in NHL history has proven to be one of the most annoying commentators.
Whenever Mike Milbury opens his mouth, you can expect ignorance to flow out like prospects and draft picks leaving Long Island. I get the feeling that he'll start the season with a bang by declaring that the Sedins are untalented 9-year-old girls, and that Rick DiPietro is the reincarnation of the Messiah, but with goalie pads.
Mike, Don Cherry hasn't retired yet, so campaign for his job later.
Leafs Fans Will Insist Their Team Is Better Than You Think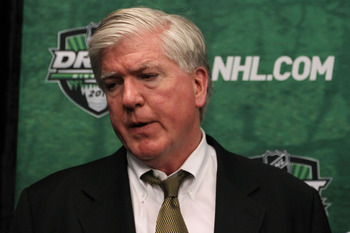 "I would do it again and again and again if I had to," Burke said, trying to hold back the tears until he was alone.
Bruce Bennett/Getty Images
The past number of seasons have been difficult for Leaf Nation, as their team continues to miss the playoffs.
But just as we expect the Leafs to be less than good, we can expect their fans to insist that they're close to being a contender, despite clear evidence that they are truly a bad hockey team.
I'm sure they'll continue to improve, but if I hear one more Toronto fan insist that their team is one or two pieces away from a Stanley Cup, I'm going to cry. Ironically, that's what Leafs fans will likely be doing come April.
The All-Star Game Will Be Boring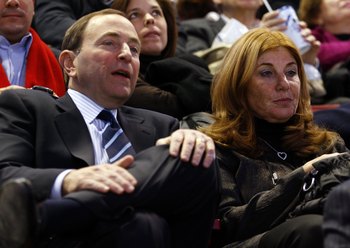 It's sad when even the commissioner of the league would rather be watching re-runs of Seinfeld than the All-Star Game.
Phillip MacCallum/Getty Images
Each year, the NHL's best players take part in a slower, practically non-contact display of half-hearted back-checking and minimal goaltender effort, all for a game with a meaningless outcome.
Riveting.
It's sad that the most entertaining part of last year's All-Star weekend was the draft. That's right, the most entertaining aspect of the weekend was the NHL's equivalent to drawing sticks before a street hockey game.
I say we jazz up this year's game by adding on-ice obstacles, or allowing fans to throw projectiles at players. At least then I'd tune in to see if any lucky fan was able to floor Ovechkin with a boot to the head.
Keep Reading