Washington Capitals: 5 Reasons the Caps Should Not Trade Alexander Semin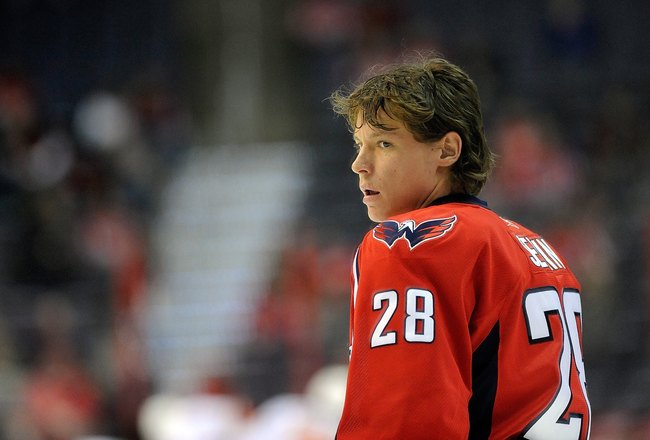 Greg Fiume/Getty Images
Since breaking into the National Hockey League in 2003-04, Alexander Semin has emerged as a premier goal scorer and offensive talent for the Washington Capitals. His outrageous stick handling ability and near flawless shooting skills have endeared him to fans in the nation's capital.
That said, in the past few seasons Semin has fallen out of favour somewhat among the fanbase. The team's management have always stood by him, but it appears he has grown further away from the Capitals' faithful.
It has gotten to the point where fans are calling for General Manager George McPhee and his team to trade the Russian enigma.
Here is why they shouldn't.
Low Point Totals Mean Little Return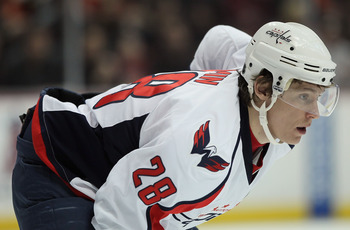 Jeff Gross/Getty Images
In trading a top tier player, one would hope for a high return. That said, Alex Semin is coming off one of his worst seasons in his six-year NHL career.
The return the Capitals may see coming from any potential trade is at an all-time low.
Semin has elite talent, but other teams will want it displayed in all its glory if they want to take a risk on him. The less of that they see, the less they will pay.
The truth is, right now the Capitals are unlikely to get anywhere near enough return in a trade.
Versatility as Winger is Now Valuable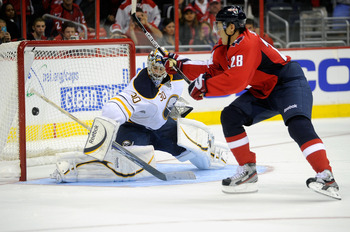 Greg Fiume/Getty Images
These past few years, Semin has featured mostly on the right side for the Capitals. That said, the Caps made two significant moves this summer in picking up Troy Brouwer and Joel Ward, both natural right wingers.
This means there is a good chance Semin moves back to his natural left wing role, the position he was drafted at.
His versatility and ability to move back and forth from side to side makes him a valuable player to have in your top six.
Alex Ovechkin Won't Allow It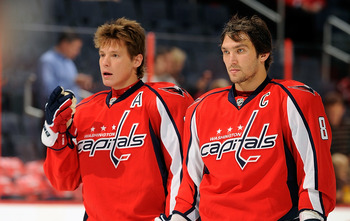 Greg Fiume/Getty Images
Three seasons ago, the Capitals had five Russians on their squad. With the trade of Semyon Varlamov and the offseason signings, the Caps now have more Czechs (Roman Hamrlik, Michal Neuvirth and Tomas Vokoun) than Russians (Alex Ovechkin and Alex Semin).
With his contract and his role as captain, Ovechkin will have a say in any move the Caps make involving Semin.
The Capitals would not dare give their star player any reason to be angry, and he will say no to trading Semin.
30-Goal Scorers Don't Grow On Trees
Bruce Bennett/Getty Images
In his career, Semin has averaged 33 goals a season (28 in 2010-11). Last season, only 11 players tallied more. That puts him without a doubt in the elite tier of NHL goalscorers.
It is by no means easy for NHL teams to find players like Semin. Capitals fans don't realize how lucky they are to have two great talents.
If they lose one, their goal scoring totals will suffer significantly.
Caps fans will argue that top prospect Evgeny Kuznetsov will help carry the burden, but you never know how his skills will translate to the NHL.
The Caps cannot trade Semin until they do know.
Sasha Cares
Bruce Bennett/Getty Images
This summer, former Caps Matt Bradley, Dave Steckel and Shaone Morrisonn all made public claims about the fact that "one of the most talented players in the league" doesn't care enough.
His teammates, as well as George McPhee and head coach Bruce Boudreau, have continued to relentlessly stand up for him. Fortunately, they won't have to anymore.
'Sasha' Semin broke his silence in the face of the media in his first public appearance. It appears as though it will be the first of many, as Semin has expressed a desire to open up this season.
Alexander Semin cried after the Capitals were knocked out in the second round of the playoffs by the Tampa Bay Lightning. He cried after they were knocked out by the Montreal Canadiens last season.
He cares.
Follow Jake Ware on Twitter at @JacobWare95
Keep Reading

Washington Capitals: Like this team?