Pittsburgh Penguins Roster at 32: As Season Nears, Who Gets Cut?
Christian Petersen/Getty Images
Wednesday morning, the Penguins announced a second round of training camp cuts, bringing their current roster to 32 players. The Penguins' team site broke the story.
Ryan Craig, Nick Johnson, Eric Tangradi, Colin McDonald, Scott Munroe and Brad Thiessen were assigned to Wilkes-Barre/Scranton of the AHL Wednesday. Before clearing waivers Thursday, Nick Johnson was claimed by the Minnesota Wild.
Defenseman and 2011 second-round draft pick Scott Harrington was returned to the London Knights of the OHL.
Following the second round of cuts, the Penguins now carry 32 men on their roster (18 forwards, 12 defense and two goaltenders) with two preseason games left—Friday at Chicago and Sunday in Detroit.
For those players on the fence, those games will be their final chances to make an impression on the staff.
With 20 of the 52 players from the first training camp roster already gone, a few more cuts will be made before the Penguins' season begins next week in Vancouver, with some projected starters to miss the beginning of the year with injuries.
Who's out, who's in and who's got an outside chance? Let's take a look at the remaining roster, and who might make a surprise appearance early this season:
Sure Things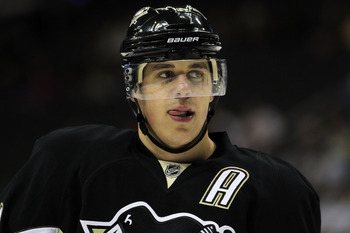 Jamie Squire/Getty Images
A number of players have their NHL jobs on lock, whether by level of play or one-way contract status.
Among the forwards who won't be going anywhere are Evgeni Malkin, Jordan Staal, Craig Adams, Mark Letestu, Tyler Kennedy, James Neal, Steve Sullivan, Chris Kunitz, Matt Cooke, Arron Asham and Pascal Dupuis.
None of the above forwards have two-way deals that would allow for their transfer to the AHL without waiver liability, and each would certainly be drawn from the waiver wire.
The starting defensive jobs also appear to be locked down. Kris Letang, Paul Martin, Zbynek Michalek, Ben Lovejoy and Deryk Engelland are all on one-way deals, and Matt Niskanen's performance in training camp has been good enough to stave off would-be challengers Brian Strait, Robert Bortuzzo and Alex Picard. Marc-Andre Fleury and Brent Johnson are the only two goaltenders currently on the roster.
Their jobs are assured.
Injured Starters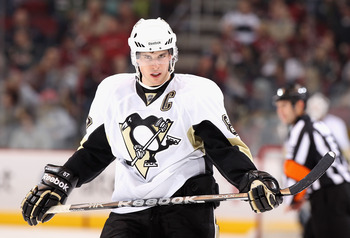 Christian Petersen/Getty Images
Sidney Crosby and Brooks Orpik are the Penguins' best players at their respective positions, but neither seems set to open the season in Vancouver.
Crosby's status is still week-to-week and Orpik, recovering from offseason hernia surgery, hasn't participated in any of the four preseason games so far.
Each will assume their usual roster spots when healthy.
Dustin Jeffrey, recovering from knee surgery, is another bet to make the NHL roster when he is fully recovered. Jeffrey nearly centered the top line with Alex Kovalev and James Neal last spring before injuring his knee in a game against Philadelphia.
Jeffrey, too, should assume an NHL role upon his return.
Joe Vitale: In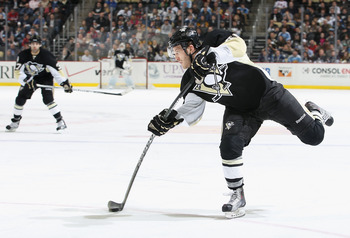 Christian Petersen/Getty Images
With Crosby and Jeffrey unlikely to start the season, the Pens will be without two centers to start the year.
While Mark Letestu and Craig Adams are capable of centering the fourth line, Vitale has made a strong case for himself this preseason. His value as a penalty killer and faceoff man may be unmatched by anyone else on the team.
Vitale recorded faceoff win percentages of better than 60 and 50 percent in his first two preseason games, respectively, and the Pens may want to use Vitale to improve their 2010 penalty-kill faceoff win percentage of 39.4 percent.
Vitale is eligible for waiver status. With two centers injured to begin the season, it may not hurt the Pens' chances to have a good fourth line center on the opening day roster.
Richard Park: Out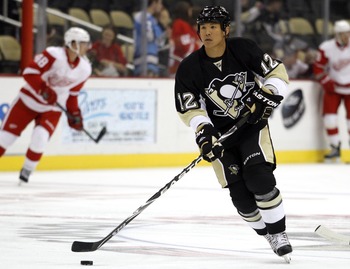 Justin K. Aller/Getty Images
Richard Park has enjoyed a nice preseason. His hustle and penalty killing prowess have to have earned him positive marks from the coaching staff, and he'd make for a good veteran presence in the locker room.
However, Park and Vitale are essentially fighting for the same job. As good as Park has been, he's had off nights, including three minor penalties against Minnesota.
Between the two, Vitale appears to have the upper hand.
Steve MacIntyre: In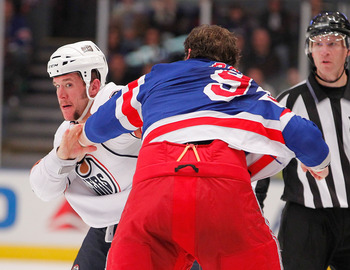 Paul Bereswill/Getty Images
Unless the Islanders are on the schedule, MacIntyre otherwise won't see much time this year.
Like Eric Godard last year, he'll occupy one of the NHL spots in anticipation of those games.
Jason Williams: Out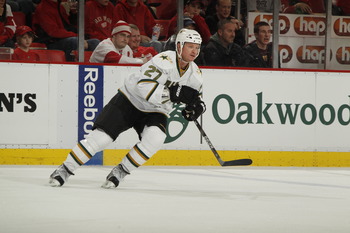 Gregory Shamus/Getty Images
Williams, like Park, was a good veteran acquisition this offseason.
While Williams could reasonably center the fourth line in the absence of Jeffrey and Crosby, he has been banged up this preseason.
With other, healthier centers vying for the final spots, Williams will likely begin the season in Wilkes-Barre.
Keven Veilleux: Out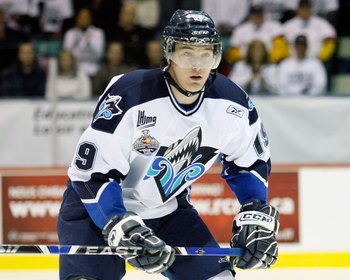 Richard Wolowicz/Getty Images
Veilleux still has a bit of work to do on his game. The big forward will be a staple player for Wilkes-Barre, but likely isn't ready to cut it at the NHL level.
Look for Veilleux to be returned with the next round of cuts.
Joe Morrow: In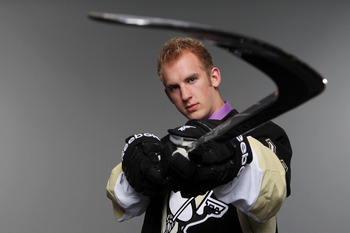 Nick Laham/Getty Images
This one is probably more hopeful than likely, but Morrow has certainly represented himself well enough to get a look at the NHL level.
Orpik's potential IR status is the only thing opening a spot for Morrow. Unlike Brian Strait, Alex Picard and others, Morrow won't be returned to Wilkes-Barre when he is sent down, and should be ready to run the show in the WHL with or without an NHL stint.
If Orpik is only out for a handful of games, the 10-game junior tryout contract could get Morrow a look at some NHL action.
He'd be the first Penguin since Jordan Staal to receive the 10-game tryout.
Brian Strait: In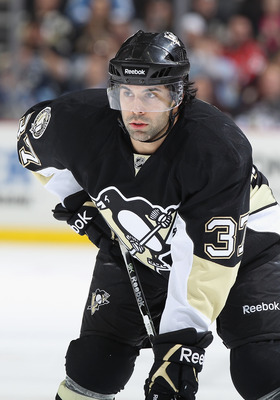 Christian Petersen/Getty Images
With the injury to Orpik, it's possible that the Pens may carry eight defensemen to begin the season.
If Morrow nabs one of the spots, Strait is the likely candidate to land the other.
Strait has seen some preseason action and has looked good in training camp. A product of the Penguins organization, his familiarity with the team's systems have given him an early edge over Alexandre Picard, who has more NHL experience than Strait.
The injury to Robert Bortuzzo, who saw some NHL time last season, will also help Strait's chances.
Alexandre Picard: Out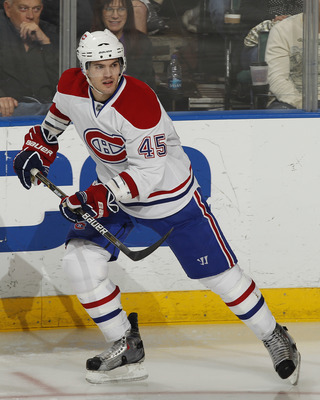 Joel Auerbach/Getty Images
Picard has had a decent training camp, but nothing to write home about. He'll be one of Wilkes-Barre's better defensemen, and will likely start the season with the baby Penguins.
Boris Valabik: Out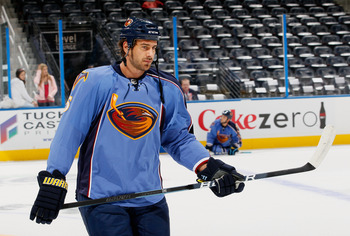 Kevin C. Cox/Getty Images
Injuries have kept the big defenseman out of training camp activities altogether. He'll open the season in Wilkes-Barre.
Robert Bortuzzo: Out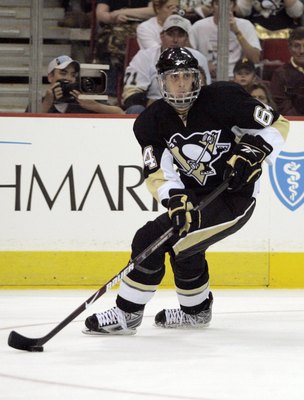 Justin K. Aller/Getty Images
Like Valabik, injuries have kept Bortuzzo absent from training camp and preseason action. He'll begin the year in the AHL, where he is a top-pairing defenseman.
Opening Day Roster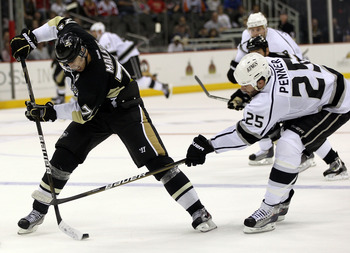 Jamie Squire/Getty Images
With six cuts to make and three starters assumed to be injured scratches to begin the year, the Penguins' opening day 23 may—may—look something like this:

Starting Lineup
Sullivan - Malkin - Neal
Kunitz - Staal - Kennedy
Dupuis - Letestu - Cooke
Asham - Vitale - Adams
Letang - Morrow
Martin - Michalek
Lovejoy - Engelland
Fleury
Healthy Scratches

Steve MacIntyre
Brian Strait
Matt Niskanen
Brent Johnson
Injured Scratches
Sidney Crosby
Brooks Orpik
Dustin Jeffrey

Keep Reading

Pittsburgh Penguins: Like this team?