Montreal Canadiens: What Are the Ramifications of the Chris Campoli Signing?
September 26, 2011
Christian Petersen/Getty Images
The Montreal Canadiens have signed defenseman Chris Campoli to a one-year, $1.75 million contract.
I'm sure I'm not the only person who follows the team that is wondering why.
Campoli has the ability to put up decent numbers from the back end (though he hasn't matched his career high of 30 points in 2008-2009 since.)
Unfortunately, he has a tendency to make bad plays when under pressure. 
The best case scenario regarding the signing is that Campoli is a band-aid for Andrei Markov. As "good" as that may be, it speaks volumes in the Habs brass' confidence in the rest of the defensive corps, namely Yannick Weber.
I don't quite understand how the team can make such a deduction after watching a camp that included mostly prospects, but hey, I'm not standing behind the bench or watching intently from the press box.
There are two pretty negative scenarios that fans should consider—even if they don't really want to. Both involve injuries and both make me cringe.
The first is that Andrei Markov's knee isn't that close to healing. The Russian defenseman could be out for much longer than we all anticipated.
If that is the case and the Habs are looking at Campoli as a long-term replacement, then Canadiens fans are in for a long season.
That brings me to the second daunting consideration.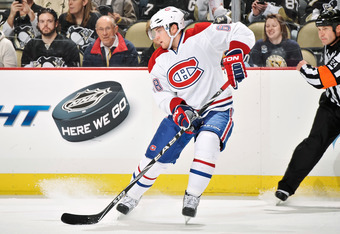 Jamie Sabau/Getty Images
P.K. Subban has been shelved in the past few preseason games due to a nagging back injury that he suffered during the summer.
What if his injury is worse than we know?
Whereas a Markov injury has been in the back of our minds since he signed and we have come to grips with his minor setback, a Subban injury would be nearly impossible to take.
P.K. Subban is not only a fan favourite, but quite possibly the best player on the Montreal Canadiens not named Carey Price.
I know that at this point, it's an unlikely scenario with no evidence to back it up, but I'm just trying to examine the situation as a whole.
Subban is still missing in action: let's hope he's just trying to make a complete recovery when the games don't mean anything.
Whatever the case may be, I'm disappointed that Yannick Weber won't be able to properly blossom as a defenseman.
After everyone was expecting Pierre Gauthier to sign a depth forward with the money he had to spare, this happened.
I know that I'm not really giving Campoli a fair shot, but my mind is clouded with negative thoughts.
Perhaps we'll be looking back on this signing as a great depth move later in the season, but as of right now, I could only see it translating to an unhappy Weber, either sitting in the press box or playing forward.
I'd say we should be patient, but I'm currently holding my breath awaiting status reports for the Montreal Canadiens' two best defensemen.
Jason is on Twitter: Follow @jhytel