Toronto Maple Leafs: Predicting the Opening Night Lineup for the Maple Leafs
September 26, 2011
Abelimages/Getty Images
With the roster now down to a trim 29 players, the Leafs appear to be heading in the right direction with regards to building an opening night line-up.
Training camp thus far has been rather uneventful, with only a few standouts thus far in the exhibition schedule.
Jake Gardiner has likely been the Leafs' most exciting player to watch this camp. His combination of hockey sense, speed and veteran-like confidence with the puck has likely garnered him consideration for the final roster spot.
Matt Frattin has made the fight for the third-line left wing spot a tough one with Nazem Kadri.
And lastly, Ben Scrivens has given the Leafs a lot to think about with regard to the back-up goalie duties.
Scrivens has been nearly unbeatable so far this camp. Scrivens' stats with the Marlies last season (a save percentage of .924 and goals against average of 2.33) were great for a first year AHLer, and his play in two preseason appearances for the Leafs has been even better.
Scrivens, as opposed to Jonas Gustavsson, is usually never out of position and is very confident passing the puck. He can read a game and provide steady goaltending for the Leafs.
With the roster cut down to 29 today, the Leafs have six remaining cuts to be made before the start of the 2011-2012 season.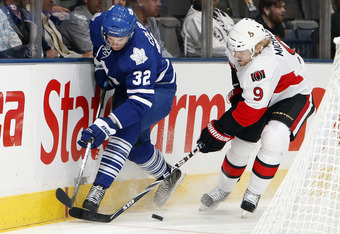 Abelimages/Getty Images
Leafs Cuts 
Forwards: Luca Caputi, Joe Colborne, Jerry D'Amigo, Ryan Hamilton, Marcel Mueller, Kenny Ryan, Greg Scott and Mike Zigomanis.
Defencemen: Jesse Blacker, Jeff Finger, Simon Gysbers, Korbinian Holzer, Juraj Mikus.
Goaltender: Mark Owuya.
Caputi, Hamilton, Finger and Zigomanis were placed on waivers today and must clear waivers to be sent back to the AHL's Toronto Marlies.
Who Remains?
Remaining on the roster are the following:
Forwards: Colby Armstrong, Darryl Boyce, Tyler Bozak, Mike Brown, Tim Connolly, Joey Crabb, Phillipe Dupuis, Matt Frattin, Mikhail Grabovski, Nazem Kadri, Phil Kessel, Nikolai Kulemin, Matthew Lombardi, Joffrey Lupul, Clarke MacArthur, Colton Orr, Jay Rosehill
Defensemen: Keith Aulie, Cody Franson, Jake Gardiner, Carl Gunnarsson, Mike Komisarek, Matt Lashoff, John-Michael Liles, Dion Phaneuf, Luke Schenn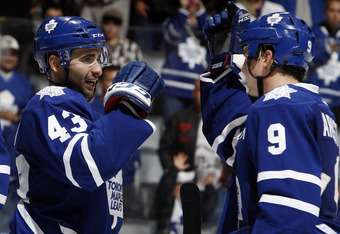 Abelimages/Getty Images
Goaltenders: Jonas Gustavsson, James Reimer, Ben Scrivens
Of those 29 players, six will be cut at a later date. Who appears to be on the outside looking in? Who has made the team? Who will surprise the rest of camp? Who will disappoint?
Here is my prediction for the opening night roster.
Forwards (13)
Lupul/Connolly/Kessel
MacArthur/Grabovski/Kulemin
Kadri/Bozak/Armstrong
Brown/Dupuis/Orr
Extras: Boyce
IR: Lombardi
At forward, among those cut were Jay Rosehill, Joey Crabb and Matt Frattin. Rosehill is essentially Colton Orr with a better contract,  but priority goes to the more veteran player in the Ron Wilson system.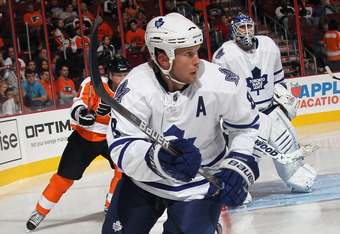 Bruce Bennett/Getty Images
The dogfight for the final spot on the third line came down to Frattin and Kadri. Here, Kadri makes the squad because honestly, Frattin needs a year of seasoning in the AHL. It's his first year of pro hockey, And he will need the help of the AHL to get his mind accustomed to the speed of the game.
Kadri, who was drafted seventh overall in 2009, is still the Leafs' best prospect, and to me, this is the year for him to show everyone what he can do. What he needs is the confidence of the coaching staff and for the media to really stop critiquing every mistake he makes on the ice. Never have I seen a prospect garner so much attention for a failed deke that should've been a dump in.
The extra player will be Darryl Boyce. Eventually, when Lombardi returns, one of Dupuis, or Boyce will need to be sent down to the minors to make room for Lombardi.
Defencemen (Eight)
Phaneuf/Aulie
Schenn/Liles
Komisarek/Gardiner
Gunnarrson/Franson
In my final prediction, Gardiner has made the Leafs and will play opening night against the Habs. How the defence will all shake down is still up in the air. The main thing here to understand is Gardiner has made the club, and Komisarek may soon be on the way out for essentially a bag of Lays and post card.
Among those cut include only Matt Lashoff from the back-end. Carl Gunnarson to me is a defenceman who gets no respect and really should. He's rarely out of position and can play in all three situations. Where he stands today, that's anyone's guess right now.
Goaltenders (Two)
Reimer/Gustavsson
Reimer is your starter and Gustavsson is the backup; pretty cut and dry. The back-up goalie spot was hotly contested between Gustavsson and Scrivens. Eventually, the Leafs took the high road and believe Scrivens has more potential than Gustavsson and elected to give him more playing time in the minors with the Marlies. At 26 years old, Scrivens may only have a year in the minors before he gets his shot in the NHL.
Gustavsson is the goalie on the hot seat right now for the Leafs. The Monster has come up with some huge saves, but as always, he seems to have these massive brain farts in games and is often found out of position and out to lunch on many goals he lets in.
My belief is that he's still not used to the angles and the shorter NHL ice surface as opposed to the International Ice. If he can figure it out soon, he should be a good goalie in the NHL, but right now, he's struggling to even be a back-up.