Chicago Blackhawks: An Open Letter to Stan Bowman About Kyle Beach
September 26, 2011
Gregory Shamus/Getty Images
Mr. Bowman, 
I hope you are well and looking forward to the upcoming season. It will indeed be exciting, and you have done a great job during the offseason reconfiguring the Chicago Blackhawks to once again compete for the Stanley Cup. 
I wanted to send along a quick note regarding Kyle Beach. I'm sure this topic has kept you up at night. Keep in mind, Mr. Bowman, that Beach is not your doing, and this one is on Dale Tallon. 
After Kyle's lackluster effort in the preseason game against Edmonton, I'm sure you were irritated to see how irrelevant he was.  It must be great not to have to pay a guy $1.17 million for the next two years when he is the highest pick of the 2008 draft that has yet to play an NHL game.  There are a lot of players that go 11th overall that do not pan out.  
It's not your fault that the organization should have known they had it coming when Beach was originally thought of as a top five pick until central scouting dropped him lower due to attitude problems.  
One would hope that if you were the general manager at the time, you would have considered it a red flag that he had a history of problems with coaches. You may have considered it an issue that at a U18 practice, he taped "Team Ontario" to his jersey because he felt that Hockey Canada gave preferential treatment to players from Ontario. You may have found it interesting at the time that journalists described Kyle Beach as questionable or mercurial. He's not the kind of player you would have drafted, and I know that.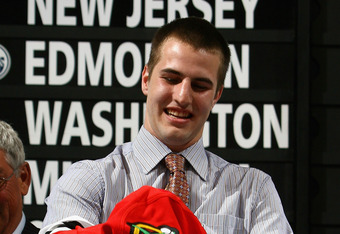 Bruce Bennett/Getty Images
It was very nice of you to give him the benefit of the doubt when he crosschecked and jumped Mathis Olimb in prospect camp in 2010. I'm sure there are a lot of 6'3", 210 lb. players that think it's cool to go after a 5'10", 175 lb. Norwegian to try to make a statement.  It was too bad that Olimb hurt his shoulder and missed the first four months of the season, but that's totally coincidental. 
I suppose his minus-24 rating in Rockford last season could have been worse, and the fact that he took really bad penalties all the time is because he is young and needs to mature as a person. 
So now that he was scratched from the line-up in the preseason game against the Detroit Red Wings and has had another dismal training camp it's pretty clear that he is headed back to Rockford. 
Now that his value could not be much lower, what will you do with him?  If you are lucky enough (and you probably aren't) to get a career minor league prospect or a fifth or sixth round pick for him, you should do it on the spot. If not, a new skate sharpener for the boys will just have to do. 
Again, this one is not on you, Mr. Bowman.  Since you have arrived, you have drafted some very talented players, and all Hawks fans are looking forward to watching them develop. It will be great when Kyle Beach's salary is at the minor league level, and if he is able to catch on somewhere else and succeed, so be it. I hope that he is not part of your future plans, as he just does not seem like a good fit.  
Best, 
Andy