Columbus Blue Jackets: Playoff Probability Dashboard Report: Volume 1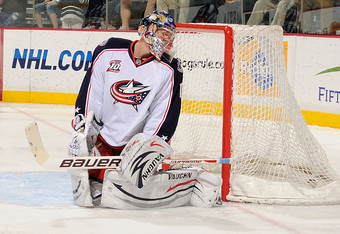 Steve Mason
Frederick Breedon/Getty Images
Even though it is only daybreak on the NHL landscape and the sun is barely peeking above the horizon of a new season, there are already an ominous cloud blocking the sunlight from reaching the land of the Blue Jackets. The preseason dashboard report (scroll down) for the Columbus Blue Jackets presented below casts an early warning red flag.
With four games under their belt, we are beginning to find out a little bit more about the extended Jackets family of players that consist of not only the big-leaguers with contracts but also some prospects and back-ups in the minors.
Remember, this is supposed to be the season whereby making the playoffs is not an option but a necessity for the Jackets. With that in mind, even the best of excuses will not earn too many sympathy votes from the Jackets faithful. It's time to perform and produce results with the operative word being "results" that help push the Jackets into the playoffs.
No longer is it good enough to say for instance that Steve Mason may have allowed 3 goals but they were not his fault or that Jeff Carter had a record number of shots on goal but failed to score any as he was facing a former Vezina Trophy winner in goal. The Jackets need results or else the playoffs will remain a distant dream!
To keep a pragmatic watch on the Jackets playoff chances, the dashboard report that I have conjured up will help track critical data sets and will be updated regularly throughout the regular season. The dashboard report focuses on statistical dimensions that are, in my humble opinion, the absolute bottom line indicators of whether the team is performing well-enough to make the playoffs. It is an attempt to take subjectivity out of the equation and replace it with objective data that relies on past trends and indicators. It can be used for any NHL team and in this case, we will spotlight the Jackets.
Dilip Vishwanat/Getty Images
From one of my recent articles on the Bleacher Report (NHL Predictions 2011/2012:3 Reasons Columbus Blue Jackets Will Make the Playoffs), I made a case for the Jackets making the playoffs based on a several reasons including the "Goals For" and "Goals Against" statistics.
In other words, based on the last seven seasons' performance of the eighth-place team in the Western Conference, a team would need to exceed the magic number of 230 in the "Goals For" category and come in below the magic number of 210 in the "Goals Against" category over the entire regular season. The magic numbers are of course adjustable as long as the "Goals For" exceeds "Goals Against" by approximately 8 percent. By hitting these magic numbers, a team's probability of cracking the top 8 spots in the Western Conference and qualify for the playoffs goes up significantly as long as historical trends hold up.
Looking at the dashboard report, one might be led to think that things look respectable for the Jackets from a win-loss perspective as they have 2 wins and 2 losses of which 1 loss was in overtime. However, further analysis of the dashboard report reveals another story.
Based on the dashboard report, the Jackets would have qualified for the playoffs after the first game against Winnipeg as they won 5 – 1. The 5 goals that they scored exceeded the minimum threshold of 2.8 goals scored per game and the 1 goal they conceded is below the maximum threshold of 2.6 goals allowed per game. Unfortunately, games 2 through 4 tell a different story as they failed to meet the aforementioned thresholds and would consequently not qualify for the playoffs at this rate.
A closer look at the dashboard report shows that the "goals for" category is not apparently an issue for the Jackets as they are scoring plenty of goals. After 4 preseason games, their "Goals for Average" is 3.0 per game which is a good sign as it is just slightly above the 2.8 threshold. Granted, most of the goals scored thus far are from players who are probably returning to the minors. Hopefully, the veterans will be able to follow suit during the regular season and score enough goals to stay above the magic number of 2.8 per game.
Marianne Helm/Getty Images
However, the "goals against" category is disappointing as the various Jackets goalies who are getting called to service are allowing too many goals. They are averaging 3.5 goals allowed but needs to be at or below the magic number of 2.6 goals per game. Often times, they are yielding goals to players from the minors so imagine what would happen if opposing teams fielded a team with all NHL players?
The Jackets Nation is already a little nervous about the goaltending situation and to further complicate things, the number 2 goaltender, Mark Dekanich, got injured and will be out for a few weeks according to Columbus-area media outlets.
Curtis Sanford, the number 3 goaltender, played for the Jackets against Winnipeg in the second preseason game and allowed 6 goals. Granted it's preseason, the lads might be taking it a little easy. Sanford is an experienced NHL goaltender and will back up Steve Mason while Dekanich recovers.
There is no doubt that everyone from Ian Clark, the new goaltenders coach to Scott Howson, General Manager, are paying close attention to this critical matter. With Steve Mason between the pipes during the majority of the regular season will hopefully yield much better results.
As the regular season begins, the dashboard report will be updated regularly to ascertain whether the Jackets are headed in the right direction when it comes to the probability of making the playoffs.
Feel free to send me your comments and feedback via postings to the article or by e-mailing me. Also, you can follow me on twitter.
Hannah Foslien/Getty Images
E-mail: Harry.Kamdar@yahoo.com
Twitter: http://twitter.com/JacketsCity
HARRY'S PLAYOFF PROBABILITY DASHBOARD REPORT
Team: Columbus Blue Jackets
As of September 25, 2011; Volume 1
(original version modified to fit publishing format requirements)
Game #
CBJ Goals For (Target: 2.8 or higher)
CBJ Goals Against (Target: 2.6 or lower)
CBJ Goals For Average (Target: 2.8 or higher)
CBJ Goals Against Average (Target: 2.6 or lower)

CBJ Going to

play offs?

1
5
Pass
1
Pass
5.0
Pass
1.0
Pass
Yes
2
1
Fail
6
Fail
3.0
Pass
3.5
Fail
No
3
4
Pass
3
Fail
3.3
Pass
3.3
Fail
No
4
3
Pass
4
Fail
3.0
Pass
3.5
Fail
No
Footnotes
1. GF/GFA needs to be 2.8 goals per game or higher; 230 goals or higher (82 games)
2. GA/GAA needs to be 2.6 goals per game or lower; 210 goals or lower (82 games)
3. Magic numbers are based on historical data for 8th place team in Western Conf.
4. Magic numbers are adjustable as long as GFA exceeds GAA by 8 percent.
5. Preseason games do not count toward playoffs.
6. Original dashboard has been modified to fit publishing requirements.
7. Produced by Harry Kamdar. Original version available upon request.
This article is
What is the duplicate article?
Why is this article offensive?
Where is this article plagiarized from?
Why is this article poorly edited?

Columbus Blue Jackets: Like this team?