Marian Hossa: Expect a Big Year from Chicago Blackhawks Winger
September 24, 2011
Jonathan Daniel/Getty Images
Chicago Blackhawks winger Marian Hossa probably felt that his first full offseason in three years would be uneventful. What has transpired during the last couple of weeks before training camp has been anything but ordinary for the 32-year-old Slovakian native.  
When the Hawks were eliminated by the Vancouver Canucks in the first round of the playoffs last April, it was the first time Hossa's season had ended before June in three years. He played in the 2010 Vancouver Olympics in the middle of that stretch and had been dinged up from time to time during his first two years wearing the Indian head sweater. 
As a Hawk thus far, Hossa has done what's expected of him when healthy. While many witless hockey fans often criticize Hossa for not scoring as much as he should, those same fans fail to realize how valuable he is as a defensive forward. He is masterful at creating space in all ends of the ice, and it is remarkable how well he uses his 6'1", 208-pound frame to protect the puck.     
In the 2009-2010 season Hossa finished with 51 points in 57 games with a solid plus-24 rating. The Hawks of course went on to win the Stanley Cup, and captain Jonathan Toews' first hand-off of the silverware was to No. 81 in white. 
Last season, again riddled by injuries, Hossa finished with 57 points in 65 games. When the dust finally settled at the close of the 2010-2011 season, Hossa was in need of a well-deserved break. 
Earlier this month, Hossa's world was rocked when he lost good friend Pavol Demitra and former assistant coach Brad McCrimmon in a plane crash that killed the entire Lokomotiv hockey team from the Kontinental Hockey League (KHL) in Russia.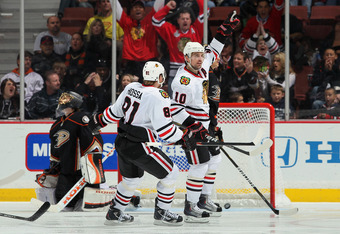 Jeff Gross/Getty Images
A mere two days later, Hossa's wife, Jana, gave birth to their daughter Mia. For the last couple of weeks, Hossa's emotions have hit extremities on both sides of the spectrum, with the sorrow of losing a friend, and the joys of becoming a new father. 
Now back on the ice with the Hawks since Wednesday, a better conditioned and more inspired Marian Hossa is ready to complete his third season in Chicago. Though he has yet to play in a preseason game, there is no doubt that he is in superb shape heading into this season.  
With his wife and daughter still in Slovakia, Hossa has arrived with renewed focus. If anything, Hossa will be fired up and thrilled about the start of the season considering the mental tribulations he has had to endure.  
Hawks fans, be optimistic about No. 81 this year. He is rested, he has a new perspective on life, he knows his role on the team, and with the Blackhawks back in the Cup picture, expect Hossa to play inspired hockey. 
The last two years Hossa has been paired with Patrick Sharp and they have worked well together. It has yet to be determined who will be on the other side of Sharp—perhaps Bryan Bickell, perhaps Rostislav Olesz.  
Either way, if you were to put money down, put it on the "Big Hoss" to have his biggest season to date in a Blackhawks uniform.