Crosby Improves, Malkin Dominates and Other Penguins Preseason Impressions
September 25, 2011
With over a week of practices under their belt and a 3-0 mark in preseason home games, the Pittsburgh Penguins are looking to pick up where they left off in December of last year—healthy, and with one of the most dangerous rosters in hockey.
For the second straight year, the Penguins went undefeated in exhibition home games (they have yet to lose a preseason tilt at CONSOL Energy Center).
A number of roster cuts have already been made, and the opening tilt in Vancouver is just weeks away. With so many names vying for so few spots, the staff has a number of difficult decisions awaiting them.
With that, a look at some of the biggest stories emerging from training camp:
Sidney Crosby Improves, Nears Return
Rumors of Crosby's retirement have been greatly exaggerated.
The Penguins' captain has been a regular attendee of training camp practices and, save for contact drills, has participated in practices with no noticeable limitations placed on his workload. 
In contrast with the "90 percent exertion" that was noted by Crosby and his doctors during the press conference earlier this month, Crosby has been working all-out at camp, and has had no recurrence of symptoms to speak of.
"The practices I've been in have been pretty tough, pretty intense," Crosby said. "But I think everyone's kind of felt that way, so I don't feel like I'm too far behind there."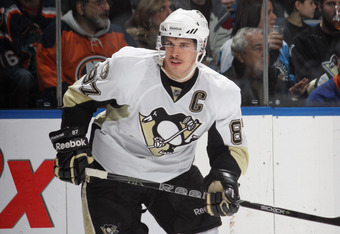 Bruce Bennett/Getty Images
Head coach Dan Bylsma has been equally impressed by Crosby's progress.
"It's a tough, tough few days for everybody, and I think that's the optimistic thing seeing Sid out there is that it's tough," Bylsma said. "It's not practice at the end of the year where the heart rate's not getting near max heart rate. It's not a 140 (beats per minute) day. It's maxed out."
Conditioning and rust will be factors when Crosby eventually returns to game action. Those things are natural. No one should expect that Sid's injury will somehow hamper the world-beating skill he put on display through the first half of last season.
In camp, Crosby has looked like himself. His shots have been the model of efficiency—he wastes no movement, just identifies his spots and nails them. His skating has been strong—a blur on open ice, powerful along the boards and impossible to keep up with in cycling drills.
Even the elusive approval for contact drills seems to be drawing near. Crosby has several times taken bumps during drills and is not shying away from busy parts of the ice.
Still, that approval could be announced 10 minutes or 10 weeks from now. Until it is, the best news to come from Sid's camp will be no news at all.
As for knowing whether the injury has healed to its fullest extent?
"It'd be nice if [Steve MacIntyre] got a hold of me with a good one, and then we'll see how we do," Crosby said.
The best news for the Penguins is that their season won't hinge on his return. Rather, it may just be the difference between a division title and a run at the President's Trophy.
Evgeni Malkin Regains Look of Top-Five Player (in the World)
Preseason stats can be such damned liars.
Still, Evgeni Malkin has five points in two preseason games (two goals, three assists), and every element of his game looks as good—as dominant, even—as in the 2009 Eastern Conference Finals against Carolina.
If the way Malkin is playing now is an indication of things to come, he may just pick up where Crosby left off last January.
"[Malkin] was playing awesome," Marc-Andre Fleury said of Malkin following Pittsburgh's 3-2 win over Detroit last Wednesday. "It's like he hasn't missed a beat. It was fun for us."
One of the first things to note is that Malkin has returned to elevating the play of those around him. He excelled with linemates Tyler Kennedy and Steve Sullivan during the first days of camp. He was paired with Chris Kunitz and James Neal against Detroit and had a hand in three of the four power play goals scored against Minnesota Saturday.
Going outside the box score, Malkin has the early look of an Art Ross winner.
His skating is perhaps as strong as it has been since the 2009 playoffs—in open ice, while running the cycle and most noticeably, during the Geno-patented keep-away drills around the perimeter of the offensive zone.
If Malkin can continue to skate circles around the zone as he has all preseason, Neal, Sullivan and others will find themselves with all sorts of open ice to work with.
Beyond Malkin's skating are the finer points of his game. The passes which went errant for the last one-plus seasons are hitting the tape every time—Malkin's feeds to Kunitz and Letang against Detroit were magnificent, and his drop pass to Dupuis Saturday was the highlight of the game. He's creating turnovers rather than committing them, and his linemates, for the first time in years, will elevate his production instead of handicapping it.
The best news is that there is no evidence of the MCL-ACL injury which ended his 2010-11 season remains.
"I'm stronger every game. Every game I feel better," Malkin said. "My knee is pretty strong now. I hope my knee keeps feeling better."
Much like he carried the team in 2008 during Crosby's recovery from a high-ankle sprain, Malkin seems primed to carry the Penguins through the early parts of the 2011 season.
Joe Morrow Obliterates Expectations
It was defenseman Simon Despres, not Joe Morrow, who was supposed to make an early push for an NHL job during this training camp.
Less than two weeks into camp, Despres has been sent to Wilkes-Barre/Scranton of the AHL without having played a single preseason game, and Morrow is making quite the impression, to the point that some are now calling for a 10-game junior tryout for the 18-year-old.
Morrow has three points (goal, two assists) in two preseason games and has looked like a perfect fit alongside defense partner Kris Letang.
"We've heard about and talked about [Morrow's] shot, we saw that tonight," Bylsma said following Saturday's 4-1 victory. "We heard about his skating ability, and that's been on display in the two games that he's played. And the one thing the quality of the person and the confidence for an 18-year-old kid has been exceptional. It's kind of coming through as you see him playing games."
Most noticeable about Morrow has not been any particular strength of his game—it's that he has no apparent shortcomings.
"He looks under control, he looks confident in his ability and we see the attributes that made him a high draft pick," Bylsma said. "He's been outstanding. He's been pretty calm and collected and confident under the fire of two exhibition games."
The most outstanding part of Morrow's game has been his composure. No amount of traffic or pressure in the defensive zone has caused Morrow to make a rushed or errant pass. His sense of timing and anticipation are off the charts, and working with the fleet-footed Letang has helped Morrow's development move even more quickly.
Through two games so far, the Letang-Morrow pairing has a franchise look about it.
"I don't think I would have played as well without [Letang] as my D partner," Morrow said. "He communicated with me throughout the entire game and showed me the right path and everything. He was a good mentor to have out there."
As Eric Majeski of LetsGoPens.com mentioned, Orpik's recovery from hernia surgery may force him to miss the beginning of the regular season, and while the Penguins have no shortage of defensemen to fill the void, a 10-game tryout for Morrow shouldn't be taken out of consideration.
If he's returned to Portland as expected, the impression he left at training camp won't soon be forgotten.
"I just want to play in as many exhibition games as I can here and stay as long as I can," Morrow said. "I'm grateful for every day I spend here. It's like a gift to me. I'm having the time of my life and I wouldn't trade it for anything."
Defensemen typically take longer to prosper than forwards because anticipation, vision and positioning are more vital than any purely physical tools. That Morrow has those parts of his game so polished at the age of 18 makes him look like a steal at 23rd overall.
Other Impressions
- Tyler Kennedy and Pascal Dupuis re-signed with the team this summer, each for two more seasons and each at a fair price (unlike so many deals handed out this summer). Kennedy has shown that his scoring touch last season wasn't a fluke, and Dupuis continues to be a solid contributor in all parts of the game. Paired with the Craig Adams and Arron Asham deals, the continuity of names on this team and in Bylsma's system is going to be a big part of why the Penguins will have one of the deepest lineups in hockey.
- Despite five straight playoff appearances, the Penguins' farm system hasn't suffered as a result of draft positioning. Joe Vitale, Nick Johnson and Eric Tangradi are all capable of holding their own on this team, with Vitale making the strongest push as a fourth-line and penalty kill specialist (18-of-31 in faceoffs for a .580 win percentage; 11:10 TOI while shorthanded).
- Goaltender Brad Thiessen has also been impressive, allowing two goals in four periods of work this preseason and earning the win Saturday (stopped 31 of 33 shots in combined appearances). Thiessen will almost certainly earn one or two starts this year at the NHL level, and when Brent Johnson's contract expires after the 2011-12 year, expect Thiessen to become the full-time backup behind Fleury.
- Special teams have excelled thus far. The Penguins had the league's best penalty killing unit last season at 86.1 percent, and the unit has killed all 14 chances against in three preseason games so far. The power play, which was flat-out garbage in the absence of Crosby and Malkin (1-for-31 in last year's Eastern Conference Quarterfinals), is 5-for-12 in three games (42 percent conversion rate), including four markers against Minnesota and goaltender Niklas Backstrom. Malkin's play on the man-advantage has been outstanding, but the Penguins are getting the puck to the net quicker, with every combination of personnel, something Bylsma must be stressing during practice.
- This may be the deepest Penguins team in a long time. Even if Crosby, Orpik and Dustin Jeffrey aren't ready for opening day, a number of NHL-caliber players are going to start their seasons in the minors. Should the injury bug strike again, the Pens will be even more prepared to handle the losses than they were last season when the club lost 350 man-games to injury.
Follow all of James' Penguins preseason coverage at Bleacher Report and at Slew Footers, or yell at him on twitter @slewfooters.