Rafael Nadal: The Most Important Reason Why He Will Bounce Back in 2012
September 22, 2011
Jasper Juinen/Getty Images
Rafael Nadal has had a fantastic year by any standard—save the one he and Roger Federer have been setting for the past seven years or so. 
In that light, his nine finals, including a slam win and two additional slam finals, seem like a setback.
And it is.
Even more so because Nadal has lost six of those finals to the one man, Novak Djokovic, who has replaced him at the pinnacle of men's tennis. 
Many have tried to analyse what Nadal needs to tweak in his game to counter this new foe who, by the way, keeps beating him. The answers range from a better serve to a better slice, a more aggressive game-plan to a better backhand, flatter and deeper shots to a different mindset going into the match. 
Given how the two of them have matched up this year, with Djokovic typically winning the majority of the longer rallies, there does seem to be a need to tweak a thing or two. 
Many believe that if he could get the serve that won him the US Open 2010 back, he would fare much better against Djokovic. 
But while a stronger serve than the one he presented at the US Open final 2011 certainly can't hurt him, it is not necessarily the game-changer his fans are hoping for.
After all, at Wimbledon Nadal did serve at an average of 118 mph, hitting 78 percent of his first serves—not too far off the best he can serve—and still lost in four not overtly close sets.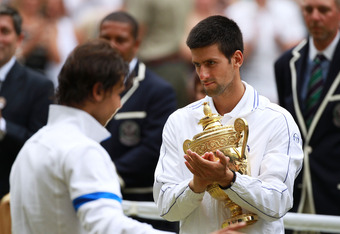 Julian Finney/Getty Images
So, what should we put our hope in when it comes to Nadal returning to the top of men's tennis?
Can we expect Djokovic's level to go down a notch? As it is evident from his nine finals and three slam finals, Nadal will be standing there on the last Sunday, ready to take advantage as soon as his rival should lose a step.
But it would be unfortunate for tennis if Nadal regained his dominance merely by virtue of Djokovic slipping.
It would be more fitting, for instance, if Nadal simply improved upon his own level in order make the Nadal-Djokovic rivalry a more competitive one.
While I personally believe that is a tall task for Nadal, given that Djokovic essentially has beaten Nadal at his own game, I also know that no one should ever underestimate Nadal.
For me, the single most important reason we can expect a stronger and more competitive Nadal in 2012 is this:
He's always improved and he's determined to continue to do so.
Even at the height of his powers, Nadal kept developing his game, always striving to improve. While some have suggested Nadal will pull a Bjorn Borg and retire early, that is completely unlikely once you realize that;
a) Nadal enjoys being the hunter and the underdog, and;
b) he enjoys the fight, the challenge and the adversity and will do everything in his power to turn the tables.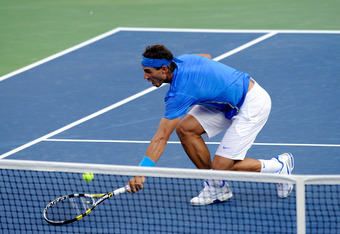 Patrick McDermott/Getty Images
While I've picked Djokovic to win pretty much all of their meetings from Madrid onwards, I cannot overlook Nadal's fighting spirit and that this, at the very least, means he won't go down easily.
I still believe Djokovic' holds the trumps and that he, as of now, has neutralized or matched four of Nadal's biggest weapons: the cross-court forehand, the stamina in long matches, the consistency in rallies and the mental strength.
Combine that with Djokovic having a better return game and a serve that is equal or better and you can see why Nadal is having such a hard time. 
In this perspective, Djokovic represents a type of rival the 25-year-old Nadal has never had to battle before. 
Yet, I still cannot say that Nadal won't find a way.
He always has and it is way too early to say he won't do it again.