Where Will the Detroit Red Wings Spend Their Money Next Year?
September 22, 2011
Ezra Shaw/Getty Images
The Detroit Red Wings have opened their training camp and start preseason play this week.  In looking forward to the season and what it holds, it is also a good time to look forward to what the next offseason has in store.
I can already hear you questioning why.  Welcome to the world of the NHL GM. 
Red Wings GM Ken Holland not only needs to keep a watchful eye on the roster as it stands today and what moves may need to be made during the season, but he also needs to be thinking ahead. 
He not will be looking just to next summer but even seasons further down the road. 
The Red Wings look to be major players on the free agent market next season.  According to Pierre LeBrun at ESPN.com, the Red Wings will be $21 million under the cap next season. 
Capgeek.com predicts that number will be closer to $29 million.  Either way, they will have money to spend and the need to do so.
The biggest question facing Holland next offseason will be the fate of Nick Lidstrom.  Obviously, if he wants to come back then he will be welcomed with open arms.  The question will be at what cost. 
The Wings will not haggle over a pay cut and certainly with Lidstrom's history he deserves to be paid well.  The question will be if and how much below this season's $6.2 million salary they could get him for. 
The key is that whatever money is saved on another one-year contract for a player nearing the end of their career can be used to help lock up another player for several years.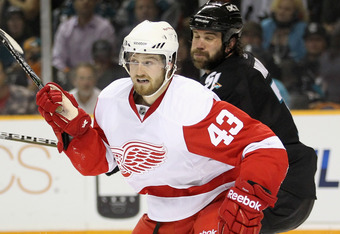 Ezra Shaw/Getty Images
In addition to Lidstrom, the Wings will have several other free agents.  Daren Helm and Justin Abdelkader will both be restricted free agents. 
The team will try to wrap up both of these young players long before free agency starts.  Unrestricted free agents such as Ty Conklin and Mike Commodore are on one year deals. 
Their fates will be determined not only by what they do this year but also by what the team will need and how far the younger players progress.
Holland also faces the interesting challenge of what to do with Tomas Holmstrom and Todd Bertuzzi.  They will be 39 and 37, respectively, next season. 
Although neither are anywhere near their 30 or 40 goal seasons of the past, they are both still important pieces to the Wings' puzzle.  Both are in the right price range as they each make below $2 million a year. 
It is difficult to imagine the team letting either of these players go, especially Holmstrom.  The key will be how they each do this season.  If they can maintain their health and still get close to that 20-goal mark then they will likely be back. 
However, if they show any slippage—or perhaps more importantly, if the young players who will get a chance this year show enough promise—the team may be forced to make room by not bringing back one or even both of these players.
Jiri Hudler is looking at a very important season.  He will also be a free agent and is coming off a bad year.  He is set to make $2.875 million this season.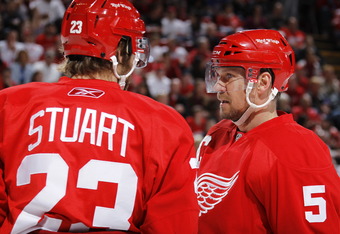 Gregory Shamus/Getty Images
With how he played last year, he will not find a team that will be willing to pay him anywhere near that much.  He will need a great season to either entice the Wings to keep him or for another team to sign him. 
Unless something amazing happens, look for the Wings to use that money elsewhere.
The two biggest free agent names for the Wings will be Brad Stuart and Niklas Kronwall.  Both will be free agents and both will need to be resigned.  Stuart at $3.7 million and Kronwall at $3 million will be in for hefty raises as well.  
This is one more reason why the Ericsson signing was questionable.  Overpaying him to the tune of $3.25 million upped the price for both Stuart and Kronwall. 
The Wings are riding at a little over $5 million below the cap this year.  Some of that excess money is earmarked to help keep both players.
There will also be some attractive players hitting the free agent market next year.  While there are many that will draw attention, the Wings might be wise to look at the following few.
Ryan Sutter: On the defensive side, Sutter will catch the Wings' and many others teams' attention.  The Predators have several restricted free agents next year including Shea Weber.  As a team that pays far below the league cap, they may not have enough funds to lock everyone up so Sutter might be available.
Zach Parise: Parise scored 31 goals or more in four of his last five seasons.  A knee injury took him out of all but 13 games last year.  He is playing on a one year deal with New Jersey.  If he can stay healthy and show the scoring prowess that he has in the past, then many teams, including the Wings, will be interested.  High scoring players who play both ends of the ice do not often become available in the prime of their careers.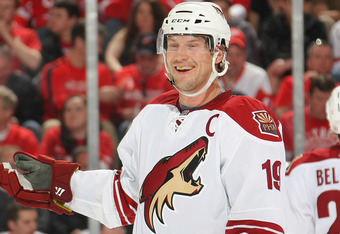 Dave Sandford/Getty Images
Shane Doan: Doan is the type of player the Wings have a habit of adding.  He is a tough two way veteran player.  While not at the end of the line, Doan will be entering his 15th NHL season and has never come close to winning the Stanley Cup.  Adding a hungry player such as this to the lineup could be a boost.
Ales Hemsky: Hemsky was slowly developing into a solid scorer but the past two seasons were marred by injuries.  If he can remain healthy this year and show potential again then he could be a good fit.  Despite his games being limited these past two years, his shooting percentage improved.  That promise will have several teams watching him this year.
Mikhail Grabovski: He is only 27 years old and scored 29 goals last season.  Many teams will be watching how he does this year to see if he continues to improve.
Some will also start dreaming of Drew Doughty, Patrick Sharpe, Pekka Rinne or Alexander Semin, but the chances of them coming to Detroit are slim. 
Instead, some lesser known players such as Dennis Wideman, Jaroslav Spacek, Willie Mitchell, Andrei Kostitsyn and Daymond Langkow are some other players to watch. 
As the season is getting ready to start and you sit down to watch the Wings' games, pay attention to the other team's players.  You know Ken Holland will.