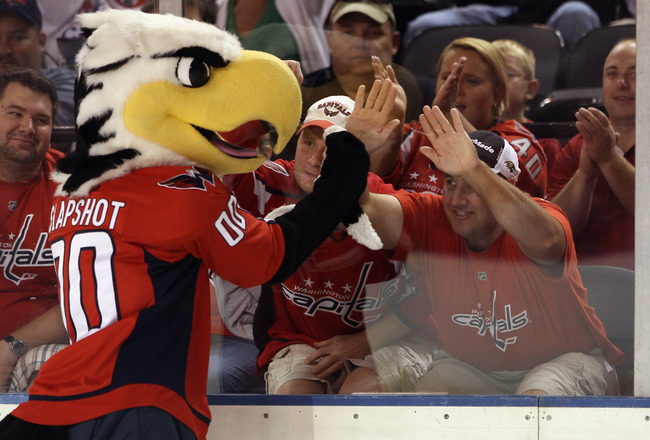 Bruce Bennett/Getty Images
NHL Fans are some of the rowdiest out of any league in the United States. This top ten was based on each team's social media following, the trends of fans in recent years and overall attendance (http://espn.go.com/nhl/attendance/_/year/2011). Looking forward, this may change in the 2011-2012 season as the top five were all very close.
10. Edmonton Oilers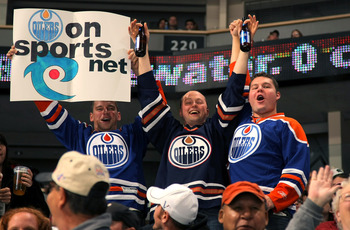 Doug Pensinger/Getty Images
The Oilers managed to sell 100 percent of tickets available last season at home, proving that they deserve their spot in the top ten. Imagine if they had a dominant team? Their following would be much higher.
The Oilers haven't fared so well in the free agent market lately, which has hurt their team and following, as well. As a resurgence from the team is expected in seasons to come, watch for their fan base to slowly climb the ladder into the top five of this list.
They might not be one of the top ten teams in the NHL, but their fans are loyal enough to put them in the top ten fan bases of the League.
9. Calgary Flames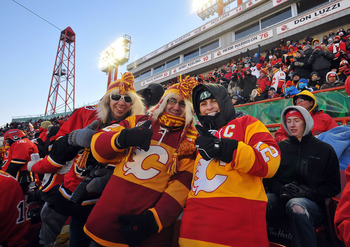 Dylan Lynch/Getty Images
Another Canadian team on the bottom end of the top ten.
Looking at the way they have performed these past few seasons, and their off season moves, the team is slowly but surely getting better. Their attendance has been phenomenal these last few seasons, but online following is lacking a bit for the team. \
Like the Oilers, if the Flames can improve their performance on the ice, the performance of those surrounding it will be better, as well.
8. Minnesota Wild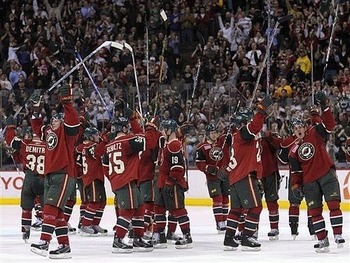 Wild players salute their fans following another great season of support last year.
Again, another team that has had great fan support around a mediocre team.
They are in that small window where they aren't good enough to make the playoffs, yet not bad enough to earn a top-10 draft pick. Going into last season they had the longest consecutive sellout streak of any team in the NHL at 409 home games.
Looking into the future, the Wild may need to step it up, and make the playoffs to get their fans to continue to love them as much as they do now.
7. Detroit Red Wings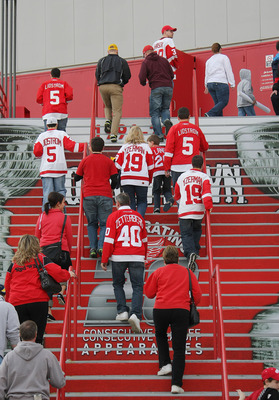 Fans are decked out in their Red and White as they enter Joe Louis Arena
Dave Sandford/Getty Images
The Detroit Red Wings earned their spot at number seven on this list.
Out of all the arenas that I have been to, Joe Louis Arena seems to be full of the most knowledgeable fans in the league. They always are into the game and and haven't been disappointed the past 20 seasons, with the team not missing the playoffs once.
The team expects another great season this year. Although, it may be the last for their captain Nicklas Lidstrom, it wont be the last for another great season of fan following in the NHL.
6. Washington Capitals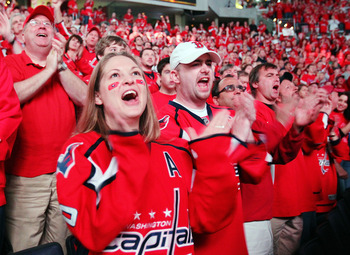 A sea of red can be found at just about every Capitals home game.
Len Redkoles/Getty Images
The Capitals have rallied around their greatest player (in my opinion) in franchise history.
Alex Ovechkin brought a new spark to the team that rejuvenated the fans, as well. The fans were disappointed last season by a first round playoff ousting by the Montreal Canadiens. The team won the Southeast Division last year and hope to continue their success this season, spurred on by their great fan base.
The Caps have a decent enough social media following to work their way up to number six on the list, just missing the top five.
5. New York Rangers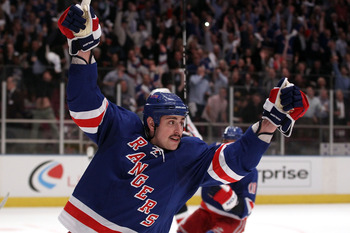 Rangers celebrate a goal at Madison Square Garden, Applauded by another sellout crowd at MSG.
Bruce Bennett/Getty Images
The Islanders may not have much success at attendance, but the Rangers seem to sell out games every chance they get.
Their coaching staff seems to know what they are doing and has put together a team capable of winning games. Their fans have caught on to that and continue to come. The way the team has played has sparked a new interest in Rangers hockey in the state of New York
. Look for them to do big things in seasons to come.
4. Toronto Maple Leafs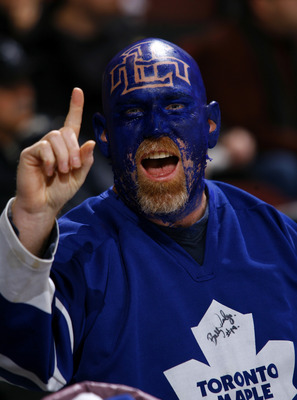 Phillip MacCallum/Getty Images
Canada really loves their hockey don't they?
They've been called the NHL's version of the Chicago Cubs—that one team that you can't hate as much as they lose. Its been 43 years since they've won their last Stanley Cup, but that hasn't stopped their fans from loving them unconditionally.
Air Canada Center has some of the highest ticket prices of any NHL team, yet somehow they continue to sellout almost every single game. There is always a lot of pressure on any players that play in Canada's largest city, so when you consider the job of Phil Kessel, you can see how much pressure is on himespecially when looking at what the team gave up for him.
3. Vancouver Canucks

Canucks fans go all out supporting their team, even making songs about their favorite team.

You may be thinking, "Wow, more of Canada?"Well, I'll tell you right now, I am not Canadian.
The Canucks fans have been so loyal through thick and thin, and after last season, they have been more supportive than ever. Their hosting of the 2010 Olympic games seemed to spark the interest of those in Vancouver. The great hockey traveling to Vancouver for the games definitely got their interest and their attendance has jumped.
And so has their social media following, with over 160,000 followers on Twitter (@vancanucks.) Their chants of "Louuuuu" for their goalie, Luongo, has gained popularity and their great team has gotten interest in the fans of the Vancouver area.
2. Montreal Canadiens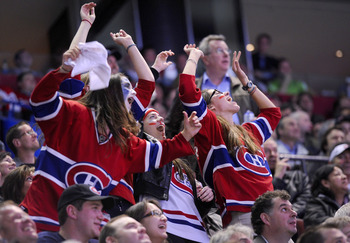 Phillip MacCallum/Getty Images
Of course, the Canadiens have sold 100 percent of the tickets last season. The team is decent, and players must, at all times, be on the watch for team-following papparazi. The paps will snap pictures while the players are out at their favorite places and girlfriends quickly become the focus of speculation, especially if that player's performance on the ice doesn't meet the high expectations of the fanbase.
The expectations are high, but the team hasn't completely met standards, not winning a Stanley Cup since 1993. Again, this is a team that could be number one with a playoff berth, at least. With their fans, it might take a Stanley Cup to boost attendance
1. Chicago Blackhawks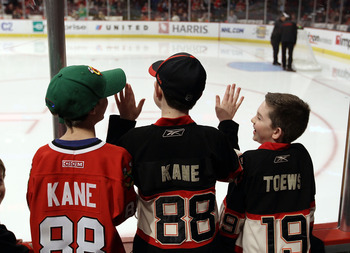 Bruce Bennett/Getty Images
The Blackhawks oversold their arena last season, selling 108.7 percent of tickets for games, due to the massive fan base.
Standing room only ticket sales have skyrocketed, especially after their Stanley Cup two seasons ago. The Blackhawks used to be outsold by their AHL counterpart the Chicago Wolves. Their fans travel well, and are some of the most loyal fans in the entire league. They outsold the Canadiens by almost six thousand tickets and Toews, Kane and Hossa seemed to spark jersey sales last seaso. The team is now thriving in the NHL West.
Keep Reading