Columbus Blue Jackets Lock Up RJ Umberger with Contract Extension
September 21, 2011
Christian Petersen/Getty Images
At the beginning of the offseason, it was not clear whether or not winger RJ Umberger, the heart and soul of the Columbus Blue Jackets, was going to re-sign with the team after the 2011-2012 season.
When asked if he would consider re-signing, Umberger stated that he wanted to wait and see what the team did in the offseason before he made any decisions.
He had to believe that Columbus was moving in the right direction first, before he made a long-term commitment.
The Jackets took what Umberger said to heart and had one of the busiest offseasons in franchise history, dealing away their first-round draft pick and talented youngster Jakub Voracek for All-Star center Jeff Carter, as well as signing top defenseman James Wisniewski during free agency.
Umberger must have liked what he saw, as Tuesday, the 29-year-old signed a five-year, $23 million contract extension through the 2016-2017 season, according to the team's website.
"We are pleased that we were able to come to an agreement with R.J.," said Jackets general manager Scott Howson.
"R.J.'s commitment to the team and the city has been impactful since we acquired him three years ago. We are very excited about him continuing to play such a large role on our team."
The Pittsburgh native has not missed a game for Columbus since being acquired from Philadelphia during the 2008 Entry Draft, setting a franchise record with 246 consecutive games played.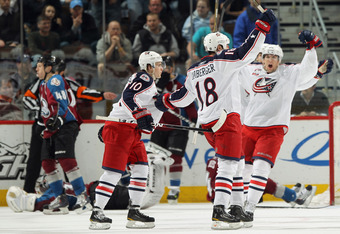 Doug Pensinger/Getty Images
Aside from captain Rick Nash, Umberger has been one of the biggest leaders in the Blue Jackets locker room and it would have been a enormous step back in the Jackets' future if they lost him to free agency.
Umberger finished the season last year with 57 points, a career high, and finished second on the team in goals with 25 and assists with 32.
His point total has increased over the past three years and this upcoming season should be no different with the two additions of Carter and Wisniewski.
Umberger proved to be the biggest factor for the Jackets on special teams as he lead all Blue Jackets with eight power play goals and three short-handed goals.
The future looks bright for Columbus with Umberger and the rest of their core players locked up long term.