Vancouver Canucks: What a Late Start for Ryan Kesler Could Mean to the Team
September 20, 2011
Jeff Gross/Getty Images
Ryan Kesler is still recovering from offseason hip surgery and is expected to miss the opening weeks, or even the first month, of the 2011-12 season.  
This is a similar scenario to last fall when Alex Burrows missed training camp and the first 10  games of the regular season recovering from offseason surgery, and then spent the next 10-15 games getting back into game shape and hitting his stride. Burrows wasn't firing on all cylinders until December. 
You can expect the same sort of timeline from Kesler this fall.
So what does this mean for the Canucks as a team? 
Frankly, not a lot. 
First, the Canucks, at least the current edition, have never been a fast starting team. Last season, they basically played .500 hockey for the first six weeks or so, and then flicked a switch and ran away with the President's Trophy. 
While it wouldn't be reasonable to assume the Canucks will be a lock to successfully defend their President's Trophy this year, the first month or two of the season really doesn't matter, because the Northwest Division isn't very good. 
Aside from the Canucks, who had a pretty successful 2010-11 campaign, the other four teams of the Northwest Division were all golfing by April. 
2010-2011 Standings:
Vancouver Canucks (54-19-9) 117 points
Calgary Flames (41-29-12) 94 points
Minnesota Wild (39-35-8) 86 points
Colorado Avalanche (30-44-8) 68 points
Edmonton Oilers (25-45-12) 62 points 
Now, while an argument can be made that some of those teams have improved, the Flames got worse, and they were the closest "competitor" (and I use the term loosely) to the Canucks, and that was still a 23-point gap. 
Is Dany Heatley going to propel the Wild to a 31-point improvement in the standings? 
Are the Oilers going to double their meager point totals from last year? 
Probably not.
Missing a 40-goal scoring, Selke-winning center is going to be a pain. But, the Canucks will still be head and shoulders above the other teams in their division in terms of talent. 
After all, their top line still boasts a pair of Art Ross-winning Sedin twins along with Alex Burrows, a 30-goal scorer in his own right. 
A silver lining to Kesler's absence is that Cody Hodgson will finally get a chance to play in an offensive role. It'd be nice to see what the highly touted draft pick can do, given skilled wingers like Marco Sturm and Mikael Samuelsson instead of grinders like Victor Oreskovich and Tanner Glass.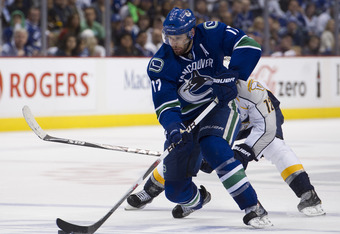 Rich Lam/Getty Images
The safe bet is that the Canucks will win the Northwest Division again, guaranteeing them no worse than third seed for the playoffs. 
And since the Pacific Division (Kings, Sharks, Ducks) and Central Division (Red Wings, Blackhawks, Predators) both have multiple teams fighting for the division title, it isn't inconceivable that the Canucks will win the West again solely based on playing in a weaker division. 
So is Ryan Kesler missing time in the fall going to dramatically impact the Canucks in the 2011-12 season? 
Not in terms of playoff positioning, and that is all that really matters.