NHL Trade Rumors: 20 Deals That Could Happen Between Now and February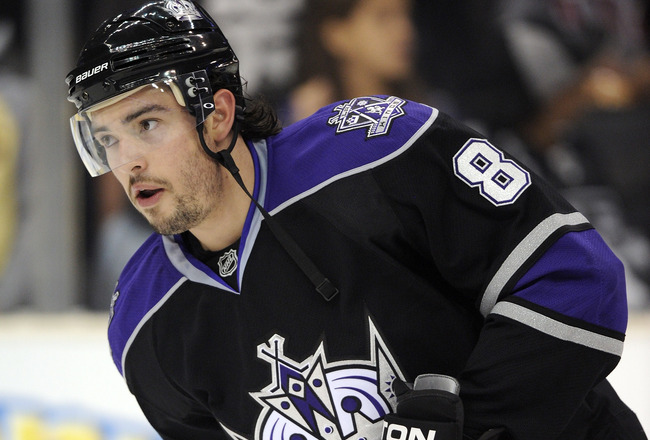 Harry How/Getty Images
We're just a couple weeks away from the start of the NHL season. While most teams' rosters are pretty well set, there could still be a couple of last-minute trades before the season gets underway.
There a couple of teams still over the salary cap, so there's a chance one of them will make a trade to get under the cap.
Once the season is underway and the trade deadline approaches, there will be plenty of trades and some unexpected ones.
However, people are already beginning to speculate on what trades may or may not happen in the next few months.
Some of these trades are unlikely, but here are 20 trades that could happen between now and the 2012 NHL trade deadline next February.
20. Shaone Morrisonn
Rick Stewart/Getty Images
The Buffalo Sabres are a few million dollars over the salary cap still and will need to make some changes to get under the cap.
They could just dump salary into the AHL, but the team hinted that they are looking to make a trade, probably quite soon.
One player that is probably on the chopping block is Shaone Morrisonn.
Morrisonn is entering the final year of his two-year deal with the Sabres, where he made $2.075 million annually.
That's a lot for a player that they don't really need, given their additions.
19. Sergei Bobrovsky or Michael Leighton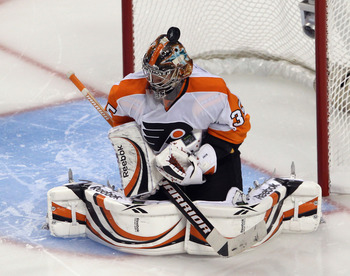 Bruce Bennett/Getty Images
The Philadelphia Flyers signed Ilya Bryzgalov over the summer and he'll probably be their starter for the next nine years.
That means that the Flyers don't need all of Bryzgalov, Sergei Bobrovsky and Michael Leighton.
In fact, they should trade one of them to get something in return.
Bobrovsky seems to be the most likely, just because he deserves the opportunity to become a starter somewhere and he'll probably garner more in return than Leighton would.
Sometime during the season, a team's goaltender will inevitably become injured and they'll look to acquire another goaltender.
That will be the perfect time for the Flyers to move.
18. Johnny Oduya
Bruce Bennett/Getty Images
Johnny Oduya was one of the players traded to the Atlanta Thrashers in exchange for Ilya Kovalchuk and others.
Oduya hasn't played up to expectations and the Winnipeg Jets may look to move the defenseman, if they can.
After all, a $3.5 million cap hit is quite steep for a player who hasn't made a big impact for the team.
However, there probably isn't a lot of interest in Oduya, but he could be part of a multi-player trade.
17. Jason Spezza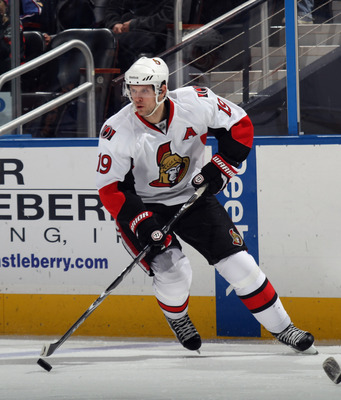 Bruce Bennett/Getty Images
The Ottawa Senators have been looking to rebuild their team. They haven't been able to attract top free agents, so they'll need to rely on trades.
Many believe that they'll have to trade some of their core pieces in order to get what they want in return.
This means trading Jason Spezza.
It seems like a ridiculous notion for the Senators to trade their best player; however, if offered enough in return, it's not out of the realm of possibilities.
16. Jiri Hudler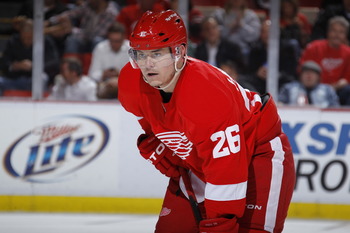 Gregory Shamus/Getty Images
Jiri Hudler has an opportunity to prove himself this year for the Detroit Red Wings; otherwise, he could find himself on the trading block.
Hudler played in the KHL in 2009-10, but returned to the Red Wings last season.
He only scored 37 points though; not worth his price tag of $2.875 million. He has another year left on his deal and could improve and earn his place on the team.
If not, the Wings will look to move him.
15. Scott Gomez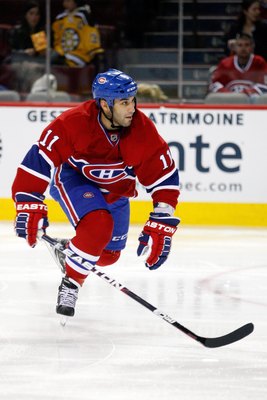 Richard Wolowicz/Getty Images
Scott Gomez is a fine player, but the Montreal Canadiens forward costs a lot of money; his annual cap hit is more than $7.3 million per year.
And, that contract goes through 2014.
That's a lengthy and hefty contract for the Canadiens to maintain.
They may look to move him; however, that contract makes him very difficult to move.
14. Johnny Boychuk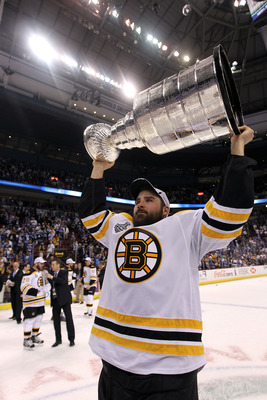 Bruce Bennett/Getty Images
The Boston Bruins won the Stanley Cup and retained most of that championship team, so they don't need to make any moves now.
However, they could trade Johnny Boychuk later on, says the latest trade speculation.
After all, Boychuk was inconsistent last season and he's eligible to become a UFA next summer.
If he continues to be inconsistent, the team might as well look to trade him.
13. Ryan Suter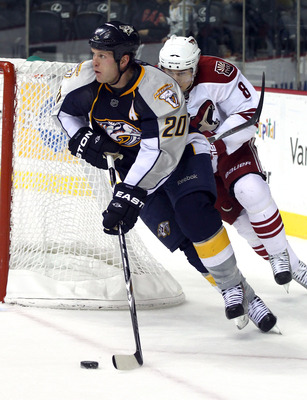 Bruce Bennett/Getty Images
The Nashville Predators have three players set to become free agents next summer: defenseman Shea Weber, goaltender Pekka Rinne and defenseman Ryan Suter.
Suter seems to be the odd man out of that bunch.
Instead of letting Suter walk next summer, the team should look to make a trade and get something in return.
They could probably get the most for him if they make a move before the trade deadline next year.
12. Andrei Kostitsyn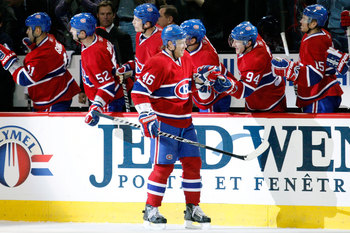 Richard Wolowicz/Getty Images
Some Montreal Canadiens fans would like Andrei Kostitsyn to be traded, following comments he made this summer about his coach.
Plus, Kostitsyn is set to become a UFA next summer.
The team might as well move him and get something out of it.
It would be better than seeing him not perform well for the team and under the coach.
11. Cory Schneider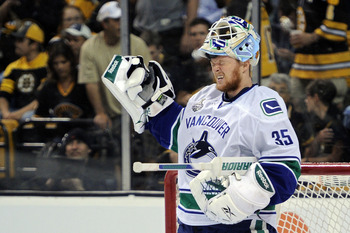 Harry How/Getty Images
The Vancouver Canucks have two fantastic goaltenders: Roberto Luongo and Cory Schneider.
Both goaltenders are worthy of being starters, but obviously, only one can be the starter on the Canucks. It seems that honor will go to Luongo.
Schneider will become a free agent next summer and the Canucks should move him while they can still get something in return.
By February, at least one team will be in need of a solid goaltender and Schneider will fit that bill.
10. Zach Bogosian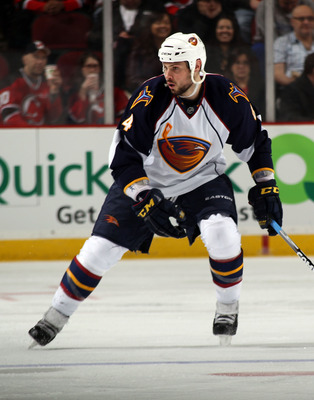 Bruce Bennett/Getty Images
The Winnipeg Jets signed RFA defenseman Zach Bogosian to a two-year deal worth $5 million just recently.
However, that doesn't mean his position on the team is safe.
After all, it could actually make him more tradeable. He's a young defenseman with a lot of potential and he'll be locked down for the next two seasons.
That could be very appealing to many teams and the Jets could get a lot in return.
9. Martin Brodeur
Jonathan Klein/Getty Images
It might seem unthinkable that the New Jersey Devils would trade Martin Brodeur.
However, his contract is up after this season. The Devils probably expect Brodeur to retire and don't intend on re-signing him.
Yet, Brodeur mentioned that he might be interested in returning again next season.
The Devils could decide to trade Brodeur and they could still get something good in return, given Brodeur's reputation and legacy.
8. Pekka Rinne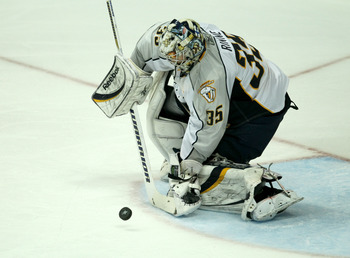 Stephen Dunn/Getty Images
As mentioned earlier, the Nashville Predators have a lot of decisions to make over the next year. Who do they re-sign out of Pekka Rinne, Shea Weber and Ryan Suter?
After all, they probably can't afford to keep all three.
While it seems unlikely, the Predators could decide to trade Rinne and keep their star defensemen.
They could get a lot in return for him, especially if another team gets into a goaltending bind.
7. Ales Hemsky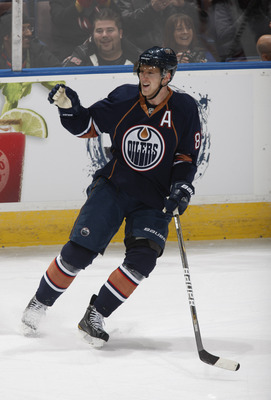 Dale MacMillan/Getty Images
There have been rumors and speculation surrounding an Ales Hemsky trade for a very long time.
As he nears his UFA status next summer, the rumors surrounding Hemsky will probably heat up even more.
Hemsky will probably be the top UFA next summer, so unless the Edmonton Oilers are positive he'll re-sign and can get him re-signed sooner rather than later, they may look to move him.
After all, they don't want to lose him and walk away empty-handed.
6. Alexander Semin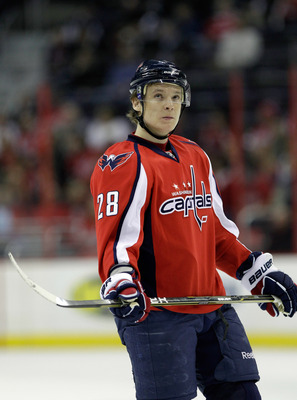 Rob Carr/Getty Images
The rumors about Alexander Semin being traded will probably never go away, unless he's ever actually traded.
It remains a legitimate possibility that Semin could be traded, as he's inconsistent, injury-prone and is another high-priced player that the Washington Capitals struggle to fit in under the cap.
The team could probably move him in the middle of the season, when he's playing his best, and get a lot in return.
If they decide to trade him, that is.
5. Paul Stastny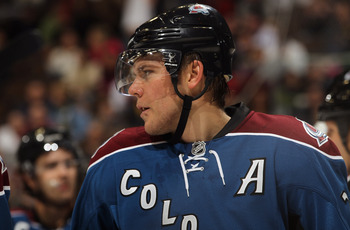 Doug Pensinger/Getty Images
The Colorado Avalanche could use some changes and they may have to trade Paul Stastny to accomplish what they need to.
It's very unlikely that the Avalanche would willingly part ways with Stastny, but nothing is ever off the table.
If they do trade him, they'd have to get a lot in return. Additionally, they should trade him to a contender, to give him a chance to win the Cup.
4. Jarome Iginla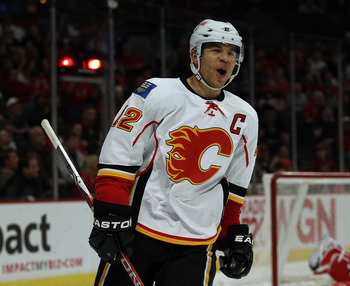 Jonathan Daniel/Getty Images
The Calgary Flames need to make a few changes to become a contender in the Western Conference.
Many believe that the only way they'll accomplish this is if they trade Jarome Iginla.
Trading Iggy seems unthinkable, but it may not be. Teams would give a lot to get Iginla on their team, which could benefit Calgary in the long run.
Plus, Iginla deserves the opportunity to win a Stanley Cup before he retires and that very well might not be with the Flames.
3. Zach Parise
Jim McIsaac/Getty Images
The New Jersey Devils and Zach Parise could only agree to a one-year deal this summer, before they would have gone to arbitration.
They'll be working on another contract so that they won't have to go through this next summer.
However, there's a very real possibility that they won't be able to agree on a long-term deal and a slight chance that Parise could decide to walk.
If they are going to lose Parise, they need to get something in return.
2. Shea Weber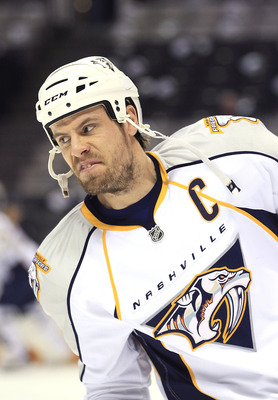 Ezra Shaw/Getty Images
The Nashville Predators and captain Shea Weber went to arbitration this past summer, where Weber was awarded the largest salary in arbitration history.
They too will be working on a long-term deal this year.
However, once again, it's not a given that the two sides will be able to come to an agreement on a new deal.
If that's the case, the Preds need to trade Weber. They could get a lot in return and it's better than getting nothing in return (even though he'll only be an RFA again next summer).
1. Drew Doughty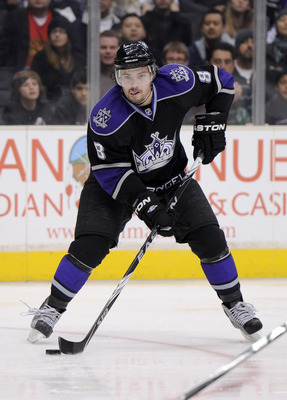 Harry How/Getty Images
Drew Doughty is still holding out during negotiations with the Los Angeles Kings. This could irreparably damage the two sides' relationship.
While Kings GM Dean Lombardi has said basically that trading Doughty is not a possibility, at some point, it might become one, depending on how long this drags out.
There's plenty of teams itching to nab Doughty and if they can't come to a deal, the Kings may be forced to move him.
Keep Reading