NHL 2011-2012: Winnipeg Jets' Evander Kane Poised to Reach Superstar Status
September 23, 2011
Bruce Bennett/Getty Images
This year in Winnipeg, it's not relocation rumors that lurk in the deep—those wishes have already been satisfied. Instead, it's the hidden star of a severely underrated team that prepares to take the hockey world by storm.
While the focus remains on team leaders Andrew Ladd and Dustin Byfuglien, another budding superstar stands in the shadows for now. That dark horse—Evander Kane—is poised to establish himself as top-class goal scorer in 2011-2012 and shed his underperformer tag forever.
So far, Kane, the fourth overall pick in the 2009 NHL draft, has not been able to develop much of a reputation. Despite two full seasons of big league experience already under his belt, most everyday fans would still confuse him with another star forward of the same name: Chicago's Patrick Kane.
Nonetheless, this particular Kane remains on the brink of a breakout season (pardon the cliche) in the upcoming campaign. With a new environment, revitalized roster and fresh set of expectations, you can bet on a lot of noise coming from the MTS Centre this season.
Career So Far
Evander Kane hasn't set the league on fire yet, but that's still not to say he hasn't made his mark.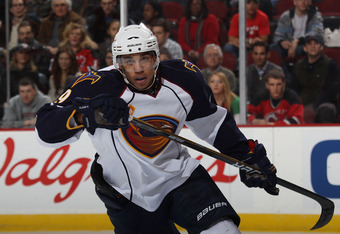 Bruce Bennett/Getty Images
Following his selection by the Thrashers in June 2009, the natural winger immediately stepped into a full-time NHL role in 2009-10, scoring 14 goals and 12 assists in 66 games played. 
Seeing only an average of 13:59 of ice time per game, Kane saw a lot of second and third-line action throughout the year, playing alongside fellow forwards like Colby Armstrong, Bryan Little and Vyacheslav Kozlov. Obviously, he didn't exactly get to start out in an ideal situation in terms of production and it hurt his development.
Kane's role was stepped up more last season, but he failed to explode into the scoring leader he was expected to be.
The Vancouver, British Columbia, native tallied 19 goals and 24 helpers in 73 appearances, upping his point total from 26 to 43. Furthermore, he assumed a power play role that wasn't part of the resume in 2009-10, scoring four goals and eight points with an average of 2:18 of man-advantage time on ice per game (fourth-highest among team forwards).
On the other hand, though, Kane's plus/minus rating slipped from plus-two as a rookie to minus-12 last year. He also watched his shooting percentage drop from 11.0 percent to 8.1 percent, despite taking almost twice as many shots.
Fellow first liner Andrew Ladd's arrival and success with the Thrashers far outshone any of Kane's contributions and relegated the 20-year-old to the "underperforming" category. Now, entering the final season of his three-year, $6.3 million contract, the time is now for Kane to get his act together and start making a difference on the scoreboard.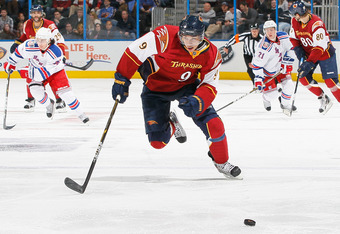 Kevin C. Cox/Getty Images
Outlook
Thankfully, Evander Kane has a fantastic opportunity to start anew in Manitoba, with a new owner, new GM and new coach to make his impression on.
Kane will now return to a place much closer to his hometown, where he grew up and played his junior hockey. A relapse into his old Vancouver life would actually be a welcome change, as Kane scored a whopping 48 goals, 96 points and a plus-51 rating during his 2008-09 junior hockey campaign with the WHL's Vancouver Giants.
Plus, regardless of the stat lines, it's undeniable that Kane has a boatload of skills. Just a glance at some of his goals—here's a YouTube compilation of all 19 of his strikes from last season—prove the fact that Kane sure can score, pass and even fight with complete ease.
He'll benefit this year from the fact that Winnipeg wasn't relocated out of the Southeast Division yet, too.
Many of the best defensemen in the division are more offensive types, such as Washington's Mike Green, Tampa Bay's Victor Hedman, Florida's Ed Jovanovsky and Carolina's Joni Pitkanen and Tomas Kaberle. As a result, the division ranked fifth out of six in combined goals allowed in 2010-11.
Fittingly, Kane actually scored the first goal ever for this new Jets franchise on Monday night. Although his side of Winnipeg's two split-squad games was demolished 5-1 by Columbus, Kane's goal at 6:21 of the second period was the first time since 1996 that any 'Winnipeg Jets' team has lit the lamp. Let's hope that milestone is symbolic of the future for this promising youngster.
Prediction
As implied by the title, it seems as though Evander Kane is prepared for a humongous breakout year in all aspects.
He'll appreciate the stability on the first line of having a reliable center in Andrew Ladd, as well as a versatile winger in Nik Antropov on the opposite side. He'll gain an advantage from an easy set of opponents, a fresh start in Winnipeg and another year of gradual improvement and vital experience to build on.
Evander Kane is already one of the best African-North American hockey players in the league today; now, he has a chance to blossom into one of the best hockey players of any race in the league today. A mathematical projection based on his improvement last summer would land Kane with 24 goals, 36 assists and 60 points in 2011-12—a solid season by any means—but we see him catapulting even farther than that.
With the Jets looking more like a playoff contender than the franchise has been in a while, expect improvements in every category, from goals to plus/minus to hits (where he led the team last season with 154 of them).
It's not an exact science, but we're completely willing to throw out a stat line like 30G—45A—75P, a mark that would've landed him around 15th in the NHL in scoring last season. Why? First of all, because of all of the reasons outlined above, and, secondly, because he's 20 years old and truly ready for an explosive season.
You don't have to take our word for it, but make sure to keep at least one eye on No. 9, for Evander Kane is going to be climbing up the list of league leaders before you know it.
Exact 2011-12 Stat Projections: 32 goals (PP goals: seven), 44 assists, 76 points, plus-8, 168 hits
Mark Jones is currently Bleacher Report's featured columnist and community leader for the NHL's Carolina Hurricanes. In his 35 months so far with the site, he has written over 305 articles and received more than 350,000 total reads.