Penguins Training Camp: Crosby Hits the Ice, Malkin-Kennedy Click on Day 1
September 18, 2011
Bruce Bennett/Getty Images
The Pittsburgh Penguins opened training camp Saturday morning to a crowd of several thousand, the first of two weekend practices which the team opens to the public each year.
The most welcome sight of the day? Fans saw Evgeni Malkin and Sidney Crosby take the same ice for the first time since January, halfway through the injury-marred 2010-11 campaign.
Save for Brooks Orpik, who is still recovering from offseason hernia surgery, the entire roster was on hand for the weekend's first practice, as well as a bevy of young hopefuls.
The camp was broken into three groups, with players from all levels peppering each unit.
Group A: "Team Staal"

Forwards — Jordan Staal, James Neal, Chris Kunitz, Nick Johnson, Steve MacIntyre, Keven Veilleux, Joe Vitale, Ben Street, Tom Kuhnackl, Bryan Lerg
Defense — Kris Letang, Brooks Orpik (DNP), Philip Samuelsson, Brian Strait, Carl Sneep, Joe Morrow
Goaltenders — Marc-Andre Fleury, Scott Munroe
Group B: "Team Malkin"

Forwards — Evgeni Malkin, Tyler Kennedy, Steve Sullivan, Richard Park, Jason Williams, Eric Tangradi, Paul Thompson, Brian Gibbons, Geoff Walker, Dominik Uher
Defense — Zbynek Michalek, Paul Martin, Simon Despres, Alex Grant, Joey Mormina
Goaltenders — Brent Johnson, Patrick Killeen
Group C: "Team Crosby"

Forwards — Sidney Crosby, Pascal Dupuis, Matt Cooke, Arron Asham, Craig Adams, Dustin Jeffrey, Mark Letestu, Ryan Craig, Colin McDonald, Zach Sill, Brandon DeFazio
Defense — Ben Lovejoy, Deryk Engelland, Matt Niskanen, Alexandre Picard, Scott Harrington
Goaltender — Brad Thiessen
Team Malkin and Team Staal each had 45-minute drill sessions and played a 40-minute scrimmage against one another. Team Crosby closed the practice with drills lasting an hour-and-a-half and are scheduled to scrimmage Malkin's group Sunday morning.
The drill sessions gave fans a good look at the new and returning players, not the least of which was captain Sidney Crosby, who received a standing ovation when he took the ice. Most exciting, however, was the match between Malkin's and Staal's teams.
The scrimmage gave perhaps the best look at some of the potential opening day lines in the presumed absence of Crosby. Some lines faltered, while others showed immediate promise.
Some of the stories to follow throughout camp:
Crosby skates hard, snipes shots—still no contact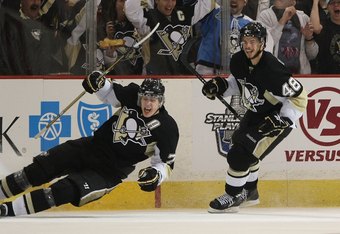 Bruce Bennett/Getty Images
Donning the only white helmet of the group (something akin to the "don't hit me" red vests worn by NFL quarterbacks during practice), Crosby looked comfortable during his hour or so on the ice.
He was one of the fastest skaters out there, at times overtaking younger players on drills that saw him start the rush some 50 feet behind the skater ahead of him.
Crosby's shot was as deadly as ever. He put five in a row past goaltender Brad Thiessen during one drill, eliminating any doubt that the concussion is hampering his ability to put pucks into puck-sized holes.
There are now conflicting reports from Crosby's doctors, as Ted Carrick told a Pittsburgh radio station this week that Crosby is "as ready for contact as most players are," while the Penguins and doctors from UPMC have indicated otherwise.
Crosby himself seemed pleased with the first day's work but made no guess as to a timetable, as has been the norm.
"It felt good. I'm glad to be back out there," said Crosby, who plans to practice on Sunday. "That was a really good pace. I think it was tough, but fun to feel it again.

"I worked as hard as I possibly could out there. (First time I've done that) for that period of time. That's the longest I went at that pace. It felt good."
Crosby will take the ice again Sunday but won't be introduced to contact and will likely sit out the scrimmage set to take place between his and Evgeni Malkin's groups.
"It's one day," he said. "I'm glad I felt good. I have see after the next few days here."
Sullivan-Malkin-Kennedy line a winner
The biggest success of the Saturday practice was Group B's first line of Tyler Kennedy, Evgeni Malkin and Steve Sullivan. The line combined for four goals and four assists in the 5-1 win over Jordan Staal's group.
Kennedy scored twice and added an assist, and new-addition Sullivan added a goal and assist. Malkin had two helpers and scored on a penalty shot, beating Marc-Andre Fleury to the low glove side.
The small crowd loudly applauded Malkin's goal. Penalty shots and shootout attempts have traditionally been unlikely sore spots in his game.
"Awesome, awesome," Malkin said when asked how his timing was. "I just had fun."
Sullivan was impressed with his new linemates.
"I think you can see them on the ice that they read each other very well," he said. "Today, I just tried to stay out of the way and made sure I let them do their things."
Richard Park, a former Penguin who re-signed with the squad this summer, also scored for Team Malkin.
James Neal scored the only goal for Team Staal, who allowed dozens of good chances against goaltender Marc-Andre Fleury. His marker came as Staal drove the net and backed off the defense. Neal danced in the slot while Staal cleared the way then squared and blew a hard wrister past Brent Johnson's blocker side.
It was the kind of goal Pens fans expected from Neal last season and expect to see plenty of this year.
Lines beginning to take shape
Though it's still early, and lines were toyed with throughout the session, a few lines began to take shape during the scrimmage and in drills.
The line of Sullivan, Malkin and Kennedy looked fantastic, but the line of Comrie-Malkin-Tangradi looked fantastic in last year's training camp and preseason games. Still, early signs are all good.
The supposed second line, should Crosby miss the beginning of the regular season, would feature Neal and Chris Kunitz on Staal's wings. The unit wasn't offensively dynamic in the first day of practice, but Neal did manage to take advantage of Staal's net-front pressure.
Having three players on a line, each of whom are capable of creating havoc in front of the net, could be useful both for even-strength and power-play situations. The Penguins lacked a proper net-front presence last season.
The Team Crosby unit fielded what will likely be the bottom two lines on opening day. Crosby skated with Pascal Dupuis and Matt Cooke. Dupuis has played Sid's wing for two seasons, but with Kennedy's emergence and the acquisitions of Sullivan and Neal, he probably won't follow Sid back to the top line.
Look for Mark Letestu and Dustin Jeffrey, also of Team Crosby, to battle for the third-line center position.
Arron Asham and Craig Adams will almost certainly play a fourth-line role. They'll likely be accompanied by either Letestu or Jeffrey during the regular season, and the line will become even more interesting when Crosby returns and a roster spot is occupied.
Best guess at opening-day lines: Sullivan-Malkin-Kennedy, Kunitz-Staal-Neal, Cooke-Letestu-Dupuis, Asham-Adams-Jeffrey.
Various Day 1 Notes
- Each of the drills Saturday was heavy on skating. Bylsma's systems are relentlessly fast and demand that players move their feet. It looks like the staff wants to start by separating those players who can play "Penguins hockey" from those who can't.

- Marc-Andre Fleury was tagged for five goals, one of them redirected, one on a penalty shot, the other three coming from feeds behind the net to an open man in the slot. He got very little help from his defense team, which included Kris Letang, Brian Strait, Carl Sneep, Philip Samuelsson and 2011 first-round pick Joe Morrow.
- Dustin Jeffrey showed no signs of the knee injury that shelved him for the end of the 2010-11 regular season and playoffs. He'll have the chance to make noise in this camp.
- There are a bevy of veterans who will likely start the season in the AHL but will make noise nonetheless. Richard Park and Alexandre Picard were especially impressive.
- Malkin produced and looked to be up to speed in terms of his recovery from knee surgery. He still had trouble gaining the zone when pressured at the blue line and committed a turnover in one such instance. His passing was crisp and mostly accurate.
- First-round selection Joe Morrow skated with Team Malkin and looked excellent in his first day. He possesses no flash whatsoever but was extremely composed with and without the puck, displaying an ability to manipulate the speed of the game around him. Very composed for a youngster in first professional camp.
- Eric Tangradi did not look comfortable in the day's session, lacking the wheels to keep up with speedster Richard Park and veteran Jason Williams. His game will be all about creating traffic in front of the net. If he wants to make this team, he'll have to make himself a Tomas Holmstrom clone, and soon.
- Park and Williams, on first look, are prototypical Dan Bylsma players. It's no wonder the team picked them up.
- Tyler Kennedy had the best individual day at camp. Goal-scoring aside, his hustle remained as tenacious as ever. He has to be one of Bylsma's favorite players, and if his hands stay as good as his hustle, he'll be the free-agent bargain of the summer.
Coverage of the second day of camp, including a recap of the scrimmage between Team Crosby and Team Malkin, will follow tomorrow's practice.
James maintains a Pittsburgh sports website, Slew Footers, and can be heckled in 140-character form @slewfooters.