Toronto Maple Leafs: Does Bloated Roster Imply Impending Trades?
September 17, 2011
Christian Petersen/Getty Images
The Toronto Maple Leafs are looking to make a trade, it's just a matter of time. With four forwards and two defensemen battling for the last two roster spots, there will be an awful lot of talent sitting in the press box this year.
Excluding prospects that could potentially make the club, Darryl Boyce, Mike Brown, Joey Crabb, Philippe Dupuis, Nazem Kadri, Matthew Lombardi, Colton Orr and Jay Rosehill are all looking to lock up the four remaining spots on the third and fourth lines.
Kardi is the odds-on favorite to play alongside Tyler Bozak and Colby Armstrong on the Leafs third line. If Boyce, Brown and Orr make up the fourth line, that leaves Crabb, Dupuis, Lombardi and Rosehill on the outside looking in.
With five of the six starting defensemen all but confirmed, either Carl Gunnarsson or Mike Komisarek will be healthy scratches come opening day as well. Komisarek's $4.5 million salary implies Gunnarsson will be the odd man out.
That's five NHL players rotting in the stands without even considering the prospects. Joe Colborne, Matt Frattin and Matt Lashoff are all potentially ready to make the jump to the big club this year. If they do, that would make three more roster players expendable.
With potentially eight surplus players, Brian Burke must be salivating at his options for a trade or two this season. I can't help but think about what he has done in recent history with so little and crack a smile about a mile wide. If he could bring in the picks, prospects and players that he has in exchange for riff-raff, imagine what he can do with a bevy of higher quality players.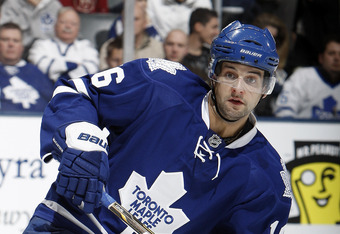 Abelimages/Getty Images
I won't speculate on who the Leafs might go after, but I am convinced that Burke will be able to trade up with a couple of two-for-one or three-for-two trades at some point in the upcoming season.
With Lombardi free of concussion symptoms and cleared to play, it will be hard to keep him out of the lineup. That frees up a top-six forward to either move to the third line or be available for trade. To me, the most likely candidate for an upgrade would be Clarke MacArthur. I know he is part of the magic Mac-Russian line, but the Leafs simply can't keep everybody.
There are only a handful of Leafs players that could be considered "untradeable". That list would include James Reimer, Phil Kessel and Dion Phaneuf with Luke Schenn and Nikolai Kulemin getting an honorable mention. But with Burke, it seems that no one is above consideration when it comes to improving his team.
The question isn't if the Leafs will make a trade, but when and who.