NHL Free Agency: Grading the New Contracts of Luke Schenn and Others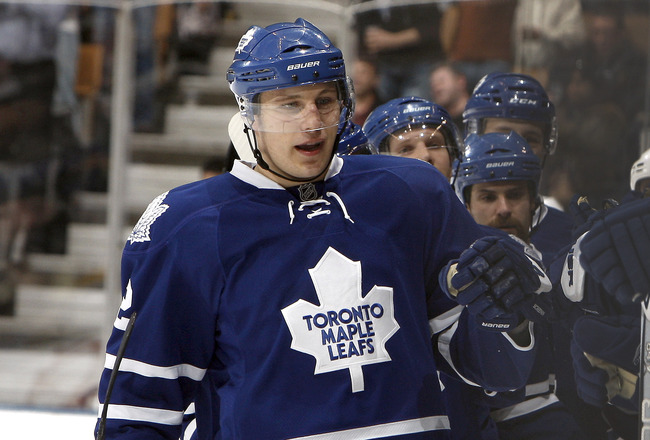 Abelimages/Getty Images
Luke Schenn of the Toronto Maple Leafs and several other prominent NHL players received new contracts within the last few days. After several months of speculation for guys like Brad Marchand and Schenn, they finally put their names on the dotted line just in time for training camp.
But did these teams during this flurry of action? Here are the grades for six important contracts that have been signed this week.
All cap hits and contract durations come from CapGeek.com.
Buffalo Sabres Sign Tyler Myers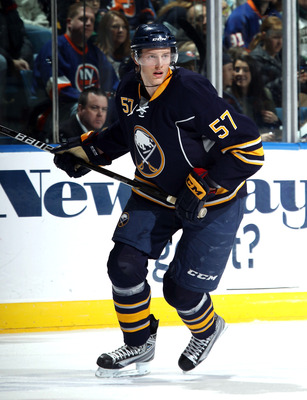 Bruce Bennett/Getty Images
The Buffalo Sabres didn't allow their current salary cap predicament to prevent them from signing blueline anchor Tyler Myers to a seven-year deal worth $5.5 million a year.
With this contract comes two certainties. One is that Buffalo fans can now wear their Myers jerseys in peace, knowing that he isn't going anywhere anytime soon. And secondly, the hulking defender will be the cornerstone of this defensive unit for years to come.
The 6'8'' defenseman has put up 85 points in his first two seasons in the League. His "sophomore slump" saw his production dip a bit, but not enough to alarm anyone in Buffalo. He puts up Zdeno-Chara-like numbers, and his defensive game will only continue to improve.
Locking up Myers for the next 7 years at this great cap hit is a good move for both sides as long as he continues his progression. Still, if the Sabres are forced to deal an asset and Myers doesn't recover from his mild slump, then this deal could look a bit sour.
Contract Grade: B+ for now.
New York Islanders Sign Josh Bailey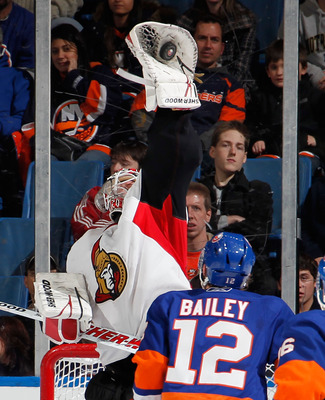 Paul Bereswill/Getty Images
The New York Islanders may be having trouble securing their future building, but they are not having any issues whatsoever locking up their future stars.
By signing Josh Bailey, the Islanders have their young core locked up for at least the next three years, and everyone besides Rick DiPietro is signed to ridiculously fair cap numbers. Bailey is no exception, as he signed a two-year deal worth just over $1 million a season.
The Islanders made Bailey a top 10 pick in 2008, and while he hasn't been disappointing, he hasn't been explosive either. He put up 28 points last season while playing in 70 games—a seven-point dip from his total a year ago.
But the talent and surroundings are both present, and the Islanders did themselves a solid by locking up another young asset. If he con start cashing in on his first-round pick pedigree, the Islanders will be that much better.
Contract Grade: B
Winnipeg Jets Sign Zach Bogosian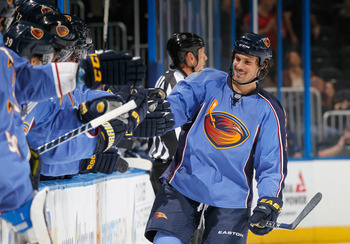 Kevin C. Cox/Getty Images
The smooth-skating Zach Bogosian just signed his last contract based on potential alone.
After being drafted third overall in 2008, there were some high expectations for the offensive defenseman in Atlanta. But the big numbers never came, unless you're looking at his plus/minus stat: a minus-34 across his three-year career.
He has yet to crack the 30-point barrier, or even come close enough to say hello before receding again.
But locking up Bogosian to a two-year, $2.5 million deal was a must for the Jets. You can't just let a guy with this much possibility just sit there. I think the cap hit is a bit much, but it isn't any worse than the contract Detroit doled out to Jonathan Ericsson earlier this offseason based on the same merit.
That merit being potential.
The short term of the deal insulates Winnipeg against being stuck with a tanking blueliner, but also gives them a chance to see if Bogosian can develop into something more. His name has been around the league for a few years so it is easy to forget he is only 21.
Contract Grade: C+
Boston Bruins Sign Brad Marchand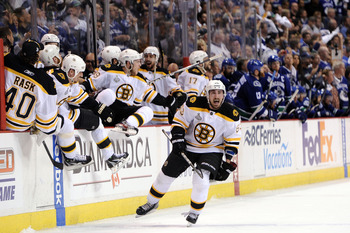 Harry How/Getty Images
Perhaps Boston learned a thing or two from the Chicago Blackhawks. After a summer-long discussion with Brad Marchand, Boston finally inked its postseason killer.
To say that Marchand exploded onto the scene last season would be fair. After putting up one point in 20 games for Boston during his rookie season he notched 41 points in 77 games last year. But even that couldn't prepare the Boston faithful for what was next.
He ripped off 19 points (11 goals) for the Bruins en route to the Stanley Cup and was one of the team's most important players. If you look at his history in the playoffs, this wasn't a fluke showing either. This isn't a player who is going to put up 75 points in the regular season, but he turns into a cold-blooded assassin anytime he plays in a postseason.
Based on what Joel Ward received from the Capitals, more or less, for his two-round showcase last year, Boston signing Marchand for two years at a $2.5 million cap hit is a bargain.
Contract Grade: A
New York Islanders Sign John Tavares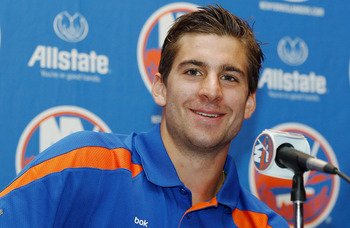 Mike Stobe/Getty Images
The Islanders may not be a to-the-cap team with millions to throw around but they seem to understand a very important aspect of the cap era: You have to pay to keep your best players despite your straits.
Say what you want about Garth Snow, but he gets that. Signing John Tavares to a deal that will take him to 2018-2019 was a must for this franchise. Getting him at the super-friendly cap hit of $5.5 million is masterful.
The kid is a former first overall draft pick who is going to be an All-Star in this league for years to come. If you look at the contracts those kinds of players have signed over the last few years, it's hard not to be a little green with envy when looking at the deal Tavares just inked.
The potential for Tavares to be an 80-point No. 1 center is a given. And now so is his future with this franchise. So much for the "does he really want to be an Islander?" chatter. One more for the small-market teams.
Contract Grade: A+
Toronto Maple Leafs Sign Luke Schenn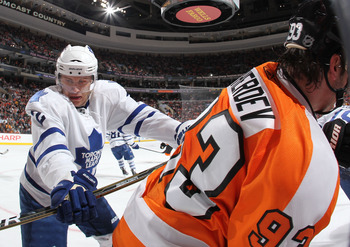 Al Bello/Getty Images
So it turns out Don Meehan will allow his players to sign contracts. Maybe that's comforting to LA Kings fans.
Luke Schenn is a do-it-all defender for the Toronto Maple Leafs, and a supremely important piece of their blueline and future. The team is poised to start cashing in on its youth movement and rebuild, and Schenn figures to be a large part of that.
He blocks a lot of shots, hits anything that moves, puts up points here and there and does all the things you want to see a young blueliner do. And he is only three years into his NHL career. This is a Brian-Burke-type player, and an important guy for the Leafs.
His contract for 5 years at a hit of $3.6 million is superb, especially considering the length of the negotiations. I was getting the feeling that either the player or team were going to get a little screwed, but this deal is a good one.
Contract Grade: A
Can't Get Enough NHL Action?
Well that makes two of us.
Feel free to become a fan, comment on anything you'd like (I'm always down for hockey conversation!) and to stay up to date on my other articles and musings by following me on Twitter.

I even made it easy for you. Who doesn't love buttons?
You can also reach me via email with any questions, comments or concerns at franklin.steele.writes@gmail.com. I'd love to hear from you.
Keep Reading