Where Nicklas Lidstrom Ranks Among the Detroit Red Wings' All-Time Greats
September 15, 2011
Gregory Shamus/Getty Images
It really is an impressive position that the Detroit Red Wings are in.  Most NHL teams can easily point to who their greatest player is.  Even looking at other team sports, there are few that can claim that they have three players that rank among the greatest of all time in their sport.
With all due respect to the great careers of Sid Abel, Terry Sawchuk, Ted Lindsay and Alex Delvecchio, when the discussion of who is the greatest Red Wing of all time begins, the list of candidates ends at three.
Obviously those candidates are Gordie Howe, Steve Yzerman and Nick Lidstrom.  The easy thing to do would be to consider them 1A, 1B and 1C, but why do that?   Of course the only way to decide such a close race is to break down each player, looking at the pros and cons of each.  Now I realize that discussing the cons of any of these iconic players is blasphemy to Red Wings fans, but it is a needed task in order to answer the question.
Gordie Howe
Gordie Howe is known as Mr. Hockey.  He left the game as the all-time leader in goals, points and games played.  Since his retirement, Wayne Gretzky and Mark Messier have passed him in points and only Gretzky has more NHL goals. 
He had remarkable streaks that are simply mind-blowing.  He not only scored 20 goals for 22 consecutive seasons, but he also finished in the top five in scoring for 20 seasons in a row.  He led the league in scoring a record six times. For comparison's sake to show how impressive those streaks are, Gretzky ranked among the top five in scoring for 12 straight seasons and he topped 20 goals for 14 consecutive seasons.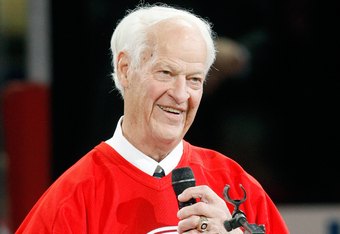 Richard Wolowicz/Getty Images
Howe's longevity is amazing.  At 40 years old he scored 44 goals and 103 points.  He is still the oldest player to ever suit up for a game when, at 51, he spent his final season in Hartford.  He was still productive at that age as he scored 15 goals and 41 points while playing in all 80 games.
Howe played in a much different era of the game.  While the league of the 1950s and 60s was more defensive in nature, there were only six teams at the time.  With so few teams, one could easily know the ins and outs of every team and the weakness of every goalie.
While the amount of goals and the consistency is impressive, his overall numbers may be attributed just to the sheer length of his career.  Despite scoring as much as he did, he only ranks 31st in points per game at 1.047.
Steve Yzerman
Yzerman will forever be known as the captain of the Red Wings.  He served the team in that role for a league-record 20 years.  When he retired, he was sixth on the all-time points list and ranks in the top 15 all time in goals, assists, short-handed goals, game-winning goals, power-play goals and playoff points.
While he is second in the team's records books to Howe in most categories, his greatness goes beyond pure stats.  Yzerman is perhaps the only superstar to change their game to the extent that he did.  In the 1988-89 season he scored 155 points, only Wayne Gretzky and Mario Lemieux have ever topped that.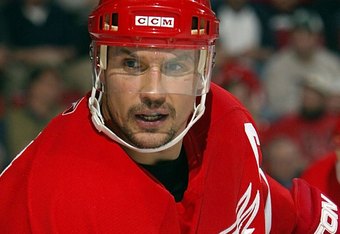 Dave Sandford/Getty Images
He had six straight seasons in which he scored at least 40 goals, and twice topped 60.  With the arrival of Scotty Bowman as the team's coach, Yzerman was asked to completely overhaul his game.  Bowman insisted that he play a two-way game that focused as much on defense as it did on offense.  This meant that his offensive stats would suffer.
Most players would fight such a move, but Yzerman decided to make the move.  He would never top 36 goals after making the switch, but he chose to be a true leader and put the team first over his own stats.  The results were worth it.  He ended up winning three Stanley Cups.  What is even more impressive is that he went from being a dominant scorer to one of the best defensive forwards in the game.  He won the Selke Trophy in 2000 and was among the leading contenders for the award for several seasons.
The downside is that despite having a much better point per game average than Howe, 1.159 to 1.047, he still is second to Howe in most areas.  In addition, Howe was considered the best of his era.  Yzerman played in the same era as Gretzky and Lemieux, and while considered a great player, he was never considered the best.  There were seasons in which he was not even the best player on the team.
Nick Lidstrom
Lidstrom plays defense, which means his stats are not comparable to the other two. He is sixth among defensemen in all-time assists, and 23rd among all players.  He also ranks 11th in all-time plus/minus.
What is remarkable is that he is a 12-time finalist for the Norris Trophy and a seven-time winner.  Lidstrom is not the typical big, hard-hitting defenseman.  Instead he uses his smarts.  A true student of the game, he seems to know where a player or puck will be before anyone else does.  His style of play has allowed him to maintain such a high level into his 40s.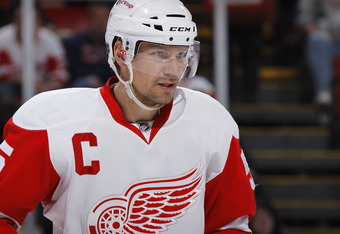 Gregory Shamus/Getty Images
After Yzerman retired, Lidstrom stepped into the the captain's position and led the team to a championship.  He currently has four Stanley Cup championships.  He has really stood out in the playoffs, where he is 11th all-time in scoring, fifth in power-play goals and assists and sixth in plus/minus. He also won the Conn Smythe Trophy in 2001-2002.
Conclusion
In the end, it is difficult to pick just one of these great players. 
Yzerman's leadership and amazing perseverance are unmatched, and while it can be argued that he was the best captain to ever lead a team, NHL or otherwise, when it comes to who is the greatest player that the Wings have had, Yzerman is third on this list. 
Stats vary by era and position, so comparing Howe to Lidstrom with just stats is not enough.  They played the game to be champions and each won four Stanley Cups with the Wings, so that is a wash. 
Perhaps the best measure is awards.  While there are several awards that all three of them have won, the two biggest awards are the Hart and Norris Trophies.  By using this as the tiebreaker, we see where they each stacked up amongst their contemporaries.
The Hart Trophy is technically given to the league's MVP, but in practice this is really given to the best forward or center in the league.  Only once since 1972-73 has a defenseman won the award.  Howe won the award six times. 
The Norris is given to the league's top defender; consider it the MVP of defense.  Lidstrom has been a finalist 12 times and has seven wins. 
Being ranked as a first-team All-Star has been a regular event for Howe and Lidstrom, as Howe made it in 12 of his 26 seasons and Lidstrom in 10 of his 19 seasons.  Percentage-wise, Lidstrom has the edge in this area as well.
When talking about hockey greatness, people generally first look at goals scored.  While that is obviously an important part of the game, it is only half of the picture.  Stopping the other team from scoring is equally important.  Lidstrom has spent his career shutting down the best the league has had to offer, and still helps lead the offensive attack.
While Howe is considered one of the greatest scorers ever, he has fallen behind Gretzky and Lemieux, and some would argue even Mark Messier, as the best pure scorers ever.  In Lidstrom's case it comes down to him and Bobby Orr as the best defenders ever, and their styles are so drastically different that the debate will never end.
So in the end, it is a very close call, but enjoy watching Nick Lidstrom on the ice for as long as you can.  He is, after all, the greatest Red Wing ever.