10 Most Shocking Rookie Seasons in NHL History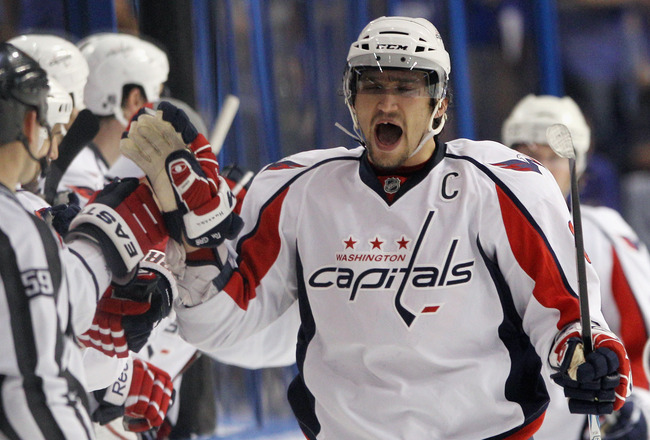 Bruce Bennett/Getty Images
The NHL has seen its fair share of extraordinary rookies in its 94 seasons of existence.
In fact, there have been so many memorable rookie seasons that selecting the 10 best was harder than I thought.
I even had to leave some of my favorite players out. Luc Robitaille, for example, the L.A. Kings' left-winger scored 45 goals and 38 assists during his rookie campaign in 1986-87, but did not make the cut.
To be on this list, players had to be eligible for the Calder Memorial Trophy, the award the NHL hands out to its rookie of the year.
Enjoy the slideshow and if you think I have forgot somebody leave a comment at the end.
Tony Esposito, G, 1969-70, Chicago Blackhawks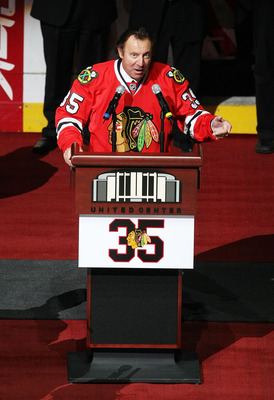 Jonathan Daniel/Getty Images
The Chicago Blackhawks claimed Tony Esposito from the Montreal Canadians for $25,000 in the intra-league draft before the 1969-70 season.
Esposito did not disappoint, posting a 2.17 goals-against average and setting the modern NHL record of 15 shutouts.
At the end of the season he took home the Calder Memorial and the Vezina Trophy as both the league's best rookie and goaltender.
He also led the league with 38 wins.
Mike Bossy, RW, 1977-78, New York Islanders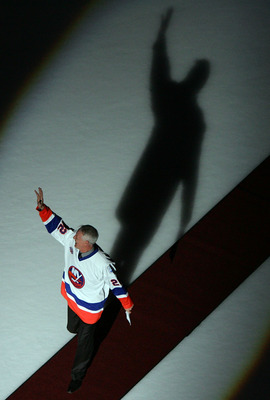 Jim McIsaac/Getty Images
Mike Bossy became the first rookie in league history to reach the 50-goal mark when he scored 53 in 1977-78.
He added 38 assists for a total of 91 points to finish sixth in scoring.
The right-winger also scored 15 power-play goals and was a plus-31, which both helped the Islanders winning their first-ever division title.
Ray Bourque, D, 1979-80, Ray Bruins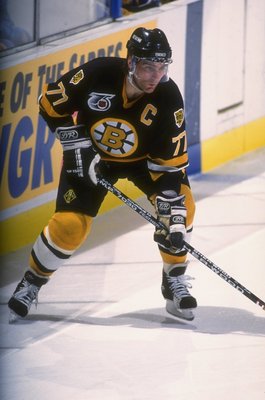 Rick Stewart/Getty Images
The following season saw the promising beginning of what became a successful 22-year NHL career.
Ray Bourque posted an impressive 65 points, which set a new standard for rookie defensemen at that time.
He was the first non-goalie in NHL history to win the Calder Memorial Trophy and be named First-Team All-Star.
Terry Sawchuk, G, 1950-51, Detroit Red Wings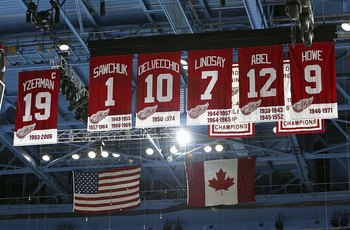 Dave Sandford/Getty Images
The arguably greatest goaltender of all time, Terry Sawchuk played all 70 games during his rookie season, leading the league with 44 wins and 11 shutouts.
He had a stunning 1.99 goals-against average while receiving First-Team All-Star honors.
Sawchuk was a big reason why the Detroit Red Wings were able to post the first 100-point season (101) in league history.
Dale Hawerchuk, C, 1981-82, Winnipeg Jets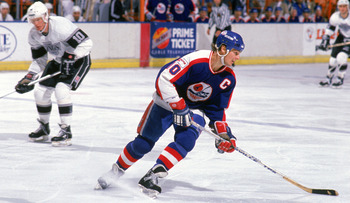 Mike Powell/Getty Images
Dale Hawerchuk not only put up the numbers—45 goals and 103 points place, respectively, fifth and fourth all time among rookies—he more impressively turned the NHL's worst franchise around at age 18.
The No.1 overall pick in 1981 helped the Winnipeg Jets to an astonishing 48-point improvement in his rookie season. The biggest one-season turnaround in NHL history at that time.
Joe Nieuwendyk, C, 1987-88, Calgary Flames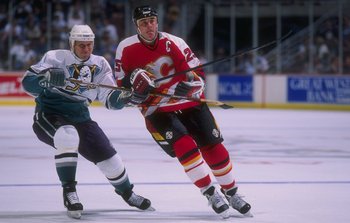 Glenn Cratty/Getty Images
Calgary Flames rookie Joe Nieuwendyk was burning up an offensive firework during the 1987-88 season.
He scored 31 power-play goals, which ties him for third on the all-time list, and netted a total of 51 goals, the fourth most among rookies.
He finished his rookie year with 92 total points.
Alexander Ovechkin, LW, 2005-06, Washington Capitals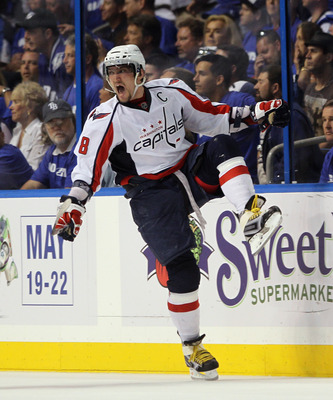 Bruce Bennett/Getty Images
Alexander Ovechkin and Sidney Crosby are the two new faces of the NHL. Both are young, talented and driven.
Ovechkin might be the better scorer, but Crosby has the Cup.
Ovechkin's scoring abilities was put on display during his rookie season. He scored 106 points including 52 goals, the third most among rookies in both categories.
In the battle of the two superstars Ovechkin was the winner, scoring four more points than Crosby and winning the NHL's Rookie of the Year award.
Peter Stastny, C, 1980-81, Quebec Nordiques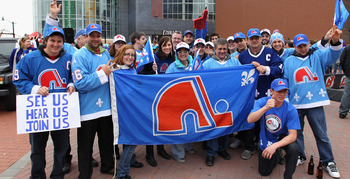 Bruce Bennett/Getty Images
Peter Stastny accumulated 109 points for the Quebec Nordiques in his rookie season, which became the all-time rookie mark for more than a decade.
His 70 assists are still tied for first.
More important than being the first rookie in NHL history to collect 100 points was Stastny's decision to defect to Canada to play professional hockey during the Cold War.
He was a pioneer for many hockey players behind the Iron Curtain who followed his footsteps.
Brian Leetch, D, 1988-89, New York Rangers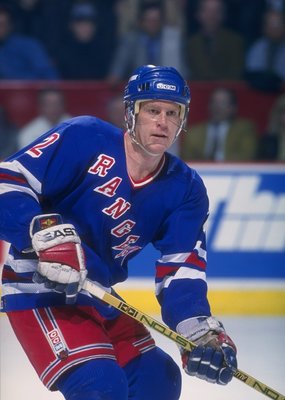 Robert Laberge/Getty Images
The best U.S. born NHL player started his career with the New York Rangers in 1988.
With 71 points in 68 games, Leetch averaged more than one point per game.
His 23 goals for the Broadway Blueshirts set the all-time record for a rookie defenseman.
Teemu Selanne, RW, 1992-93, Winnipeg Jets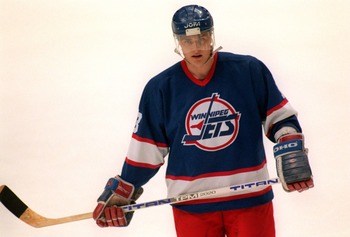 Glenn Cratty/Getty Images
Teemu Selanne had hands down the greatest rookie season in NHL history.
The Finnish Flash scored a rookie-record 132 points and an unbelievable 76 goals—also a record.
Out of his 76 goals, 24 were power-play goals, which is tied for fifth all-time.
Keep Reading