2011 Chicago Blackhawks: Preseason Thoughts from a Learning Fan
September 17, 2011
Rich Lam/Getty Images
Once my Cincinnati Reds (I'm sorry Cubs fans who will read this, but we really haven't won that much either. I am not sorry for Sox fans for personal reasons.  We will leave it at that.) fell out of the running, I went all in. I started reading about fantasy hockey for the first time. I began surfing the web for the cheapest Niklas Hjarmalsson jersey (my favorite player for two reasons: a. he looks like The Great Gazoo b. he graces the blessed jersey with my number that I wore for high school baseball). I hammered (yes I went there) home a hat trick with Captain Toews in Dallas on NHL 12 yesterday.
I am more than ready for this season. I need a pick me up.  
As last season ended, I nearly broke my 18-inch television screen (poor college kids nod their heads) when Toews tied up Game 7 by sliding the puck between Luongo's legs. I broke my 18-inch television (it was only 18 inches, after all) when Burrows slapped one past the rook (who is severely underrated by NHL 12, a 79?.. a 79?!!!!!  C'mon! I know he is a second-year goalie, but he is at LEAST an 82) in overtime and sent us into baseball season, whether we liked it or not.
The journey of 2010 was one for the real fan. It contained struggles, the team's flaws were exposed, there were injuries, players underperformed. Duncan Keith's sometimes lackadaisical play on the blue line forced me to attack him via the tweet several times. Buff's toughness in the crease and Ladd's wherewithal on the wing was missed in crunch time. The penalty kill was so bad that I always left the room to get dinner during opposing power plays. If I came back and the lamp wasn't lit, I may (or may not) have thrown back a Blue Moon. I may (or may not) have made it through a six pack the entire first half of the season.
(I just erased approximately 100 words that would have made you relive those seven games against the Canucks. Inspiration was my motive, but insanity would have been the result. I need all of you to like my writing!)  
So, as we look at the 2011-12 season, there have been changes to the roster to promote toughness. Upper management wants the organizational emphasis on a youthful core to trickle down to the Lalondes, Leddys and Ben Smiths of the world. However, I want to focus on how to prevent the problems that caused the Hawks to stumble last season.  
Early Schedule Woes
Stanley Cup hangover? Don't believe in it. I believe the Blackhawks have toughness and skill. Stan Mikita. Denis Savard. Bobby Hull. I didn't even know who these players were five years ago when I started following the Blackhawks. However, the organization's commitment to heritage hooked me, the average/uninterested fan, into believing that Eddie Olczyk's intimate cadences were indeed a valid reason for undivided fandom.  
There is something glorious about watching wooden sticks and Jason masks on the same sheet of ice on classic video reels. There is something manly about watching Niklas Hjarmalsson (!!) dive to block a scorcher from the point. There is something intense about Patrick Kane's eyes as he dances in the slot while eyeing the opposite post.  
Last year's team was not victimized by a hangover (well.. 88 might have been a few times, but it's okay!) or loss of play-making ability; they were terrorized by a gutted roster that wasn't quite ready.
For example, the 2010 team started the first month 13-5-2 (28 pts.), which included a month-ending five-game winning streak that stretched into eight games before it concluded. The 2011 team started off 9-9-2 (20 pts) because of the struggle to play a different style. There were no more dust-ups in front of the rugged Western Conference goalies. Instead, there was soft plays to the outside and more shots from the point of lesser quality (See Keith's decreased numbers and uncharacteristic mistakes. He was forced to do too much last year. It surely wasn't decreased skill **crossing fingers**.). Seabrook had to play more defense and was less effective on the offensive end. Toews couldn't buy a goal early in the year.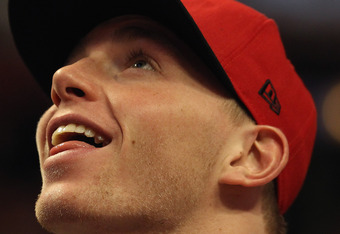 Jonathan Daniel/Getty Images
The 2011-12 team shouldn't suffer from these same struggles because the roster is fairly set coming into the season (more discussion about new faces here in a second) and should have time to gel. If you are a believer of the "hangover," there are two reasons to dismiss uninspired play as a reason for a slow start in 2011: a. The Hawks start with a home and home against the Dallas Stars. If there is uninspired play to start the first couple shifts of the year, someone will get hurt. b. Google Search Blackhawks vs. Canucks, Burrows OT Winner Past Crawford, Chicago Burns Down The City (Except don't search the last phrase about burning down the city. Must have that confused with another playoff victim.)
Poor Roster Depth
Carcillo = Needed Lunatic Who I Want To Be Active On Twitter
Brunette = Weathered Veteran Who Can Finish Despite What His Recent Stats Say
O'Donnell = Old But Dangerous Defenseman
Mayers = Physical Winger Who I Don't Know That Much About
Montador = Depth-Providing D-Man With A Solid +/-
These players send a clear message to Blackhawk (not the ill-fated country music band) fans everywhere: We Were Soft Last Season.
Expect more skirmishes and a penalty kill that actually kills penalties. Brunette could help Davey Bolland cause frequent raucous in front of the net, which will create more scoring opportunities for Seabs and Keith. Michael Frolik will have time to gain more confidence in the system after having a half-season plus a full offseason to digest it. Ben Smith came on strong in the Canucks playoff series, as did Nick Leddy. It seems to me that some semblance of depth has been restored for this group. While it may not be quite the quality of the 2010 group, it definitely has more grit and consistency than anything thrown on the ice last year.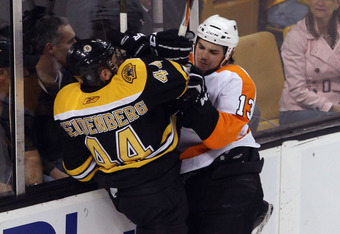 Bruce Bennett/Getty Images
Inconsistent Play From The Core
Let's compare stats for Kane, Keith, Seabrook, Toews, Hossa and Sharp between 2010 and 2011.
(2009-10) (2010-11) 

Patrick Kane:
(82 GP, 30 G, 58 A, 16 +/-, 20 PIM, 261 S, 6 GW)
(73 GP, 27 G, 46 A, 7 +/-, 28 PIM, 216 S, 2 GW)
Evaluation: Less goals and assists due to injury. He was a part of the circus merry-go-round of health. One player hurt/sick = the rest healthy. When "one player" was healthy, someone else took his spot. Interestingly enough, Kaner's penalty minutes were up in 2010. Could the aforementioned circus merry-go-round be an explanation for that? If healthy, look for numbers to exceed 2009. I expect a large year out of Patrick Kane. Large.  
Duncan Keith:
(82 GP, 14 G, 55 A, 21 +/-, 51 PIM, 26:36 ATOI - Average Time On Ice)
(82 GP, 7 G, 38 A, -1 +/-, 22 PIM, 26:53 ATOI)
Evaluation: Duncan Keith was impacted the most by the offseason departures. There weren't as many opportunities to shoot, he had to possess the puck more (meaning less time to be an enforcer, which he is good at), and there was no one cleaning up his shots for goals in the crease. 2009 was a career year for Keith, I understand that. We probably won't see those numbers again. However, with a healthy Dave Bolland and some added experience on the wing, Duncan Keith can probably resort back to being an offensive d-man instead of a player stuck in hockey purgatory.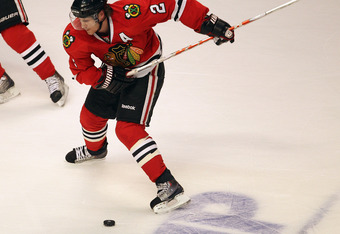 Jonathan Daniel/Getty Images
Brent Seabrook:
(78 G, 4 G, 26 A, 20 +/-, 59 PIM, 23:13 ATOI)
(82 G, 9 G, 39 A, 0 +/-, 47 PIM, 24:23 ATOI)
Evaluation: Between Keith and Seabrook, they were -1 for the season last year, compared to +41 in the Stanley Cup year. However, while Keith was struggling offensively, Seabrook's Howitzer was a little more prevalent. He grew offensively as a player last year despite maintaining heavy hitter status. I love the growth potential for Seabrook, once he eliminates those mental mistakes in games that leaves Olcyzk gasping for air on air.
Jonathan Toews: 
(76 G, 25 G, 43 A, 22 +/-, 47 PIM, 202 S, 3 GW)
(80 G, 32 G, 44 A, 25 +/-, 26 PIM, 233 S, 8 (!) GW)
Evaluation:  He is really, really good.
Marian Hossa:
(57 G, 24 G, 27 A, 24 +/-, 18 PIM, 199 S, 2 GW)
(65 G, 25 G, 32 A, 9 +/-, 32 PIM, 205 S, 2 GW)
Evaluation: If the Hawks could ever get a full season out of Hossa, he would be just as effective as Toews. However, his style of physical play just doesn't translate to that. I really believe that this year's additions of toughness and seniority on the wings and on the blue line will benefit Hossa the most. He will still be physical, but will be released to be more creative offensively. Look for the trend of more PPG (8 last season, compared to 2 the year before) to continue.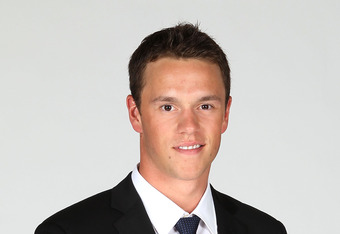 Jeff Gross/Getty Images
Patrick Sharp:
(82 G, 25 G, 41 A, 24 +/-, 28 PIM, 266 S, 4 GW)
(74 G, 34 G, 37 A, -1 +/-, 38 PIM, 268 S, 6 GW)
Evaluation: Last season was a great year for Sharpie. However, he too fell victim to the horrendous PK last season. I would gladly take 2009's numbers in trade for a better PK. I think that is something we will see this season.
Thanks to hockey-reference.com for the statistical help.
In Closing:
This season should be better than last year's effort. Last year's slide was a result of a poor PK, untimely injuries and struggling in October. The increased depth and veteran presence should help with that. The core will be able to play more of their style instead of being stop gaps.
Let's bring on 2011-12! Feel free to email me at mwells0416@gmail.com with any feedback or questions.