Sidney Crosby Concussion: Predicting the Penguins Roster Without Sid the Kid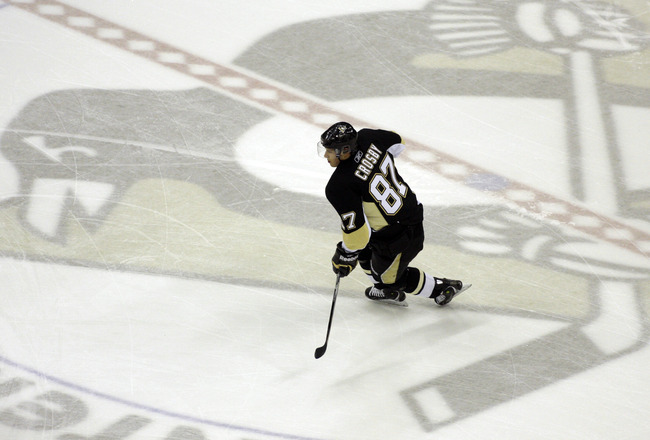 Justin K. Aller/Getty Images
It's hard being the greatest player in the world.
You have endorsement deals, the pressure of being the best and now, every single person who has ever watched 30 seconds of hockey is asking you when you're returning to the game you love so much.
Sidney Crosby will eventually return to the NHL. I firmly believe that, and there has been no evidence to suggest otherwise...we just have no idea when it's going to happen.
Unfortunately for the Pittsburgh Penguins, they must prepare for the 2011-12 season without their team captain and all-world center.
The good thing is that the Flightless Birds have accumulated a great deal of depth this offseason and will not be caught with their proverbial pants down if there happen to be another rash of injuries.
Let's take a look at the Penguins line-up without Sid the Kid...
First Line: For the Love of God, Please Score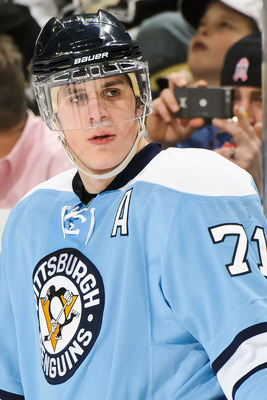 Jamie Sabau/Getty Images
One of the most promising things about this upcoming year is that Evgeni Malkin is saying he feels back at 100 percent for the first time in a long time. For someone who already has a Conn Smythe and an Art Ross in his trophy case, Malkin seems to take a lot of flack from Penguins fans for his "lack of production" in recent years.
Injuries limited Malkin to only 43 games last year, but he's still averaging over a point per game for his career and seems to excel when Sid is out of the lineup for some unknown reason.
Before the Crosby injury, fans were clamoring for Malkin to be matched with Jordan Staal, another young superstar in the making. Without Sid, Malkin will be expected to anchor the first line while Staal plays on the second.
Common sense seems to say that Malkin will be matched up with James Neal, last year's trade deadline acquisition who struggled to find the back of the net last year. Also expected to be on the first line is puck retriever Chris Kunitz, who was on pace for over 30 goals before the injury bug bit him as well.
With a lack of pure scoring right wingers on the roster, either Neal or Kunitz would have to switch to the opposite side of the ice for this to work. Head coach Dan Bylsma has been known to move players around, though, so it's also possible to get a Pascal Dupuis or Mark Letestu sighting on the top line.
Of course, lines get shuffled all the time, but if this prediction is true, the Penguins first line could be a physical and large bunch who can bang some bodies and hopefully find the back of net.
Prediction: James Neal - Evgeni Malkin - Chris Kunitz
Second Line: Meet the New Boss, Same as the Old Boss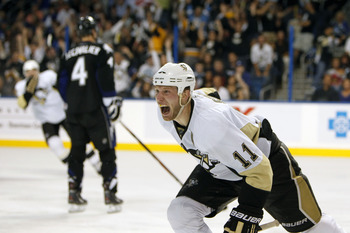 Eliot J. Schechter/Getty Images
As the top line center after injuries to Geno and Sid, Staal struggled to throw the team on his back in the last half of the season. It didn't help that he was flanked by an over-the-hill Alexei Kovalev or wingers who got their mail in Wilkes-Barre.
Conventional wisdom says that Staal will be reunited with his former linemates, Tyler Kennedy and Matt Cooke. During the Pens Cup run in 2009, the Kennedy-Staal-Cooke combination may have been the best third line in hockey, scoring huge goals in huge moments and contributing on special teams as well.
Kennedy is fresh off a brand new contract that pays him like a top-six forward, so playing him on the last two lines is not an option. Controversy always seems to follow winger Matt Cooke, but people who think of him as a pure goon are just wrong. Cooke does have hockey skill and has the ability to put points on the board; he just needs to reel in the cheap shots and realize he's no good to the team if he's suspended.
Until Crosby returns, this second line combo seems to be set in stone. Staal will be comfortable playing with teammates he is comfortable with, and Kennedy seemed to find a scoring touch last year that the Penguins desperately needed. If Matt Cooke can refrain from being Matt Cooke, this second line has the chance to make some noise.
Prediction: Tyler Kennedy - Jordan Staal - Matt Cooke
Third Line: The Youth Movement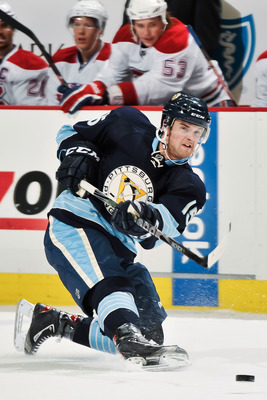 Jamie Sabau/Getty Images
The third line might be the most interesting situation on the Pittsburgh Penguins.
The usual center, Jordan Staal, is going to be bumped to the second line. Staal was the man usually matched up against the opposing top line, and that shouldn't change, but it also leaves the third line as somewhat of a question mark.
Do you still use the third line as a defensive line? Do you throw conventional hockey out the window and just roll the third out with the best players remaining? Or, do you just make the third and fourth line an ever-rotating mixture of the last six forwards on the roster?
I would love to see Dustin Jeffrey and Mark Letestu get the chance to play together. Letestu found his way on the Pens roster last year but, after a quick start, was unable to find his scoring touch. In my opinion, Jeffrey actually shows more potential than Letestu, so why not see what both guys can do?
The third spot, I believe, will almost be a flex position. Newly acquired Steve Sullivan could fit in nicely but is he really third line material? Sullivan will most likely see some time on the top two lines, so the always reliable Pascal Dupuis will also play the wing.
Dupuis is an interesting case. His scoring ability is almost maddening because he's almost always in the right place and still can't find the back of the cage. However, Dupuis constantly hustles, kills penalties and is good for over 15-20 goals every year.
Bylsma's "come to Jesus" moment may come when he realizes what he has in Dustin Jeffrey. Once Crosby returns, Jeffrey may make it possible for Staal to join the second line permanently and become the third line center for good.
Prediction: Dustin Jeffrey - Mark Letestu - Steve Sullivan/Pascal Dupuis
Fourth Line: Lots of Grit and a Harvard Graduate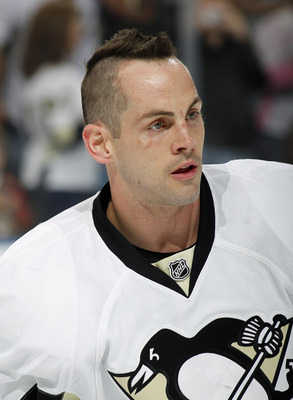 Joel Auerbach/Getty Images
The fourth line is where the Penguins depth really comes into play. Instead of untested rookies and other team's washouts, the Pens have the benefit of employing hard-nosed players with many years of NHL experience who can move to higher lines if necessary.
Craig Adams is the kind of player you win Stanley Cups with. Not because he scores 50 goals or anything but because he does the little things you need to win games. He retrieves pucks, plays good defense, kills penalties and blocks shots. The Craig Adams Block Party would be a very popular event in Pittsburgh.
The rest of the line is populated by players who give you exactly what you expect. Aaron Asham plays a hard game and isn't afraid to drop the gloves, while new Penguin Steve MacIntyre seems to exist only to punch people in the face.
Rotating in will be 1995 second round pick Richard Park, who recently re-signed with the team, and former Red Wing/Blackhawk Jason Williams.
The huge difference between this year and last year is this: When players go down with injuries this year, they will not be replaced by second liners from Wilkes-Barre. They will be replaced by players with real NHL experience who can contribute to victories.
Players who you can expect to see as the year goes on include Eric Tangradi, Joe Vitale, Nick Johnson and Ryan Craig.
Prediction: Craig Adams - Richard Park - Aaron Asham (with much shuffling)
Keep Reading

Pittsburgh Penguins: Like this team?