Washington Capitals: 7 Reasons To Be Excited for This Season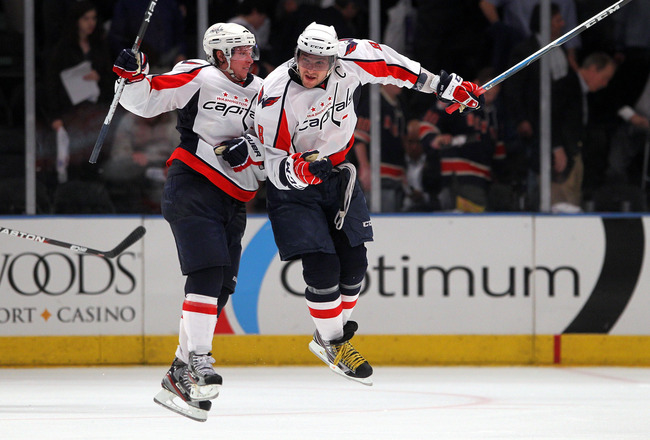 Bruce Bennett/Getty Images
Though there are many NHL teams that have made big moves over the summer, the Washington Capitals may be the most improved club entering the 2011-12 season and appear to have the best roster in franchise history.
After four straight disappointing playoff exits, the team's brain trust went into the offseason looking to add proven veterans to compliment their already impressive roster and executed that plan perfectly.
The Capitals' nucleus remains intact for at least one more season, and with the new additions, this team seems poised to erase their postseason shortcomings in 2012.
While fans in Washington have had reasons to be excited about their Capitals since Alex Ovechkin entered the league in 2005, the expectations for this season are higher than ever, and fans have to believe that 2012 could be the year that the Caps bring home the organization's first Stanley Cup.
With that in mind, here are seven reasons to be excited about the Washington Capitals in 2011-12.
7. Three Lines That Can Score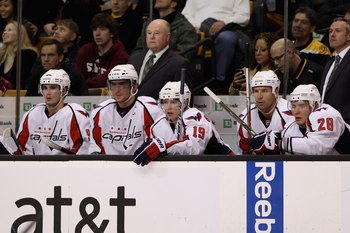 Bruce Bennett/Getty Images
With the additions of Joel Ward and Troy Brouwer, coupled with the team's re-signing of Brooks Laich, the Capitals boast three lines that can score on any given shift, which is a scary thought for opposing goaltenders.
Washington's first line will presumably continue to be made up of the once-deadly combination of Alex Ovechkin, Nicklas Backstrom and Mike Knuble, but the team's second line is almost as dangerous.
Coach Bruce Boudreau's second unit could consist of 40-goal man Alexander Semin, sophomore sensation Marcus Johansson and 2010 Stanley Cup Champion Troy Brouwer, which is similar in design to the team's first line, as it features a speedy Swedish pivot, a talented Russian goal scorer and a grinding winger with a winning pedigree.
The third line may be what gives the Caps an advantage over other contending teams, as they have three proven veterans who all have the capability of contributing offensively. Assuming Jeff Halpern remains on the fourth line, Brooks Laich will probably play between Jason Chimera and Joel Ward, so speed and physical play will not be a problem for this group. It's also not often that one finds a 50-point scorer such as Laich or a guy like Ward who put up seven goals in the 2011 playoffs, on a third line.
Whatever line combinations Boudreau chooses to go with, the team will have a number of weapons in their arsenal, which will make matching lines more difficult for their opposition.
6. The Kids Are Alright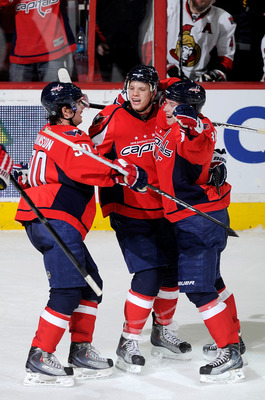 Greg Fiume/Getty Images
The 2010-11 NHL season served as a coming out party for a number of young Capitals, such as defenseman John Carlson, Karl Alzner, Marcus Johansson and Michal Neuvirth.
Carlson, a 2011 NHL All-Rookie team selection on the blue line, has emerged as one of the best young offensive defensemen in the game, and his chemistry with Alzner has helped the team immensely.
Alzner is the perfect fit to play with Carlson, as his stay-at-home style complements Carlson's puck-rushing game, and the pair have cemented their status as Washington's top defensive unit.
Johansson improved drastically as the 2010-11 season went on, and by the time the postseason rolled around, he was Washington's most consistent center, though Nicklas Backstrom's disappearing act during the playoffs had a lot to do with that.
All three will be leaned upon to play big roles for the Capitals in 2012, and each appears to be capable of being front-line contributors in Washington for years to come.
In addition to these three skaters, Neuvirth set a franchise record for wins by a rookie in 2011, and though he'll start the season backing up Tomas Vokoun, he's demonstrated he's more than capable of providing the team with solid goaltending when needed.
5. There's Talent in the Pipeline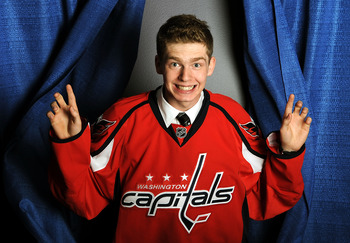 Harry How/Getty Images
The Washington Capitals, for the most part, have been built through the draft, selecting impact players year after year, even though they haven't had high picks for the last few seasons.
Though they have a couple of exciting North American prospects like Cody Eakin and Braden Holtby, the Caps have had great success in taking players from Sweden and Russia, as four of their top forwards hail from those two countries.
Looking ahead, the Capitals have two high-end Russian prospects that will be monitored closely in 2010-11.
Evgeny Kuznetsov, the team's first-round pick from 2010, has emerged as one of the best young forwards in the KHL and put on a show at the 2010 World Juniors, scoring 11 points while helping Team Russia upset Canada in the gold medal game. While it seems very likely that he'll remain in Russia for the 2011-12 Season, he'll be a top six forward in D.C. by opening night in 2012.
Kuznetsov's teammate on the gold medalists at the World Juniors, Dmitri Orlov, appears to be a year or two away from the NHL as well, as he put together an impressive 2010-11 Season that saw him finish the final 19 games with Hershey in the AHL.
Both of these young Russians project to be impact players for the Capitals in the not-so-distant future, so their development will be exciting for Caps fans to watch this season.
4. This May Be Washington's Best Shot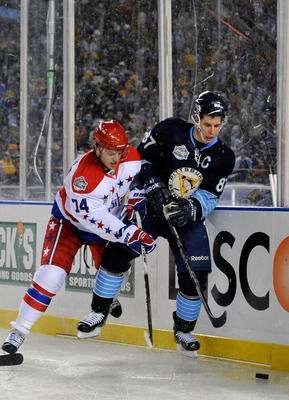 Jamie Sabau/Getty Images
The Capitals enter this season as one of the favorites to win the Cup, but not just because of the strength of their roster from top to bottom.
In addition to how talented their lineup is, Washington may also benefit from the fact that many other perennial contenders appear to be weaker heading into training camps.
For starters, Pittsburgh will be without their captain and probably the best player in the game in Sidney Crosby for the immediate future, and it's unclear when he'll return from the injured reserve. Until he does, the Penguins don't appear to be posing much of a threat to the Capitals' hopes of securing the No. 1 seed.
Another team that may not be as strong in 2012 is Philadelphia, as they jettisoned two of their best offensive players in Mike Richards and Jeff Carter in the offseason. While the Flyers did pick up All-Star goalie Ilya Bryzgalov, their best defenseman, Chris Pronger, is coming off two surgeries and may not be in top form until midseason.
Either way, Washington has a healthy group going into the season, so barring any major injuries, they'll likely have the most complete group of any contending team in the early going.
3. The Sandpaper in the Capitals' Lineup
Vokoun olympic
Frederick Breedon/Getty Images
General manager George McPhee addressed one of the team's most pressing needs this offseason, by adding a number of players with the grit and penchant for physical play that the Capitals lacked during their second-round loss to Tampa Bay.
At the 2011 NHL draft, McPhee peddled Washington's first-round pick to Chicago, in return for hard-charging winger Troy Brouwer, who is a proven winner with enough skill to earn a spot on the team's top three lines. Brouwer uses his big frame to create space down low and lays punishing checks on opposing defenseman, which is why he ranked fifth in the entire league with 262 hits in 2010-11.
The Capitals also addressed their lack of effective shot-blocking defensemen by inking Roman Hamrlik to a two-year deal. Hamrlik, a former All-Star, is a proven veteran with a wealth of playoff experience, and he finished fourth in the league in blocked shots in 2010-11.
In addition to Brouwer, McPhee signed two-way forward Joel Ward to a four-year deal, after the 30-year-old had a magnificent 2011 playoffs that saw him lead Nashville in scoring with 13 points in 12 games. Ward is a solid forward defensively and is a tireless forechecker who will add another dimension to the Capitals' lineup.
Finally, the Capitals added a familiar face in Jeff Halpern, as the former Washington captain agreed to return to his hometown team, supplying the team with depth up front.
2. Finally, a Proven Veteran Between the Pipes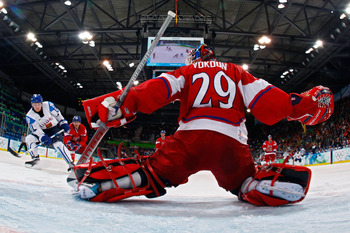 Pool/Getty Images
On July 2nd, the Washington Capitals shocked the hockey world by inking two-time All-Star netminder Tomas Vokoun to a one-year deal worth a paltry $1.5 million.
Vokoun, widely considered to be the best goaltender available on the unrestricted free-agent market, watched as a number of relatively unproven goalies signed deals on the first day of free agency, so he decided to accept less money in order to play for a contending team.
So now, for the first time since Olaf Kolzig left town in 2008, the Capitals have a world class stopper in net. Vokoun has carried subpar teams for his entire career, so it will be interesting to see how he plays with one of the most talented lineups in the game in front of him.
Even while playing for the basement-dwelling Florida Panthers for the last three seasons, Vokoun has posted impressive numbers, and if he plays anywhere close to his potential, Washington will run away with the Eastern Conference title in the regular season.
Though Michal Neuvirth provided the Caps with solid goaltending in 2010-11, Vokoun is a proven commodity in between the pipes, and will be motivated to earn a big payday in the Summer of 2012.
1. It's Do or Die Time for the Caps' Nucleus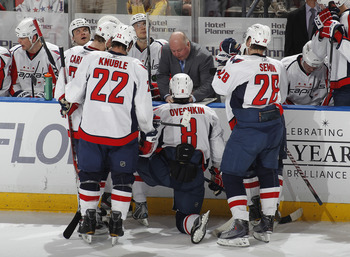 Joel Auerbach/Getty Images
After the team's well-documented struggles during the postseason, this year will probably determine the futures of a number of players and coaches within the organization.
One has to assume that Alex Ovechkin and Nicklas Backstrom are safe for years to come, but if Mike Green and Alexander Semin's performances don't improve, they'll likely be gone by the time the Summer of 2012's over.
In addition to Green and Semin, the fate of head coach Bruce Boudreau will be decided by the outcome of the Capitals' season, so the incentive to succeed is clearly there for everyone involved with the Capitals.
They have all the pieces, at least on paper, to vanquish their postseason demons once and for all, so if the team fails to deliver at least a berth in the conference finals, Boudreau won't be back next season.
Keep Reading

Washington Capitals: Like this team?