Team Sidney Crosby vs. Team Shane Doan: Which Side Are You On?
September 12, 2011
Jamie Sabau/Getty Images
Sidney Crosby caused quite a stir when he called for the banishment of all hits to the head, regardless of circumstance, angle or intent. Crosby, who generally does an outstanding job of interviewing like a normal hockey player (read: boring), took a simple question and jumped head first into the deep end.
At a news conference in Pittsburgh, Crosby vented feelings that had clearly been growing as he watched the hockey-less months fall from his calendar. He took a no-nonsense stance on the headshot debate, saying the following, as reported via the Montreal Gazette:
"I think as a league, as a union, everyone, I think we've all educated ourselves a lot in the last six, seven months, and really looked at this. I think we can go further. At the end of the day, I don't think there's a reason not to take (hits to the head) out."
There's no reading between the lines there.
His logic is pretty simple. Crosby said that if players are held accountable for their sticks—incidental contact or not—then why shouldn't they be held accountable for their bodies and the way they hit each other?
Fair enough.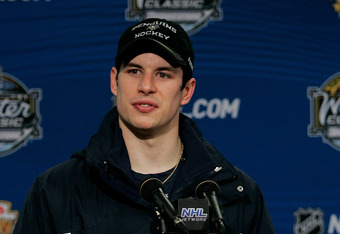 Justin K. Aller/Getty Images
He also had this to say (via ESPN) about the two hits that have had him sidelined since January (one at the hands of David Steckel from Washington and one from Tampa Bay blueliner Victor Hedman).
I know it's a fast game, and I think if anybody understands it's a fast game—I've been hit a thousand times. But when you get hit like that, there's nothing you can do. There's no way you can protect yourself. When I look at those two hits...I mean, we talk about blindside, that's a big word—unsuspecting player, there's no puck there, and direct hit to the head on both of them. If you go through the criteria, I think they fit all those. 
NHL, consider yourself called out.
Crosby has taken a hard and fast stance against headshots across the board, giving his first real opinion since entering the league. Up until now, if he had appeared in an NHL-based comic book, he would have been the guy with an ellipsis above his head as he took care of business.
The hits must have knocked the silence out of the NHL's best player—and it doesn't seem like this is an issue he is going to let rest. New York Ranger Brad Richards and Tampa Bay Lightning Marty St. Louis have both backed Crosby and his statements.
One guy that isn't buying into Sid's Last Stand is Phoenix Coyotes captain Shane Doan, who fell just shy of calling Crosby and those in his camp...well, a few unprintable words. At Doan's media tour on Friday, he commented (via Yahoo! Sports):
"Realistically, if you don't want to get hit and you don't want to get hurt, then don't play. If you go out on the ice, you're going to get hit. If you want to play shinny, then go play shinny. It's not the same."
Doan makes excellent points across from Crosby, clearly flying the red flag to Sid's blue. He recedes back to the good, ol' fashioned "if you don't want to get hit, don't play hockey" argument.  
Again, fair enough.
He went on to explain that hockey is, after all, a dangerous game and that it stands out because of the emotion involved out on the playing surface. If we remove hits to the head, we are in danger of turning the game into something like basketball.
So, is this a hit you have to make? For the sake of the game and all things manly and hockey-like, is that a hit that needs to be in the game? What about this? Would the game shrivel up and lose all of its following if this didn't happen?
Like it or not, these are the choices that the NHL is going to have to make—and soon, not within the next five years. They maybe have one year to get this under control and figure out a way to stop losing players at a rate of one every six or seven days.
I'd like to think that there is some kind of middle ground between Team Crosby and Team Doan in this debate. But if it really came down to it and we had to decide as a community and as fans of the game and the players who play it, which would we prefer?
Losing players like Marc Savard, David Perron and Sidney Crosby or losing the occasional hit?
Franklin Steele is a Red Wings featured columnist for Bleacher Report. Follow him on Twitter for entertaining hockey media from around the web and for random musings about the sport.