Philadelphia Flyers 15 Best Defensemen in Franchise History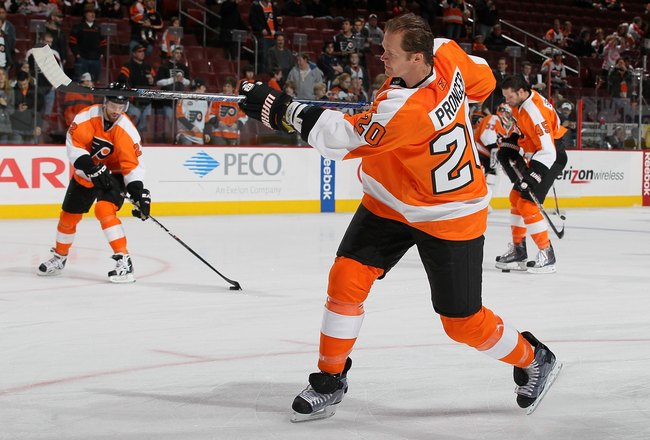 Jim McIsaac/Getty Images
Philadelphia enters the 2011-2012 NHL season with uncertainty regarding the health of defesenman Chris Pronger.
Pronger is one of the greatest NHL players of all time, and his current value to the franchise is unrivaled.
Though he is easily the team's best defenseman now, where does he rank among the Flyers' all-time greats?
Total contributions to the franchise have been analyzed in ranking the best Philadelphia Flyers defensemen of all time.
No. 15: Ed Van Impe
Ed Van Impe was an expansion draft selection of the Flyers, and played with the team through each of the franchise's first eight seasons.
The most notable moment of Van Impe's tenure with Philadelphia was this hit on Valeri Kharlamov, which caused the Soviet hockey team to leave the ice during a game in 1976.
The physical play intimidated the Soviets, and the Flyers were the only NHL team to beat the Soviet Army team during the 1976 Super Series.
Van Impe was captain from 1968 until 1973, when Bobby Clarke was given the "C."
No. 14: Dan McGillis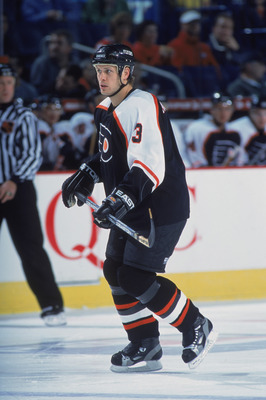 Rick Stewart/Getty Images
Dan McGillis played parts of six seasons with the Flyers from 1997 to 2003.
He totaled above 40 points twice and won the Barry Ashbee Trophy in 2001, awarded annually to the team's best defenseman.
No. 13: Joe Watson
Like Ed Van Impe, Joe Watson was an expansion selection of the Flyers for their inaugural season.
Watson spent the next 10 years with the Flyers, and is second only to Chris Therien on the Flyers list of most games played as a defenseman.
His career highs are six goals, 26 assists, 30 points and a plus/minus of plus-56.
No. 12: Barry Ashbee
Barry Ashbee had only played in four NHL seasons at the age of 34, but his fifth would be tremendous.
His plus-52 led the Flyers in 1973-74, the next closest being Bobby Clarke at plus-35.
Ashbee's career came to a very unfortunate end, before the Flyers eventually won the Stanley Cup that year. During a playoff game against the New York Rangers, Ashbee was hit in the face with a slapshot.
He never played hockey again. The next season, the Flyers retired his No. 4 and created the Barry Ashbee Trophy.
No. 11: Behn Wilson
Not only was Behn Wilson one of the best Flyer fighters of all time, he was one of the team's best defenders.
Along with being the NHL's best fighter, Wilson contributed over 30 points per season with the Flyers from 1978 to 1983.
Wilson's 1980-81 stat line is ridiculous: 63 points, a plus-39, with 237 penalty minutes and 11 fighting majors.
No. 10: Garry Galley
Robert Laberge/Getty Images
In four different seasons with the Flyers, Garrey Galley was an extremely productive offensive defenseman.
In 236 games, Galley totalled 172 points. Over 82 games, that's an average of 60 points.
His 70-point season in 1993-94 is the second-most all time by a Flyers defenseman.
No. 9: Tom Bladon
Tom Bladon played for the Flyers during the early years of the franchise, from 1972 to 1978.
In six seasons for the Flyers, Bladon accumulated 230 points and an astounding plus/minus total of plus-186.
No. 8: Kimmo Timonen
Since the Flyers acquired Kimmo Timonen four summers ago, he's averaged more than 40 points per season and has won the Barry Ashbee Trophy twice.
Timonen is a sound defender, quality puck-mover and leader, but almost never receives the recognition he deserves.
The 35-year-old Timonen will likely end his career as a Flyer.
No. 7: Chris Pronger
Chris Pronger is one of the greatest defensemen in NHL history. He is the only defenseman to have won the Hart Trophy, as the league's MVP, since Bobby Orr.
He is arguably the greatest defenseman to ever wear a Philadelphia Flyers uniform. However, he's only spent two seasons with the Flyers, so his overall contributions to the franchise's history must be reviewed accordingly.
In his first season, Pronger was the team's best defenseman and a key component of their run to the Stanley Cup Finals.
He's totaled 80 points and a plus-29 in 132 games.
No. 6: Bob Dailey
Drafted ninth overall in the 1973 draft, Bob Dailey was living up to his potential until an ankle injury in November 1981 cut his career short.
Dailey was with Philadelphia from 1977 to 1982, the last seasons of his NHL career.
In 304 games, he had 194 points and a plus-124. That averages out to 52 points and a plus-33 per season.
No. 5: Brad McCrimmon
A young Brad McCrimmon spent five seasons in Philadelphia from 1982 to 1987.
McCrimmon averaged 37 points per season, and his plus/minus with the Flyers totaled a superb plus-223.
His plus-83 in the 1985-86 season is tied for the second-highest single season total by a Flyer.
No. 4: Andre Dupont
Andre Dupont was a mainstay on the Flyers' blue line during the franchise's most successful era.
"Moose" spent seven-and-a-half seasons with Philadelphia.
Though he was not a particularly impressive offensive player (with a career high of 36 points) he totaled a plus-269 rating during his time with the Flyers.
No. 3: Jimmy Watson
Joe Watson's younger brother Jimmy played all 10 of his NHL seasons with the Flyers from 1972 to 1982.
A member of both Stanley Cup teams and two additional conference championships, Watson averaged 24 points and plus-39 per 82 games.
No. 2: Eric Desjardins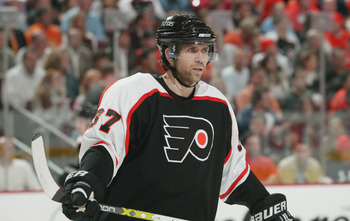 Len Redkoles/Getty Images
When the Flyers made a deal with the Montreal Canadiens in February of 1995, they lost Mark Recchi, but acquired John LeClair and Eric Desjardins.
Desjardins would finish his career in Philadelphia after several seasons of being the team's unquestioned No. 1 defenseman.
Desjardins won the Barry Ashbee Trophy a record seven times in his career, including six consecutive from 1995 to 2000.
His 396 points are second on the Flyers' all-time list, and his 738 games played ranks third.
No. 1: Mark Howe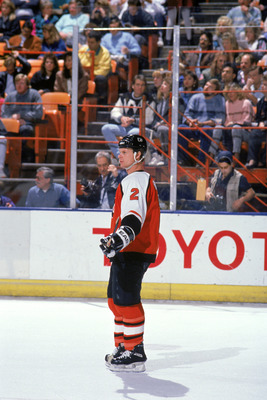 Ken Levine/Getty Images
Simple enough, Mark Howe is undoubtedly the greatest Philadelphia defenseman of all time.
The son of Gordie Howe ranks first among defensemen on the team's list of points leaders and plus/minus leaders, both by a ridiculous margin.
With 480 points as a Flyer, he leads Desjardins by 84, and his plus-349 with the Flyers is far above Jimmy Watson, who is second at 295.
In 10 seasons with the Flyers from 1982 to 1992, Howe won the Barry Ashbee Trophy four times.
Had Howe not spent the first six seasons of his career in the WHA, there is a good chance he would have scored 1,000 NHL points, something only eight NHL defensemen have done.
Keep Reading

Philadelphia Flyers: Like this team?