Detroit Red Wings: 4 Candidates To Lock Up the Final Roster Spots
September 8, 2011
Doug Pensinger/Getty Images
Training camp opens in 10 days and the season starts in one month. The Detroit Red Wings will see some changes to this year's lineup. Gone are long-time Wings Kris Draper and Chris Osgood. Players such as Mike Madano and Ruslan Salei were not brought back and Brian Rafalski retired. What players will fill out the roster?
There is no suspense in the net; the goalies are set with Jimmy Howard and Ty Conklin patrolling the goal.
The Wings added Ian White and Mike Commodore to replace Rafalski and Salei. Brendan Smith is the defensive player of the future and will see time with the team this year, but barring a preseason injury to a top six defender, he will not make the Opening Night roster. The team would rather have him spend time in the minors, continuing to develop his skills and playing every night, instead of sitting on the bench as an extra defender in Detroit. So, unless he just completely blows people away in the preseason, he will not make the team.
On defense Nick Lidstrom, White, Commodore, Niklas Kronwall, Brad Stuart and the now overpaid Jonathan Ericsson will be the top six. Jakub Kindl will take the last defensive spot on the team. He will see plenty of playing time though, and could push Commodore for playing time.
Up front we know that Pavel Datsyuk, Henrik Zetterberg, Johan Franzen, Tomas Holmstrom, Darren Helm, Valtteri Filppula, Justin Abdelkader, Drew Miller, Todd Bertuzzi, Dan Cleary and Patrick Eaves will make the roster.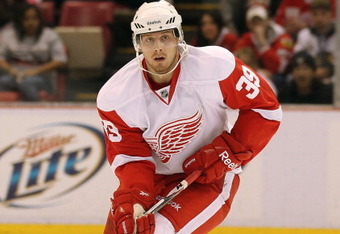 Claus Andersen/Getty Images
While the Wings will have more players in camp, realistically the battle for the final three spots will come down to four players. Jan Mursak, Cory Emmerton, Jiri Hudler and Tomas Tatar will be fighting for those spots.
Hudler has the big contract, but has come nowhere near to living up to it. He does have talent, but it is apparent that Detroit is not the place for him. The Wings will look to move his contract and trade him as soon as possible. 
Mursak is the Wings' fastest player in the minors. He is also willing to bang bodies and play hard. With Draper no longer on the team, he seems to be a natural fit to fill his roster spot.
The team really likes Emmerton; they have signed him to a new three-year deal. His minor league numbers are not spectacular, but he has all the tools coaches love. One has to wonder if he will be able to shine and live up to his potential once in the NHL. He will at least get a chance to show what he can do this year.
Tatar will be fighting Hudler for the last roster spot. If Hudler gets traded, Tatar is in. If Hudler remains with the team, Tatar would be the odd man out. He has great speed and a tireless work ethic and showed promise last season, playing nine games with the Wings during the season. He would be the odd man out due to his age. 
At 20 years old, the team will not rush him and, like Smith, they do not want him on the team to sit. If he will not be at least a semi-regular player, they will send him to Grand Rapids to continue to work on his game.
The limited amount of roster openings means that this is a solid, seasoned team. They will enter the season ranked as one of the favorites to capture the Stanley Cup.
PJ Sapienza is a Featured Columnist with Bleacher Report and can be followed on Twitter @pjsapi.