NHL: 20 Players the League Should Be Marketing Like Crazy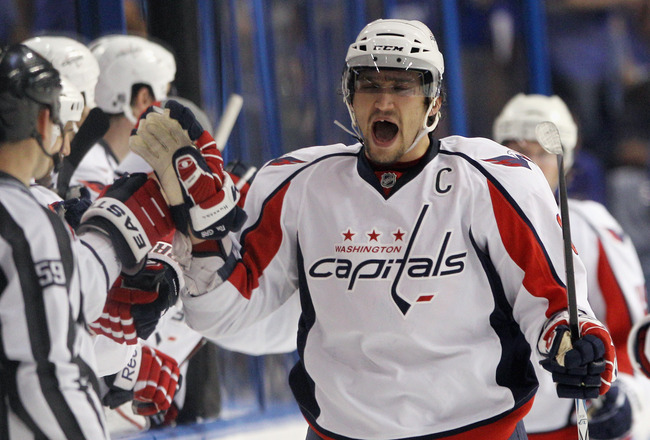 Bruce Bennett/Getty Images
We've all seen the NHL marketing campaigns. There is a ton of stuff out there with Ovechkin, Crosby, Toews, Kane and NHL 12 cover boy Steven Stamkos.
But there are great players all over the league that haven't received nearly enough marketing coin. There are opportunities to market young players well beyond the regional level to grow the great game of hockey. While the NBA is locked out until whenever, the NHL should jump on the opportunity.
Here are 25 young stars the NHL needs to put on more boxes, posters and television screens in the coming months.
Corey Perry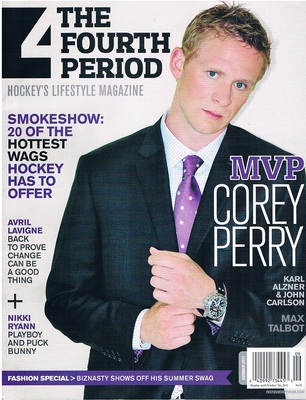 Perry has the league's Most Valuable Player trophy sitting at his house in southern California, and yet the morning of the NHL Awards I watched fans in LA Kings and San Jose Sharks sweaters walk right past him in the lobby of the Palms in Las Vegas.
He's too good for the league to not get him on more magazine covers in the coming months.
Luke Schenn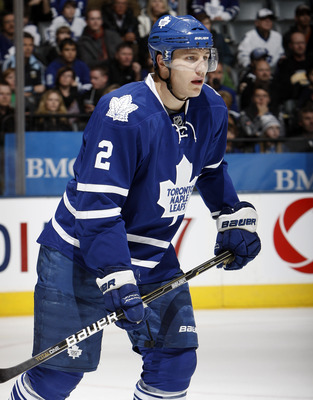 Abelimages/Getty Images
As I've mentioned before, Schenn was one of only two players in the entire NHL last year that had at least 200 hits and over 150 blocked shots (Brent Seabrook). Yet, for some reason, the most recognized young Schenn to NHL fans is Brayden.
Once he lands his new deal, and the Leafs jump back into the playoff picture, he'll be a more recognized player on a league-wide level.
Rick Nash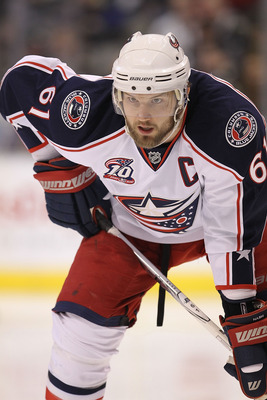 Ronald Martinez/Getty Images
259 goals in 592 career games, including a Rocket Richard trophy, and yet he might be the most under-appreciated player in the game today. Now that the Jackets have started spending some money (may have gone for broke with Jeff Carter and James Wisniewski this summer), he might finally have someone pay attention to how good he is in Columbus.
Anze Kopitar
Paul Bereswill/Getty Images
The guy getting all the publicity (and, soon, money) in Los Angeles is Drew Doughty, and rightfully so. But there are some fantastic forwards on that roster, and it starts with Kopitar.
However, if this season develops as it could, considering the summer moves made by LA, it's only a matter of time until the hockey world sees how good Kopitar and the Kings are on the ice.
Andrew Ladd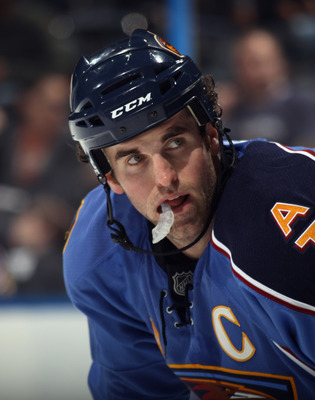 Bruce Bennett/Getty Images
He's a captain in Winnipeg now with two Stanley Cup championship rings. Because he was a secondary role player on the Carolina and Chicago teams that won it all, not as many people outside of those markets saw how good he really is. Now that he's the man in 'Peg, it's time the league puts him on television so more people can appreciate his game.
Claude Giroux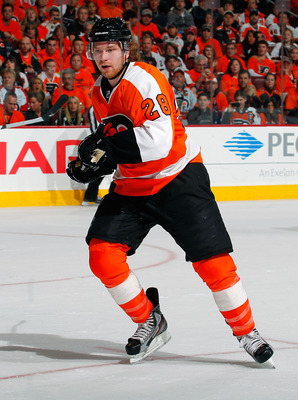 Paul Bereswill/Getty Images
The marketing machine grabbing a hold of Giroux is inevitable after the summer moves made by Philadelphia. After leading the Flyers with 76 points last year, Philly management felt comfortable enough with his game (and uncomfortable enough with their cap situation) to trade veterans Mike Richards and Jeff Carter. The Flyers will now rely on Giroux to lead a young group of forwards into the future.
Chris Stewart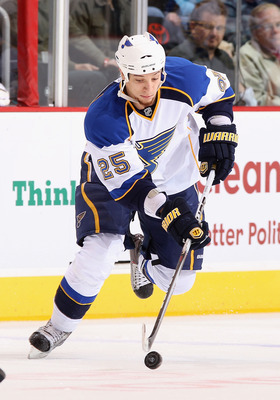 Christian Petersen/Getty Images
If Stewart can produce for a full season at the pace he did after being traded to the St. Louis Blues, the world will certainly know who he is. He scored 15 goals in 26 games last year in a Blues sweater, and could do even better if TJ Oshie returns to the ice fully healthy this year.
He's a big, physical forward that's going to enter his first full season in arguably the toughest division in hockey—the Central. He'll get plenty of chances for people to hear his name against the likes of Chicago and Detroit as well.
Loui Eriksson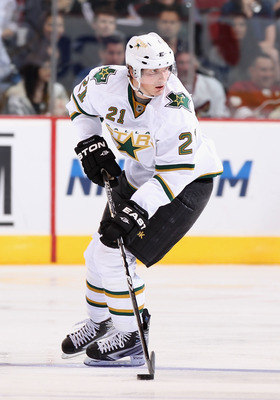 Christian Petersen/Getty Images
Pop Quiz: Which of the following players was in the NHL's top 20 players in points last year?
a) Danny Briere
b) Joe Thornton
c) Loui Eriksson
d) Jeff Carter
If the slide photo and title didn't give it away, I would guess that the three players other than Eriksson would have received 99 percent of the guesses. He's a really good player who's stuck in anonymity because of how bad Dallas has been the last couple years.
Sam Gagner
Paul Bereswill/Getty Images
The 22-year-old forward has lost some of this marketing appeal since Jordan Eberle and Taylor Hall arrived, but he's quietly been one of the better young scorers over the past few years. He has piled up 173 points in four seasons with the Oilers, and did that playing with players not nearly as talented as Hall or Eberle by his side.
John Tavares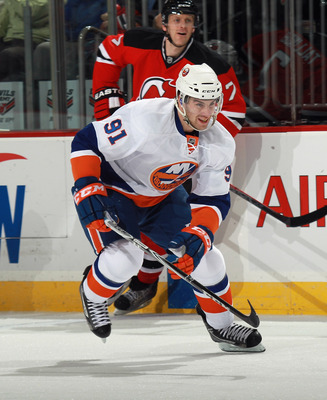 Bruce Bennett/Getty Images
Tavares has scored 53 goals in his first two NHL seasons, which is more than Patrick Kane had in his rookie and sophomore campaigns. But he's stuck on...wait for it...an island because of the poor play of his team.
If he continues to increase his scoring, the media will have to pay attention to a talented youngster in the New York metro area.
Matt Duchene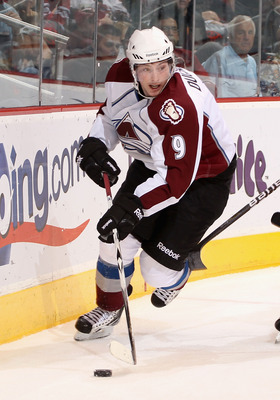 Christian Petersen/Getty Images
Colorado has had a couple awful seasons with injuries, yet Duchene has been a fantastic young player. He won't turn 21 until mid-January, yet he's coming off a 67-point season and is quickly establishing himself as a leader on the Avs.
Eric Staal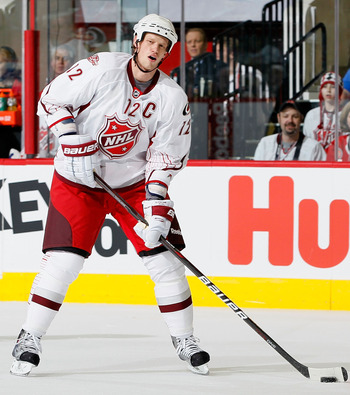 Kevin C. Cox/Getty Images
Like Nash, his market has kept him hidden for too long. He received a little bit of attention as the host of last year's All-Star Game, but deserves more. He's one of the best forwards in the game today, and has a loaded resume to show for it. With the Thrashers out of Atlanta, there's a void in the southeastern U.S. where Staal should be sold.
Patrice Bergeron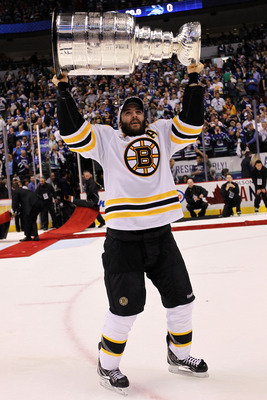 Bruce Bennett/Getty Images
Bergeron is one of the finest two-way forwards in the NHL and had one of the better postseasons of the last five years this spring. But because other players on that roster are younger (Seguin), louder (Marchard), taller (Chara) or more wolverine-like (Thomas), Bergeron's quality work doesn't get as much attention.
Logan Couture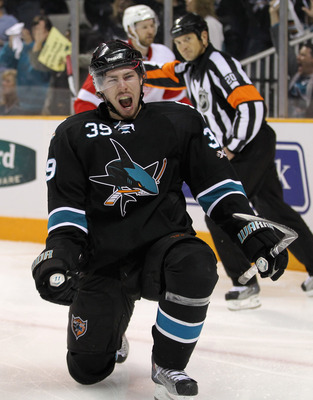 Ezra Shaw/Getty Images
Like Corey Perry, I watched a handful of fans walk right past Couture in the lobby at the Palms the day of the NHL Awards—three of them in Sharks sweaters—and not even look at him for a second. After posting 32 goals in a fabulous rookie season, there's no reason for this kid to be as anonymous as he is still.
Tyler Ennis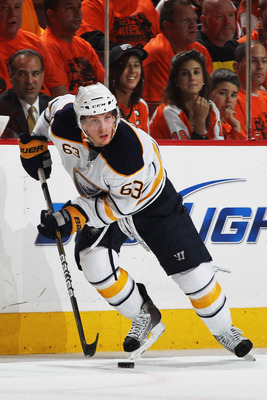 Bruce Bennett/Getty Images
The Sabres' first-round pick from 2008, Ennis finally got a full-time look at the NHL last year and was fantastic. He posted 20 goals and established himself as a legitimate top-six scorer. With the offseason efforts in Buffalo to put a winning product on the ice, and the eventual cap casualties that will inevitably have to happen (they're over the cap right now), Ennis will need to be a big part of any deep run from the Sabres.
Evander Kane
Kane, still only 20 and entering his third year in the NHL, almost doubled his production from his rookie season to last year. With a new home in Winnipeg, the Jets are hoping he helps the entire franchise take the next step and compete for a playoff spot.
Jonathan Quick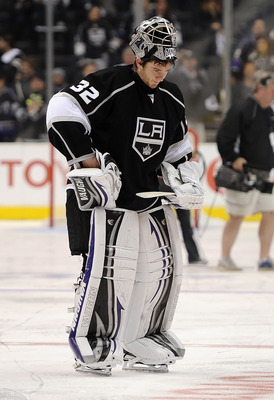 Harry How/Getty Images
He has won 95 games in three seasons in LA, and his save percentage hasn't dipped below .907 over that stretch. With all the moves up front, the Kings never had to think twice about their situation between the pipes because of Quick.
Corey Crawford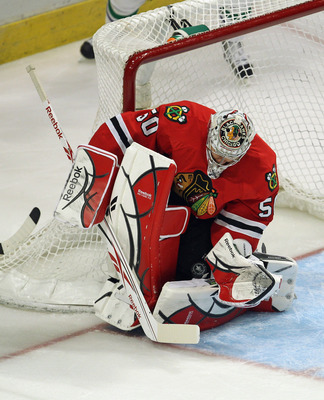 Jonathan Daniel/Getty Images
He should have grabbed your attention during the postseason. Crawford had a fantastic rookie season last year, and signed a deal that will keep him between the pipes in Chicago for the immediate future. If the Blackhawks get another solid season from him in net this year, and the rest of the roster gets closer to their 2009-10 performances, Chicago will be a handful.
Charlie Coyle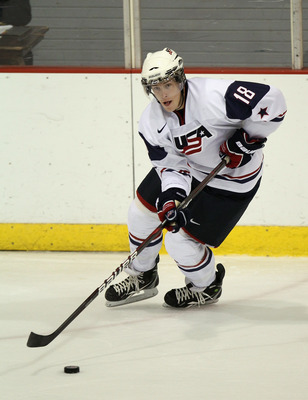 Bruce Bennett/Getty Images
Coyle, one of the players traded to Minnesota in the various deals between the Wild and Sharks this summer, is an elite future center who spent last year at Boston University. If he makes the jump to the Wild roster this year, Coyle could quickly become a fan favorite and help fans forget other recent trades when Minnesota management had given up on young players.
Ryan Nugent-Hopkins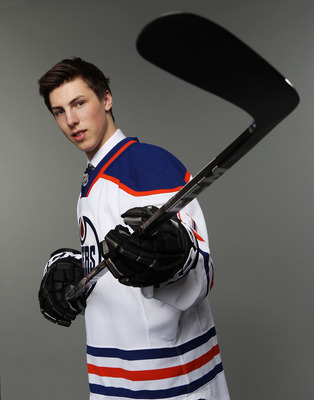 Nick Laham/Getty Images
The top overall pick in the 2011 draft, the Oilers won't have to push him to get into the NHL too soon. Whether or not they can keep him away is a totally different issue, and he's certainly got the goods to make for an interesting training camp.
Keep Reading