Sidney Crosby: What Today's News Means for the Future of the NHL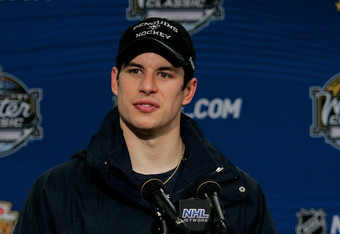 Justin K. Aller/Getty Images
Pittsburgh Penguins star Sidney Crosby held a press conference Wednesday to address the rampant speculation concerning his health and availability for the 2011-2012 NHL season.
At the press conference, Crosby and his doctors confirmed what had been speculated: he will not be ready to start the NHL season in October.
There were not a lot of details other than that.
Crosby mentioned that he felt he would return this season at some point and when asked if there was a chance he would never be able to return, he said "A pretty slight one, I wouldn't bet on that."
What is certain is that Crosby will miss a significant amount of time, if not the whole season, this year.
What does this news mean to the future of the NHL?
While the NHL will survive in the long run, there will be an immediate impact.
Love him or hate him, Crosby is one of the top players in the league and its most recognizable face. Losing a player of his caliber and stature hurts on and off the ice.
The league product is simply not as strong without its best players. Not to mention, the Pittsburgh Penguins are a marquee franchise these days and will have lost a huge part of their draw.
NHL television ratings have been on the rise and with the new NBC deal taking over this season, Crosby and the Penguins would have been a major attraction. The league can overcome this, but it is a loss.
The bigger long term impact might be concerning head injuries.
Head injuries and the resulting struggles for players suffering from them have been a hot topic the past couple of seasons. There have been high profile incidents on the ice and the recent depression related deaths of some of hockey's most known enforcers have people questioning what the NHL is doing about these injuries.
Hopefully, the Crosby news will finally cause Gary Bettman and the NHL to take serious measures to limit these types of head injuries.
Hockey is a physical game and injuries are a harsh reality, but the league has been inconsistent the past couple of years in handling the head injuries, despite major incidents.
Perhaps losing his number one marketing chip will get Bettman to take action.
Whether that action includes not allowing players with concussions to return to that game, despite how long they sit in the "quiet room" the way the NFL does, or looking into the equipment the way the Ontario Hockey League is, something needs to happen.
The OHL is requiring its players to wear soft cap shoulder and elbow pads, hoping that this will lesson the chance of head injuries coming from checks. They also are committing to harsher punishment for players who are repeat offenders when it comes to head-hunting.
The NHL still has work to do in this area.
Hopefully, their slow reaction hasn't cost the league one of its brightest stars. If losing Crosby won't spur action, what will?
This article is
What is the duplicate article?
Why is this article offensive?
Where is this article plagiarized from?
Why is this article poorly edited?

Pittsburgh Penguins: Like this team?