Rafael Nadal: He May Be World No. 2 Now but He Has Been Real No. 1 Since 2008
September 6, 2011
Julian Finney/Getty Images
Rafael Nadal became the world No. 1 in 2008. He lost the ranking temporarily in 2009, got it back in 2010 and has lost it again in 2011.
But it makes no difference to his status as "the real No. 1" from 2008.
I got the concept of "the real No. 1" from Federer fans.
Last year, after Roger Federer had won a number of minor tournaments in the fall season, topping it up with a brilliant win against Nadal in the World Tour Final, a Federer fan wrote an article about Federer being the real No. 1.
The idea was picked up by other Federer fans.
Some of them seemed convinced that thanks to Nadal's stellar record in the season up to Wimbledon in 2010, he was bound to lose his No. 1 ranking to Federer by the Monday after Wimbledon in 2011. A flurry of posts followed, with feverish calculations of how and when the event was going to occur.
The idea that a post-prime Federer was going to surpass an in-prime Nadal seemed far-fetched to me. But of course it was not impossible, only improbable.
Nadal did lose his No. 1 ranking on the Monday after Wimbledon. But not to Federer. He lost it to Novak Djokovic, who will no doubt have some problems next year in the same period to retain his no. 1 ranking.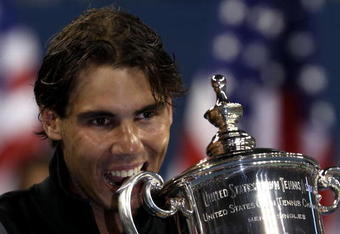 Clive Brunskill/Getty Images
But Federer is a distant third now, and unless something drastic happens to Andy Murray, will cede even third place to the Scot by year end.
However, no matter what the year-end rankings are, Nadal is the real No. 1.
The idea of a real No. 1 is that he is the best player of the era.
The Federer era ended in 2008.
The Nadal era started in 2008.
Federer did get back the No. 1 ranking in 2009, but it was only because Nadal was ailing and had personal issues to distract him. Federer was only warming the seat until the real No. 1 came back, as he did in impressive fashion in 2010.
He has been troubled by fitness issues since the beginning of this year, allowing Djokovic to seize the No. 1 crown.
If these issues are permanent, then Djokovic will retain the No. 1 crown next year, and with the benefit of hindsight we can say that the Djokovic era began in 2011.
But until 2012 proves otherwise, based on Nadal's consistent performance and Grand Slam record since 2008, this is his era, and he is the real No. 1.