Alex Ovechkin: What His Move to Bauer Could Mean for His Production in 2011-12
September 5, 2011
Len Redkoles/Getty Images
Since entering the National Hockey League in 2005-06, Alexander Ovechkin has been the face of CCM's hockey department, and has almost exclusively used their products, until now.
In early August, Ovechkin confirmed he had left CCM, but didn't say where he would go from there, though many speculated that he would elect to go with Bauer, the same company that endorses linemate and close friend Nicklas Backstrom.  
This weekend, those rumors were confirmed, as Bauer unveiled a video on their website featuring Ovechkin's trademark yellow laces gracing the boot of their new APX skate.  The clip also features the slogan "This year will be different", symbolizing a change in not only Ovechkin's equipment, but also potentially the outcome of the Washington Capitals' playoff performances.  
Though Ovechkin has had a great deal of success using CCM's equipment, he has reportedly been unhappy with the company's sticks for quite some time.  In fact, some of Ovechkin's greatest moments have come during the brief periods of time that he's used Bauer sticks, much to the chagrin of CCM's marketing department.  
For example, Ovechkin used a Bauer composite stick during arguably the most dominant stretch of his career, when he posted 21 points in 14 playoff games for the Capitals in 2009.  This includes the seven-game classic against the Penguins in which Ovechkin tallied a mind-boggling eight goals and six assists against the eventual Stanley Cup champions.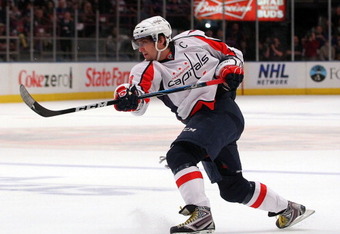 Bruce Bennett/Getty Images
He also used a Bauer model for much of the 2008-09 regular season, in which he put up 56 goals and 54 assists en route to his second Rocket Richard and Hart Trophies.  
After that magical postseason performance, Ovechkin (probably due to his endorsement contract) went back to using CCM sticks, but his production has dropped significantly.  
Though it's ludicrous to blame this drop-off in point totals on the brand of hockey sticks Ovechkin was using, it's clear that he feels that Bauer has better products to offer, which is a sentiment that is shared by most of the hockey community.  
In fact, according to Bauer, 53% of the players in the 2011 Stanley Cup Finals used their brand of sticks, which is a telling statistic.  In addition, many of the Caps' more talented offensive players prefer Bauer sticks, such as Alexander Semin, John Carlson and Marcus Johansson, while few choose to use CCM.  
CCM is clearly behind Easton and Bauer in terms of popularity amongst NHL players, so it makes sense that one of the world's best players wanted to jump ship this summer.
Now that Ovechkin has confidence in the equipment he's using, it should mean that he'll be able to convert on more opportunities in the offensive zone.  His release has never been deadlier than it was during the 2009 playoffs, and Ovechkin's decision to switch to Bauer indicates he recognizes that.  
The Capitals are a significantly deeper team than they were a year ago, as they now boast three lines capable of scoring goals on any given shift.  This means that Ovechkin will likely get more favorable matchups, and more opportunities to use his stick of choice to terrorize net-minders across the league.