Gary Bettman: It Will Be Headshots, Not Expansion, That Will Define His Legacy
September 1, 2011
Christian Petersen/Getty Images
Yesterday, Boston Bruins GM Peter Chiarelli told the Boston Globe that All-Star center Marc Savard would not play during the 2011-2012 season. Repeated blows to the head have sent Savard down a blurry and headache filled path that is hard to recover from.
For the formally great Bruins pivot, this hit from Matt Cooke was the genesis of the his end. Chiarelli told the Globe that, based on what he knows, Savard will probably never play in another NHL game.  
And so, another one bites the dust at the feet of Gary Bettman.
Bettman may be one of the most hated figures in hockey history. In the view of the most diehard fans, he has stripped "deserving" and supportive cities like Winnipeg and Quebec of franchises while experimenting with millions in places like Florida and Phoenix.
If you want to piss of a Canadian hockey fan, apparently a great way to do it is lift a team away from nightly sellouts and cast them into hockey oblivion somewhere in the south. But I digress.
Had Bettman ended his career within the last few years, this would have been his legacy.  
When people brought up his name, it would be scoffed at because of his expansion efforts.
"Columbus? Like, in Ohio?"
I can hear the bar chatter from here.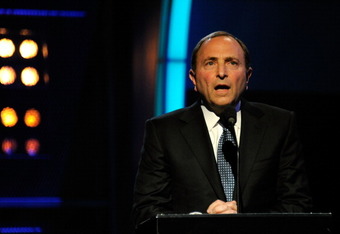 Ethan Miller/Getty Images
There would have been jokes at his expense as he branded a map of the southern United States on his forehead. His increasing pay has also drawn some fire, as has how he has handled US television deals.
Oh, and the lockout was kind of ridiculous.
But in hindsight, years down the road, I think Bettman would have left at least a mildly positive mark on the game. Just barely, and don't stop reading there. I am just stating that while his expansions may have failed somewhat, the grassroots hockey programs that developed in places like California and Florida will pay off and make hockey a better game in the long run.
At the very worst, we would have recalled the Commissioner as a businessman trying to run a hockey league. This is what happens, I suppose, when you hand a lawyer from New York the keys to a Zamboni.
But that reputation and memory would have been a luxury compared to what is over the horizon for Bettman.
Because now players are losing their heads, both mentally and physically.
A dark cloud has emerged over the National Hockey League over the last few seasons.  The league used to get attention for some of the wrong reasons—namely fighting.  But now. the highlights the NHL gets on outlets on ESPN is a Crosby deke and an Ovechkin hat trick, but more often, a devastating blindside hit.
I don't care about media exposure, or about people getting the wrong idea about the league when they generally only watch NASCAR. Whatever.
What I do care about is the safety of every player in the that plays the game anywhere.  And I am sick of Bettman and the powers that be protecting goons like Matt Cooke when class acts like Savard lose their careers to a dirty elbow to the head.
I will give credit where credit is due: Bettman has stepped up to the plate to a degree and implemented rules to try and curb this kind of thing with haste. But the suspensions have been laughable, and I could pay off most of the fines after a good night at the card table.
Honestly, how many more seasons can we go before we lose a player on the ice? (Hockey gods forbid.)  Is that what it will take for Bettman and Co. to start taking these things more serious than scoring rates and attendance numbers?
What the NHL and NHLPA have said in their press releases are all the right things. Words like due diligence, and everything that we can and condolences probably don't mean a whole lot to David Booth or Sidney Crosby or Savard.
As it stands now, this is Bettman's legacy. Headshots growing in number and spreading across the League like a cancer. And every game that passes where where we lose a player to a late hit or a cheap shot and nothing is done, we are all worse off for it.
Franklin Steele is a Red Wings featured columnist for the Bleacher Report.  Follow him on Twitter for entertaining hockey media from around the web, and for random musings about the sport.