Sean Avery: Misunderstood Misfit or Pathetic Punk?
September 1, 2011
Lou Capozzola/Getty Images
"Sean Avery this, Sean Avery that" is all I hear when friends or opposing fans attempt to take a shot at the New York Rangers. "Well, Sean Avery did such and such and it gives the league a black eye," laments an ignorant spectator.
There is more to the New York Rangers than Avery, but his reputation has been bigger than the team. Anyone reading this has their own ingrained prejudices for or against Sean Avery. If you're a Rangers fan you may love Avery because he sticks up for his teammates.
If you're a fan of any other NHL franchise, chances are you could own a custom Avery dartboard.
It is no secret that I am a Rangers writer. Yes, I am a fan, but I've always loved the NHL more than my team. With that in mind, I don't want you to feel that I am being biased, a homer or a bigot in any way.
I am just simply laying out the facts and will allow you to draw your own conclusions; you can then choose whether or not to pass judgement.
This subject matter is so sensitive and so controversial—I may be ducking virtual bullets for the upcoming weeks and months. 
A few weeks ago, Bleacher Report's NHL section was mobbed with Sean Avery-related articles in response to his arrest.
Some one-hit wonders took a look at his worst moments, sayings and actions. Others scoffed that he didn't deserve to be alone let alone lift the Stanley Cup should the Rangers win it.
This is all over a guy whose worst actions have been running his mouth, shaking his hands in a goalie's face and pessimistic on-ice performances.
Then it came through the grapevine that those in the mainstream media who had crucified and passed judgement on this hockey player were perhaps mistaken and forced to subsequently back pedal. They took the sensationalism and popularity that is Sean Avery and ran with it.
The LAPD had not been 100 percent truthful in their reports and eventually word got out. Eyewitness accounts disproved the LAPD's claim that Sean Avery assaulted an officer, as reported by TMZ. He was let go and had very little to say on the matter.
Now, I am not saying that Avery acted in the appropriate manner, but one of the ideals that runs deep in our criminal justice system is that everyone is deemed innocent until proven guilty. It is summer; Avery is a rich man and threw a party in California.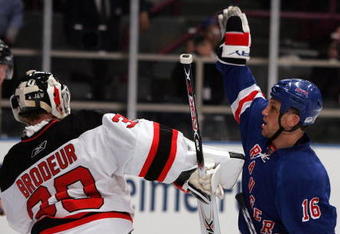 Jim McIsaac/Getty Images
Ironically, yesterday it was reported that Avery had listed the "infamous" home for sale. If you have $850K lying around, buy it. I mean, you can't "beat" a deal like this.
I honestly don't understand where this hatred of Sean Avery comes from. Maybe you will comment that is my ignorance as a Ranger fan. However, this is not the case; I am the first one to complain when Avery does something stupid. 
Perhaps it started when it came out that he made some controversial comments about French-Canadian players who wore visors. Maybe it was when he annoyed Martin Brodeur during a playoff game.
Maybe he offended some women when he made his infamous "sloppy seconds" comments aimed at Elisha Cuthbert and Dion Phaneuf. Or maybe some fans hate Sean Avery for no particular reason at all.
To be clear, I don't condone nor agree with the statements Sean Avery has made in his career. They have been inappropriate and ill-timed. To put it plainly, Sean Avery is a diva. He loves the spotlight and attention.
This is essentially what Sean Avery is. He is a diva, an attention hog and a newsmaking machine. He is nothing more than a pest who annoys players. 
Off the ice he garners more than his fair share of attention via his involvement in the fashion industry, his restaurant and other off-ice activities.
When I look at Avery as a hockey player, I see a player with great speed and agility, and a player who loves to play the body. He is immature at times after the whistle, but Avery does not go in with a mindset to intentionally hurt players.
He sticks up for his teammates when necessary and maybe sometimes he is a bit excessive, but he doesn't deserve to be grouped in with players like Marty McSorely, Trevor Gillies or Matt Cooke.
There is a misconception that Sean Avery is a dirty player. This is not the case. When you look at Avery's suspension history, they have been for his words. He hasn't done something terrible like Matt Cooke.
Yes, I realize you may say Avery takes cheap shots in fights or then backs out of fights, and you could post a plethora of videos, but they wouldn't amount to anything that labels Avery in the same class as Marty McSorely, Trevor Gillies, Matt Cooke or Todd Bertuzzi.
In a previous THN listing of the most influential people In hockey, Matt Cooke was listed because of his repeated suspensions stemming from blind-side hits and head shots that injured opposing players. Individuals are quick to point the finger about Sean Avery, but ask Marc Savard how he is feeling.
Ask Savard how great it feels to be sitting at home watching others play the game he loves. Hockey is first and foremost a game. Players should be judged more by their on-ice actions and less by their off-ice actions.
Marc Savard isn't going to play this year. He may never play again, and yet Matt Cooke can continue to skate for the Pittsburgh Penguins. Mario Lemieux was one of the greatest players this game has seen and he has done nothing noteworthy to send a message to him.
Trevor Gillies is another player who didn't learn. He was suspended for dirty play and what was the first thing he did when he came back? He threw another cheap shot and was penalized more severely. Gillies only appeared in 39 games last year. What does that tell you given his suspension history and games-played ratio? 
By now it should be pretty clear that Avery is really getting an unfair amount of criticism.
Look at what Todd Bertuzzi did to Steve Moore. He ended the career of a young, promising player by flat-out assaulting him. By the standards fans use to judge Avery, there is no way that Bertuzzi should have ever been allowed to return to the league. Bertuzzi faced criminal charges and jail time stemming from this.
Sean Avery is no saint, but he isn't exactly a demon either. I can honestly say that I like having Sean Avery on the Rangers. He can generate buzz and be a catalyst for momentum on occasions. He has hockey talent and he has shown that by putting up some 30-point seasons. He has a game other than annoying players or attempting to end careers.
If Sean Avery played his style of game back in the early days of hockey, no one would complain. Hockey is a rough game and no one said that players are always PG in their language. What do you think is said in the confines of a locker room? Just look at HBO'S 24/7 series leading up to the Winter Classic.
It is raw emotion and players will say things that may be a bit over the top. Like I said, I'm not saying I agree with or condone what Avery has said in the past, but he needs to stop being used as the whipping boy or pun in so many jokes about what's wrong in the NHL.
The things coming out of Avery's mouth pale in comparison to things said on WWE programing during the Attitude Era. If a comment like "sloppy seconds" bothers you, then chances are you would never make it in an NHL locker room. 
Ultimately the NHL wouldn't be a worse or better off place with or without Sean Avery. He is just a player whose antics earned him a moniker and a lot of media attention.
Next time you try and point a finger and say Sean Avery doesn't belong in the NHL, explain to me why Cooke, Gillies or Todd Bertuzzi do. I am not saying you have to like Sean Avery, but at least realize he isn't as bad when compared to thugs like Cooke, Gillies and Bertuzzi.
Leave your comments in the section below to get the conversation going. If you liked what you read, feel free to give it some props, a like and a plus-one. And if you like me enough, you can go to my homepage and become a fan.
Thanks for reading!
Tom Urtz is an NHL Featured Columnist.
For more NHL free agent news, updates and alerts about players: