Hatred in Detroit: Detroit's Most Hated Sports Figures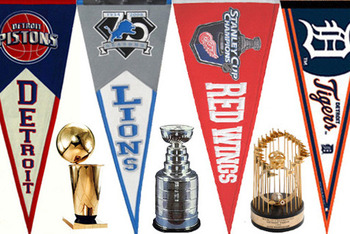 It is easy to hate the opposing team and its players when they enter town. But what does it take for a city to turn on its own players?
Detroit is a rather nice sports city to play in. It does not have the venom and viciousness found in New York, Philadelphia or Boston. It also does not have an apathetic fan base that is often found in Los Angeles, Miami and elsewhere. While by no means perfect, Detroit fans seem to blend a passion and knowledge of sports with a little common sense and decency.
So here is a look into the sports figures that made Detroit fans go nuts. Enjoy the rather frustrating road down memory lane.
No. 11 Sergei Fedorov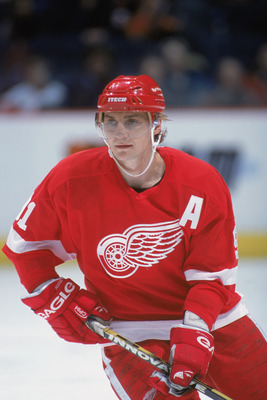 Ian Tomlinson/Getty Images
Perhaps a bit of a surprise to make the list, but Fedorov really had a love hate relationships with Detroit. Early on in his career he could do nothing wrong. He was considered one of the best players in the NHL and is still the only player to win the Hart and Selke Trophies in the same year
He quickly rose to be the second most beloved Wing on the team. Some will argue that his desire to top Steve Yzerman in the heart of the fans is what would lead to his downfall.
He ranked with the top players of his era and many felt he could be the best, if he tried. There was this cloud that hung over Fedorov that claimed he did not always put forth 100 percent effort.
When you can score at will and dominate at both ends of the ice, it is difficult to repeat that night after night. Perhaps that was the case or maybe the effort concerns were true. Either way that perception hung over him. Regardless, as the rock star routine grew old in Detroit, this lack of effort was often mentioned.
In a town full of blue collar workers and on a team that mimicked the hard working, no frills mentality, Fedorov often did not fit in. As his stats and stature grew around the NHL, he seemed to develop a diva complex. There was the rumor that he had married tennis star Anna Kournikova. Okay so not much a rumor as he was the one who said it, yet her camp denied.
In 1998 things got worse. Fedorov was a restricted free agent and was after big money. The team and Fedorov went back and forth for months, which resulted in Fedorov missing 59 games. During the dispute he angered his fellow Russian teammates when he failed to join them on the historic Stanley Cup trip to Russia. He further angered fans when he declared that he would never play for Detroit again.
Then the Hurricanes offer happened. Carolina offered Fedorov a six year $38 million deal. On the surface, the $6.3 million average could easily be matched by the Wings.
However the Hurricanes front loaded it and with the two bonuses, one of which was payable if the team made the conference finals, the Wings would be on the hook for a huge first year sum. The Hurricanes would be lucky to make the playoffs, let alone go any rounds, so that bonus was aimed at the Wings.
The Red Wings did match the offer and Fedorov helped the Wings win their second consecutive Stanley Cup. Fedorov played great for the remaining regular season and playoffs. He ended up making $28 million dollars for only playing in 43 games, which just did not sit well with many fans. That is still the most a player has ever received for a single season of hockey and one of the highest salaries any pro athlete has been paid for a single season.
He eventually left the team as a free agent 2003. He rejected two offers from the Red Wings that would have paid him more than the deal he signed with Anaheim. After he left he was often critical of the Wings during interviews which did not endear him to fans.
While you will still see some fans wearing his 91 jersey around Joe Louis Arena, you will also hear many more, call him a bum, lazy and greedy.
No. 10 Rasheed Wallace

http://www.youtube.com/watch?v=GjPgAQQst7U

Rasheed came to the Pistons in 2004 and helped them win their first championship since 1990. After being the poster boy for bad boys around the NBA, he did very well in his first season with the team.
Known for his on-court temper, Wallace is the career leader in technical fouls. Despite being an immensely talented player, his sometime lack of effort along with frequent game ejections and suspensions grew tiring. The issues with his temper and effort would often be mentioned later in his career in Detroit.
In 2005, the team was going for another championship. They were leading game five against the San Antonio Spurs in the finals. A win would have given them a 3-2 series lead. On the inbounds pass Wallace completely left Robert Horry. Horry had earned a reputation as one of the best big game clutch shooters the league had ever seen. He continued that legacy as he hit a wide open three point shot to give the Spurs the lead and the win.
The Pistons would go on to lose that series and many pointed to that play as being the pivotal moment. Still it was mostly forgiven at the time; however, as the team's success started to decline over the next several seasons, Wallace was often a scapegoat. From his sporadic play to his on court antics with the refs, fans just got tired of it.
By the end of the 2009 season he was a free agent and the team did not offer him a contract. While fans did not necessarily cheer that he was gone most were happy to see him go. He is still appreciated for helping bring the championship year in 2004 but the drama just wore people out.
No. 9 Uwe Krupp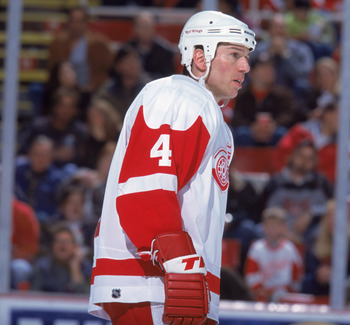 Tom Pidgeon/Getty Images
Now Krupp was not with the team that long, which is part of the reason that he makes the list. He was signed to a four year deal but only played 32 games. He battled several injuries during his first 22 games with the team in 1998. The injuries greatly slowed him and he was not the player the team thought that they were getting for a four year $16.4 million contract.
Injuries occur in any sport, so it may frustrate fans, but nobody was mad at Krupp yet. That all changed when he was found to be racing dogsleds instead of rehabbing a herniated disk in his back. A battle ensued between the Wings and Krupp as the team tried to have his contract voided. Krupp filed a grievance and eventually received roughly half of the $8.2 million that he was seeking.
Fans looked at the fact that two weeks after he became too injured to play hockey he was riding at a race. Many felt that their team have been duped into signing a player who already had injury issues. Dog sled racing may not be that dangerous, but the accusations flew that he was not really injured, was too lazy to rehab or just did not care. This is why fans turned on him.
He did came back to play ten games during Stanley Cup winning 2002 season but was left off the cup for not playing enough games.
No. 8 Juan Gonzalez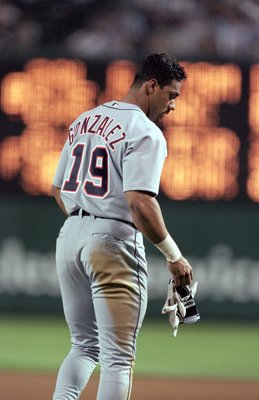 Jeff Gross/Getty Images
Is it possible to hate a man who ended up saving your team millions of dollars? In the case of Juan Gonzalez it is.
Gonzalez had spent his early career with the Texas Rangers and was one of the best players in baseball. He was a two time MVP and appeared to be on track for Hall of Fame career. It was a shock when the Tigers were able to acquire him in a nine player deal for the 2000 season. The Tigers were opening their new stadium, Comerica Park, and now believed that they had their superstar to go along with it.
Gonzalez was in the last year of his contract and the team wanted to make him a permanent fixture in Detroit. They offered him an eight year, $140 million contract which was the largest contract ever in baseball to that point. He turned them down, which angered fans.
That rejection combined with a slow start with the team did not endear him to fans. By mid season he was demanding that the fences be brought in if the team had any hope of resigning him. The team realized their mistake and tried to trade him to the Yankees but he refused to play for them and nixed the deal.
The Tigers gave up several players in order to get Gonzalez but it would have been worse if he had accepted that large contract offer.
No. 7 Tim Cheveldae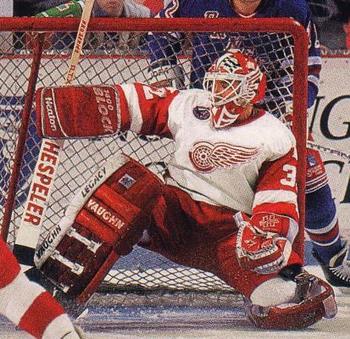 Cheveldae was the whipping boy of Detroit. While he was not outright hated, he was often blamed for the team falling short in the playoffs.
He played in Detroit for five seasons before being traded to make room for a rising young start named Chris Osgood. He was an average goalie but his losing record in the playoffs is what drew the wrath of fans and made him become the scapegoat for all things wrong with the team.
No. 6 Keith Premeau

http://www.youtube.com/watch?v=goHBNGLlQgg

Premeau falls into the same category as Cheveldae. If it wasn't Cheveldae's fault then it was Premeau's fault that the Red Wings lost.
Premeau had a high standard to live up to. He was drafted third in 1990 ahead of such players as Jaromir Jagr, Keith Tkachuk, Martin Brodeur, Doug Weight and Peter Bondra. That burden proved to weigh heavily on him during his time in Detroit.
He played his first five seasons with the team and by his third season when he scored 31 goals and 73 points, it looked like Detroit had their next great player. During the playoffs that year, though, he did not score any goals in the seven games he played. That was the year the San Jose Sharks shocked the top seeded Wings in the first round of the playoffs. In fact he often tended to disappear come playoff time, as he scored one goal or less in four of his five playoff seasons with the team.
Fans hated that the team picked him over Jagr and let him know about it after every mistake. A contract holdout did not help his image with fans either. He was finally traded in a deal that would bring Brendan Shanahan to the team as the final piece to their Stanley Cup puzzle.
No. 5 Charlie Villanueva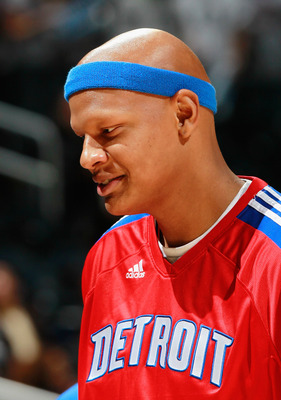 Kevin C. Cox/Getty Images
Charlie V is one of the few current players that are on the list. He signed a five year $35 million contract with Pistons in the summer of 2009. His stats dropped in the 2009-10 season and somehow got even worse the following year as he hit career lows in several areas.
He was paid to come in and start on the team, but now is nothing more than an overpaid sub. Fans have tired of his dislike of playing defense and his apparent fear of rebounding.
After several seasons near the top of the league, the Pistons have fallen apart the past couple of years. Villanueva is one of the leading culprits for their demise. Fans hope that the team finds some way to get him out of town as he has become one of the worst free agent signings in team and Detroit history.
No. 4 Any Lions QB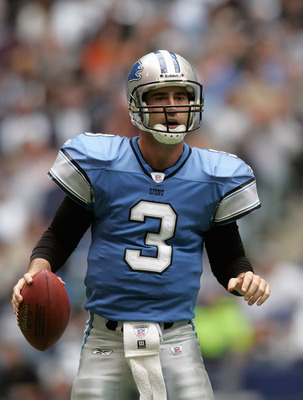 Ronald Martinez/Getty Images
Joey Harrington, Andre Ware, Jon Kitna, Scott Mitchell, Mike McMahon, Charlie Batch, Dan Orvolosky, Jeff Garcia, Chuck Long. Go ahead, catch your breath…….. Eric Hipple, Bob Gagliano, Erik Kramer, Dave Krieg, Gus Frerotte, Stoney Case and…..well you get the idea.
Any young QB that is drafted is compared to Bobby Lane, who quarterbacked the team to three championships in the 1950's. Since he was traded away no quarterback has been able to lead the team to any sustained success.
Free agents have been brought in, top draft picks wasted, projects players busted and all hope dashed. Coach after coach, new system and system and nothing seems to work. Occasionally a quarterback may put up a good season, raising the hopes of the fans. But eventually they all fail.
When a new QB comes into town the fan base shows tremendous if not blind support. Eventually just about every one of them hears the same chant, the name of the backup.
The Lions have now pinned their hope to Matt Stafford. He has come into town with high hopes, just as many before him, but his injury issues the first two seasons have fans wary. Only time will tell if he can break the trend or just becomes another in a long line of failures.
No. 3 Bobby Higginson
Rick Stewart/Getty Images
It is hard for many to remember that Higginson was good, for a short while. He was solid at the plate as well as in the outfield. In 2000 he hit .300 with 30 homers, 44 doubles and 15 steals. He also led the majors in outfield assists twice. The team thought that he was still on the rise and signed him to a four year $35 million dollar deal.
He quickly fell apart as he only batted .277 with 17 homers the next season. By 2003 he was hitting .235 as the team lost a horrific 119 games.
The once promising career was gone and the fans hated that he was getting paid so much and producing so little. The team went through one of the worst stretches that any MLB team has ever gone through. Higginson received a lot of the blame for the team's woes.
No. 2 Brandon Inge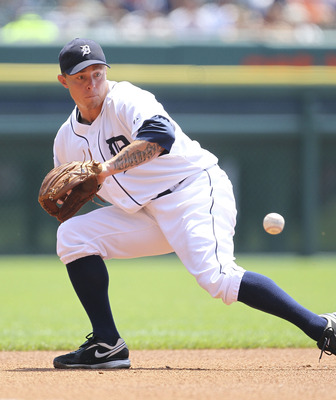 Leon Halip/Getty Images
Brandon Inge was once a much loved Tiger. Over the past couple of seasons he has fallen out of favor and this year has hit an all time low.
The fact that fans supported him for as long as they did is rather surprising. He has never had a consistent or productive bat. For every stretch where he as shown some decent power or hitting he then puts up a streak at least three or four times longer with just bad play. His fielding has been up and down as has led the league in both errors and put outs in his career.
He complained when Ivan Rodriguez came to the team, as he felt that somehow he was the better option than the hall of famer. When Miguel Cabrera joined the team Inge wanted to be traded. Somehow the team still found a place for him and for reasons no sober person can understand, they signed him to a two year $11.5 million deal in 2010.
His batting has never been good but this season he hit only .177 before being sent back to the minors. His fielding at third base had improved prior to this season but even that disappeared. By the time he was sent down to the minors he was the worst starting third baseman in both batting and fielding in the league.
Fans had lost patience as he played game after game this season and produced nothing. Once he went to the minors fans thought that all would be better. His replacement was outplaying him by over 120 points and had nearly caught up to his RBI total in only 15 games.
Fans went nuts when Tigers coach Jim Leyland announced that Inge would be placed back in the lineup upon his return and that he would play against left handed pitchers. Nobody understood how the role could be handed to him without any need to earn it.
Leyland looked like a genius, for a night, when Inge had two hits and two RBI's in his first game back. Since then the same old Inge has returned as he has gone 2 for 13. Sadly, as bad as that streak is, he has still raised his average to .180 on the season.
Inge further irritated fans in an August 24th game where his defensive gaffe ended the game. With the bases loaded and two outs in the 10th inning a ground ball was hit to Inge at third base.
Now baseball101 tells us all your best two options are to either tag third or throw to first. The runner on first had a big leadoff and the batter was a slow runner so the first base play seemed to be the obvious play to everyone in the stadium but Inge.
Instead he goes to second base; surprising the team's second baseman as he was late in covering the bag. The runner on third barely took off running as the out seemed so easy. Inge's play was bad but forgivable, at least until after the game. He egotistically stood by the play claiming that it was the right play.
No. 1 Matt Millen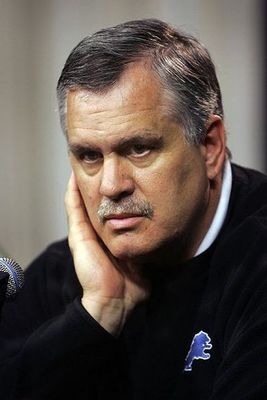 http://blog.mlive.com/ottoman-empire/2010/11/will_matt_millen_ever_learn.html
This really cannot come to a surprise to anyone. Millen is easily on the short list of worst general managers in the history of all sports. If someone tried to intentionally sabotage a team they would be hard pressed to be as bad as Millen was.
He took over a team that went 9-7 the year before and drove them into the ground with a 2-14 record in his first season. He had an eight year record of 31-97, the worst in NFL history.
He simply could not judge talent as draft pick after draft pick were busts. Charles Rogers, Mike Williams and Joey Harrington quickly come to mind as the most obvious, but sadly he drafted very few NFL caliber players during his time. Once players were cut from the team, very, very few were able to hold onto any significant role with other teams. That is a clear indication as to how bad his judgment was.
He would finally be fired during the 2008 season but as early as 2005 a "Fire Millen" chant craze began to sweep the area. Of course the chant would be heard at Lions games but it spread to college games, Pistons and Red Wings games. Soon it even went on the road and non sporting events would also hear the chant. Fan protest spread beyond the chant to and Orange out, where fans dressed in the road team colors, and an angry fan march.
Finally Millen was fired and quickly escaped out of town. He never faced the fans, never admitted wrong, and never apologized for ruining the team. It is hard to imagine any other sports figure taking his special perch among the worst of the worst.
Keep Reading

Detroit Red Wings: Like this team?