Colorado Avalanche 2011-12 Season Preview: D Kyle Quincey
January 16, 2017
Jim McIsaac/Getty Images
Last season is one Kyle Quincey would like to forget.
Granted, last season is one Colorado players, fans, and staff would like to forget.
Quincey suffered a disastrous first quarter of the season, and ultimately went down with a shoulder injury during an early December game in Washington.
After suiting up for only 21 games, Quincey had only one point to his name—an assist—and a minus-5 rating.
Needless to say, last season was a catastrophe.
But 2011-12 is a new season, with renewed hope and expectations.
Quincey is now Colorado's number-two defenseman when it comes to offensive production, behind only Erik Johnson.
The Kitchener, Ontario native has averaged 34 points in two full seasons in the NHL, excluding spot duty for the Red Wings from 2005-2008 and last year's injury-marred season.
When he is healthy, Quincey can put up points from the blue line. After the departures of John-Michael Liles and Kevin Shattenkirk, Quincey's skills will be necessary for the success of the team.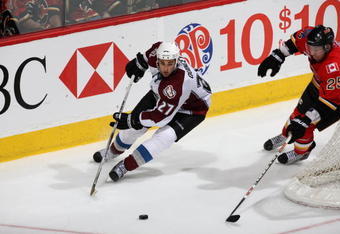 Dale MacMillan/Getty Images
If he is not on the top defensive pairing with Erik Johnson, Quincey will likely be paired with Ryan O'Byrne or Ryan Wilson. Both O'Byrne and Wilson play a more defensively focused game, which will free up Quincey to be a little more creative with the puck and try to make some plays in the offensive zone. 
That's not to say he won't contribute defensively. Quincey put up 76 PIM in 2009-2010 with the Avalanche, so he isn't as soft as guys like Liles. He is generally pretty solid in the defensive zone, but expect him to make some mistakes in his own end, like any younger defenseman is prone to.
At 26 years old, Quincey is entering what is considered the prime of his career. If he is able to stay healthy and progress through a normal season, he may see his output approach the 50-point mark.
If he gets injured or can't get on the score sheet, he may slide into a slump that could ultimately see him end up on the trade block.
A stat to watch will be Quincey's power play production. Out of the 67 points he scored during his two successful seasons with Los Angeles and Colorado, 38 of which came on the power play. He will likely be the quarterback for Colorado's second power play unit, so he should see ample time on special teams.
It will be interesting to see how Quincey responds to the new pressure and responsibility of being one of the top Avalanche defensemen. One would hope that a 26 year old has the maturity to be able to deal with that pressure effectively and improve his play through it.
As was mentioned earlier, a good portion of the team's success next season may rest on Quincey's shoulders. After Johnson, Quincey is the only go-to offensive guy on the blueline. Rookies like Stefan Elliott may very well make the squad, but they can't be counted on to produce consistently.
It will be up to Quincey to turn around his misfortune and have a break-out year. No one on the team needs it more.