Pittsburgh Penguins Remain One of the NHL's Toughest Teams
August 26, 2011
Uncertainty befalls the Pittsburgh Penguins during this upcoming season in no subject greater than the health of captain Sidney Crosby.
Though this creates an immense discomfort for the Penguins' organization and fans, one slightly pleasing truth exists in the knowledge that if Crosby does return, nobody will be able to touch him without retribution hanging overhead.
However, the protective force has been slightly altered this offseason.
Last season's roster included Eric Godard, Deryk Engelland, Mike Rupp and Arron Asham. All three of Godard, Engelland, and Rupp are capable of taking on any player in the NHL.
Godard is the best enforcer of the three, with Engelland's fighting skill on the rise and Rupp a very sufficient fighter. Asham is a middleweight who can take on similar-sized players such as Dan Carcillo or Zenon Konopka, but has shown the ability to battle bigger fighters as well.
Despite the embarrassment Pittsburgh suffered at the hands of Trevor Gillies, Matt Martin, Micheal Haley and the rest of the New York Islanders, the Penguins were still one of the NHL's toughest teams last season.
Most teams only have one player capable of handling business like Godard, Engelland and Rupp can. For anyone to try taking runs at skilled players like Crosby or Evgeni Malkin, there was always a call to answer.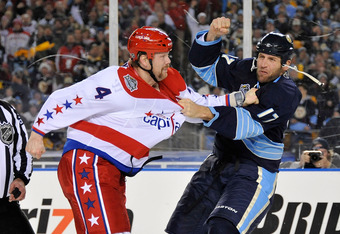 Jay Rosehill of the Toronto Maple Leafs tried his luck and went after Crosby. The entire line of Penguins on the ice went after him, with Godard finishing the business.
Godard also jumped off the bench when the Islanders' Haley was skating down the ice to fight goalie Brent Johnson.
Pittsburgh practically dared other teams to try to push them around. Only one got away with it.
This past summer, Godard signed with the Dallas Stars and Mike Rupp became a member of the New York Rangers.
It seemed as though Engelland would be relied on to fight off heavyweights by himself this season, with the re-signed Arron Asham taking care of what else would come.
Then Pittsburgh won the arms race.
On July 13th, General Manager Ray Shero signed the NHL's best fighter, Steve MacIntyre.
"Big Mac" has fought 21 times in the NHL, with 16 wins. The only fighters he's lost to in the NHL are Derek Boogaard, Brian McGrattan and Eric Godard.
He established himself as one of the league's best with wins over Donald Brashear, Colton Orr and Wade Belak before his devastating knockout of Raitis Ivanans this past season.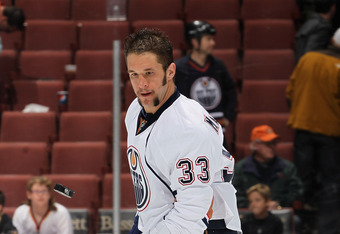 His right hand put Ivanans out of action for an entire season.
When a player drops his gloves against someone as dangerous as Steve MacIntyre, he's one punch away from having his career ended.
With Crosby's concussion issues, it's almost a sure bet that if anyone takes a run at Pittsburgh's captain while MacIntyre is on the ice, the 250-pound behemoth will not hesitate to pick up every penalty in the book in order to give that player a beating.
It's his job.
An enforcer is not meant to score, or really provide any sort of contribution to the game other than protection and space for the players who make millions of dollars by putting the puck in the net.
A guy like MacIntyre only has a job if he ensures nobody stops players like Crosby and Malkin from doing theirs.
This past season, Brad Staubitz of the Minnesota Wild decided to hit Edmonton's Magnus Pajaarvi. MacIntyre immediately showed that he is very capable of handling his workload by going after Staubitz.
MacIntyre should only be expected to play between 15 to 25 games during this season, roughly the same amount that Eric Godard was utilized.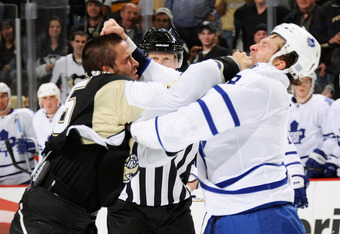 He'll be in the lineup when the Penguins feel the extra muscle is needed, during games against other tough teams such as the Ottawa Senators, Boston Bruins and the entire Atlantic Division.
When "Big Mac" isn't in the lineup, Engelland should be able to handle the business. Though a relatively small player for the role, Engelland has shown the ability to take down some of the league's best fighters.
Along with dropping Colton Orr, Engelland bloodied Jody Shelley of the Philadelphia Flyers this past season.
Engelland's combination of strength and punching power makes him a fearsome player capable of protecting his teammates.
Even without MacIntyre, the one-two punch of Engelland-Asham is still better than what most teams bring onto the ice.
Pittsburgh enters this season with important questions surrounding the health of key players.
Should the Penguins roster include a healthy Sidney Crosby, there will be no question as to whether or not he'll be protected.