NHL Free Agent Rumors: 5 Free Agents Who Could Help the New Winnipeg Jets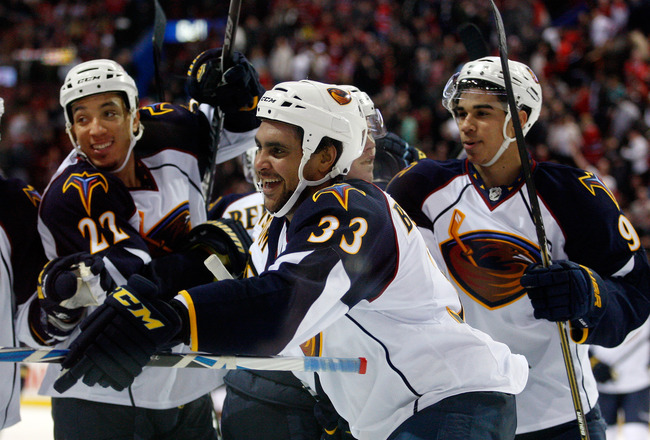 Richard Wolowicz/Getty Images
In some ways, the Winnipeg Jets have had a quiet offseason. That may sound strange considering their offseason included buying the Atlanta Thrashers, moving them to Winnipeg and re-naming them the Jets.
That was spectacular, but they were quiet when it came to transactions and free agency.
To date, their biggest free agency signing was re-signing unrestricted free agent, and captain, Andrew Ladd. Had Ladd been able to shop himself, he would have been a hot commodity.
The Jets are loaded with some young and talented players, but are anything but a lock to make the playoffs.
They struggled last year to score and had some issues on the blue line.
Now that the major free-agent wave is over, who is left that could help the Jets?
Believe it or not, there are some guys that are still available and could help the Jets. Some of these guys could help the Jets take one more step towards the playoffs, which could make this first season back in Winnipeg more exciting.
Here are five free agents who could help.
First, a Word About RFAs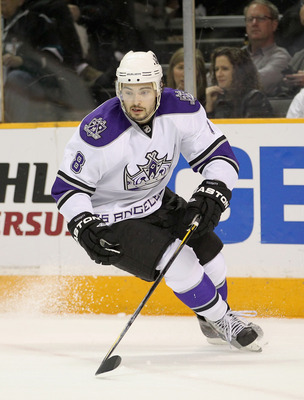 Ezra Shaw/Getty Images
There are two big restricted free agents still sitting out there who are un-signed. Those two are Drew Doughty and Brad Marchand.
Obviously, either of those two guys would be tremendously exciting to see in the new Jets gear, and would be a huge upgrade.
However, we must remain realistic and calm about these things.
First off, to sign one of these guys, the Jets would have to put in an offer sheet, and even then you're not guaranteed to land the player. Because of that, the price tag would be astronomical.
The Jets aren't in a position to break the bank right now for either of these two guys.
So, as exciting as it is to think about, it isn't going to happen, so we won't go into too much detail about either of these good young players.
Nick Boynton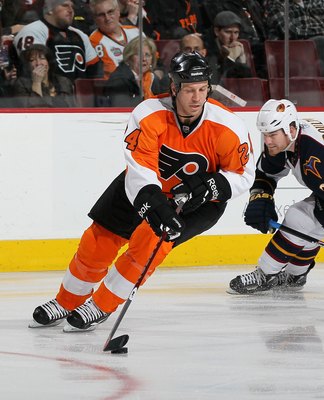 Jim McIsaac/Getty Images
The Winnipeg Jets, while still in Atlanta, struggled on defense last season. They were 29th in the league in goals allowed and their defenseman combined for a horrible minus-59.
Boynton is getting up there in age and wouldn't be expected to play on the top two defensive pairings, but he could provide some depth, experience and leadership from the bottom.
He has played in over 600 games in the NHL and has always been a solid stay-at-home defenseman.
That is something the Jets and their goaltenders would love to have more of in 2011-2012.
Jarkko Ruutu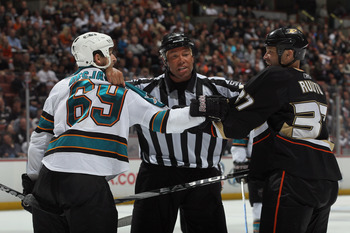 Jeff Gross/Getty Images
Ruutu will never be confused as an offensive threat. That's not his game. He has managed to turn being a pest into a career that has seen him play in over 600 NHL games.
So what could he bring to the Jets?
He would bring some grit, some sandpaper and probably some anger from opposing teams and fans. When in control, these can be good things as he knows how to get under guys' skin and take them off their game.
Ruutu could be an asset to the Jets. They are a very young team and Ruutu could be a guy who could anchor their fourth line and cause some havoc.
If nothing else, he would be entertaining.
Sergei Samsonov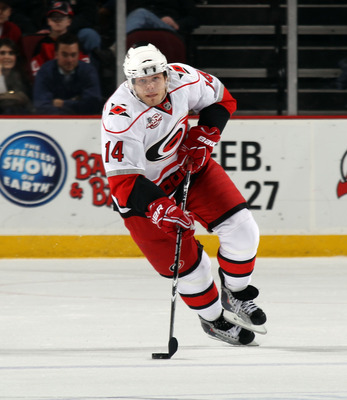 Bruce Bennett/Getty Images
Samsonov is another veteran the Jets might want to kick the tires on to help their scoring depth as a third liner.
At 32 years old, his best years are behind him, but the Jets might be able to squeeze 30 to 40 points out of him. He would be an upgrade to the third line, which right now looks like Tanner Glass, Eric Fehr and Tim Stapleton.
Those three guys combined for 37 points last season, while Samsonov collected 40 for Carolina and Florida.
Signing Samsonov could bring some excitement to Winnipeg's bottom six forwards.
J.P. Dumont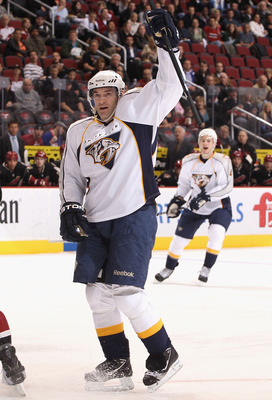 Christian Petersen/Getty Images
Dumont's contract was bought out by the Predators this offseason, making him an unrestricted free agent. Once a perennial 20-goal scorer, Dumont slipped last year and only scored 10 times.
At 33, there is some risk that his skills have left him, but he is only two years removed from a 45-point season. Those 45 points would have been the third highest point total amongst Jets forwards last year in Atlanta.
The Jets are young and need more scoring out of their forwards.
Dumont would probably be a third-liner, a line that right now doesn't have a lot of goal scorers on it, and could provide some scoring depth and veteran leadership.
Dumont is not the kind of player that you build around, but he could be a valuable piece to augment the youth movement in Winnipeg.
Not to mention, he would probably come cheap.
Teemu Selanne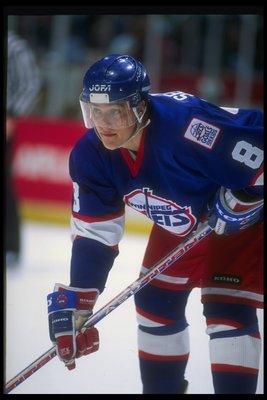 Al Bello/Getty Images
The Finnish Flash has been contemplating whether or not he wants to lace them up one more time. At 41 years of age, you can't blame him for thinking about retirement as most guys his age have their feet propped up on the recliner.
However, last season Selanne showed he can still contribute, scoring an impressive 80 points with the Anaheim Ducks. That production has him considering a return.
It appears that any return would most likely be with the Ducks, where he is a fan favorite and where he won a Stanley Cup. Would he consider Winnipeg?
After all, he broke in with the original Jets in 1992 and scored an incredible 76 goals that rookie season. He is equally beloved in Manitoba, and Jets fans would be pretty excited to see him in a Jets uniform.
Signing him would be more than publicity stunt, though.
The Jets could use some scoring in their top six, and Selanne could provide some excellent veteran mentoring to Evander Kane and Alexander Burmistrov.
As unlikely as it seems, Selanne as a Jet again would be as exciting a free-agent signing Winnipeg could hope to make.
Keep Reading

Winnipeg Jets: Like this team?