Zach Parise vs. Ilya Kovalchuk: Who Should Be the Next Captain in New Jersey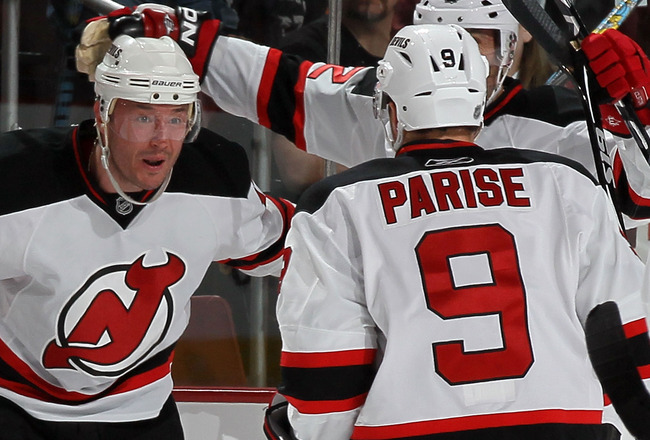 Jim McIsaac/Getty Images
Since the 2004-05 lockout season, the New Jersey Devils have fallen from prominence. With a proverbial carousel of coaches running through New Jersey and the departure of bona fide leaders including Scott Stevens, Scott Niedermayer and, most recently, Jamie Langenbrunner, the Devils do not currently have a captain.
Naturally, a Devils Nation-wide debate has ensued about who should fill the vacant captaincy role. A plethora of names have emerged, including Zach Parise, Ilya Kovalchuk, Patrik Elias and even Colin White before he was put on waivers. However, the two front-runners appear to be Parise and Kovalchuk.
In the next five slides, I will compare and contrast these two superstars by the criteria that are most important to being the next successful captain in New Jersey.
Past Relationship with the Team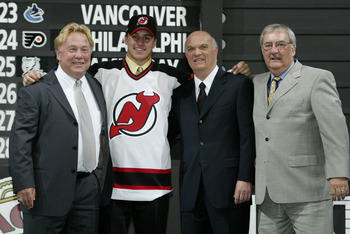 Elsa/Getty Images
Zach Parise was a fantastic pickup by General Manager Lou Lamoriello when Parise fell to the 17th overall pick in the 2003 NHL entry draft. From that point on, Parise has grown from the young face of the organization to the definitive franchise player.
Parise, a fan favorite, generously gives his time and enthusiasm to countless activities, which serves to promote the organization and deepen its relationship with the existing fans while simultaneously attracting new ones. In short, Parise has dedicated his career to the organization on and off the ice.
In contrast with Parise, Kovalchuk was brought in via trade during the latter half of the 2009-10 season in order to bolster an offense on a team looking to make a run at the Cup. As the Devils regularly make moves to bring in missing pieces prior to the playoffs, even elite forwards (e.g. Alexander Mogilny), nobody with knowledge of the team's history believed that Kovalchuk would be wearing red and black past the summer of 2010.
Lo and behold, Kovalchuk decided to re-sign with the Devils as an unrestricted free agent, passing up enticing opportunities in both Los Angeles and New York. Unquestionably, Kovalchuk has also demonstrated his loyalty to New Jersey.
Though Kovalchuk's decision to stick with the Devils last summer was valiant, it does not yet trump Parise's long marriage with the Devils.
Edge: Parise
Future Long-Term Stability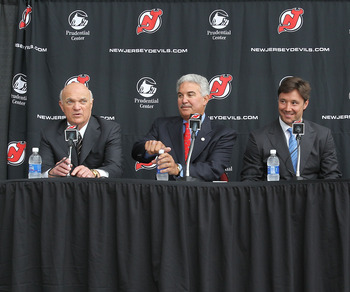 Bruce Bennett/Getty Images
Up until very recently, it seemed to most that Parise would always be a Devil. However, Parise's future with the Devils has been the subject of serious speculation as Lou Lamoriello failed to sign him to a long-term deal this summer.
As a result, unless he signs such a deal, and soon, Parise will become an unrestricted free agent during the summer of 2012, where he will undoubtedly be highly coveted by a number of other teams in the league.
Kovalchuk, on the other hand, has the luxury of a very secure future with the organization as a result of his record-shattering contract last summer. He is under contract for the next 14, count it, 14 seasons. Needless to say, Kovalchuk will likely don the red and black for most of, if not the rest of his career.
The recent controversy regarding Parise's contract has sent chills down the spines of the Devils' faithful and has created league-wide excitement now that a potential superstar could become available within the next calendar year. Clearly, between the two all-star wingers, barring injury, Kovalchuk's future long-term stability seems guaranteed.
Edge: Kovalchuk
On-Ice Performance
Bruce Bennett/Getty Images
Both of these players are at the top of their trade at left wing. Kovalchuk has made his mark as a career point-per-game player and an elite goal scorer with, quite possibly, the best shot in the entire NHL. He also significantly improved his defensive ability under mastermind coach Jacques Lemaire, and even saw some penalty-kill minutes.
Parise is renowned for his offensive talent as well as his defensive prowess. However, Parise suffered a season-ending injury only 12 games into last season when he tore his meniscus. The x-factor for Parise will be whether he can come back healthy and continue to be as productive as he was before his injury.
To claim that one of these players is superior to the other would be nonsensical as they play very different games. Parise and Kovalchuk are two immense talents and to give one the edge over the other hockey-wise would be splitting hairs.
Edge: Even
Passion and Experience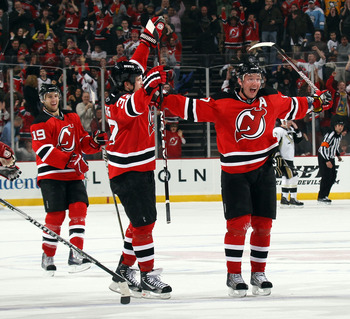 Bruce Bennett/Getty Images
As noted earlier, Parise has long been an important face in the Devils organization. Having joined the team just as the Scott Stevens-Scott Niedermayer Era was closing, Parise, the most talented player on the roster, seemed to become a leader by default.
He filled the role exceptionally, leading the Devils to tremendous regular season success. However, despite the Devils' being favored in many playoff series, Parise was never able to lead his team to any real postseason glory.
After contemplating why such a successful regular-season team could not find success in the playoffs for consecutive seasons, a logical conclusion is that the Devils lacked leadership. As the best player on the team, Parise cannot be held completely blameless for that lack of leadership.
Kovalchuk was given the captaincy in Atlanta, but not for the reason that most people assume. Nearly everyone will point out that Kovalchuk was simply the most talented player in Atlanta, ergo, he was made the captain.
In fact, Kovalchuk was awarded the captaincy at the request of the alternate captains, not because of his talent per se. This is a clear testament to the respect and high regard Kovalchuk's teammates have for him.
Kovalchuk also brings an energy to the game that is absolutely unrivaled by anyone on the Devils. He wears his heart on his sleeve when it matters most. He will drop his gloves and fight to energize his squad and then show extreme disappointment in himself when he does not come through for his team in the clutch.
When he scores, he electrifies the entire arena. Everyone, even opposing fans, can see that Kovalchuk simply loves the game of hockey. And at the end of the day, is that not what you want from your captain? Don't you want someone who can breathe life into a team by the sheer tyranny of his will and the blade of his stick? Nothing could possibly get a team more excited than watching their captain streak down the ice in a flash of red to score a game-changing goal.
Don't get me wrong, I love Zach Parise and I love the way he plays the game, but Kovalchuk has both the experience of being a captain and the ability to single-handedly bring a battered and broken team back from the brink of humiliation, as evidenced by the second half of last season.
The team looked to Kovalchuk for answers last year and he answered their call. Anyone who watched even a game last December could see that it was Kovalchuk who assumed the leadership role on a team without direction and once he did, the team flourished.
Parise was a fine leader for sure, but an organization like New Jersey, with a history of winning championships, needs someone who can lead by instinct and passion; someone who is willing to do whatever it takes to win, whether it be fighting to energize a deflated team or scoring a clutch goal to seal a victory.
Scott Stevens, "The Captain," was that kind of leader. He let his emotions bleed through his jersey— his passion for the game was the example by which he led. By no means am I saying that Ilya Kovalchuk is the leader that Scott Stevens was, but then again, neither is anyone else.
However, Kovalchuk has displayed exceptional leadership qualities as a Devil, and when push comes to shove, it is passion that drives leadership.
Edge: Kovalchuk
Winner: Kovalchuk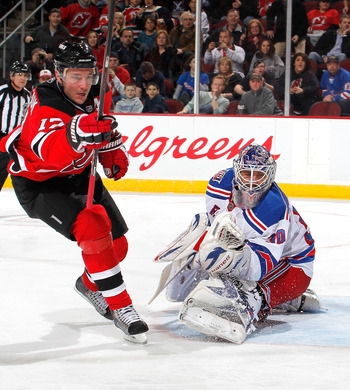 Parise and Lamoriello
Paul Bereswill/Getty Images
The tiebreaker in this debate is passion and experience and, as you can probably see, Kovalchuk gets the edge in that department. Parise would make a fine captain for most teams, but the Devils are not most teams.
They built a dynasty on the back of a captain who led by example with his emotions first and that is what the current Devils are desperately seeking now. To me, Kovalchuk is the best fit to fill that role for the Devils organization. And to anyone who wishes to debate that idea, I say: Bring it!
Keep Reading

New Jersey Devils: Like this team?