New Jersey Devils: 5 Biggest Question Marks of the 2011-2012 Season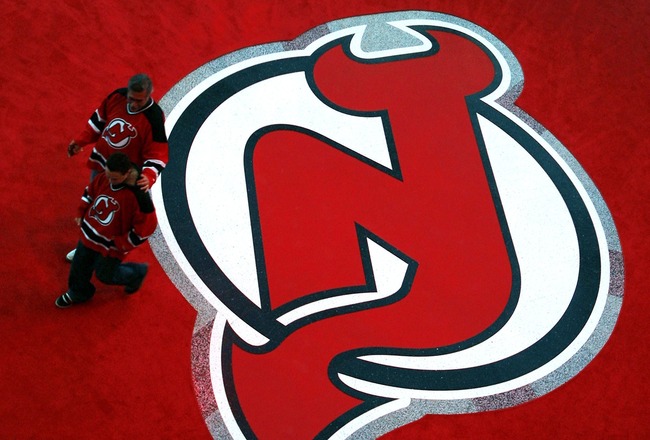 Jeff Zelevansky/Getty Images
To start the 2010, former New Jersey Devils standout John MacLean led the Devils to a 9-22-2 record as its new head coach. By Dec. 23, Devils management replaced MacLean with its former god of the neutral-zone-trap, Jacques Lemaire. The Devils suffered two injuries to stalwart goaltender Martin Brodeur and an injury to one of its few offensive stars, Zach Parise, and a myriad of other problems.
A funny thing happened though on the way to the offseason fishing boat. The Devils started winning. In response to the Devils trading away team captain Jamie Langenbrunner, the team went on a 26-7-3 run and nearly found themselves a playoff spot, but ran out gas with a loss to the Montreal Canadiens on April 2. It was the first time since 1996 that the Devils did not make the playoffs and the first time in 20 years the Devils would finish the season with a losing record.
The 2010-2011 season exposed some problems with the Devils, but also showed some promise with the improved play of Ilya Kovalchuk and the inspired play of backup goaltender Johan Hedberg. These are five important questions that hold the key to whether the Devils will rebound to it tradition of excellence or fade into mediocrity.
How Will the Devils Respond New Head Coach Peter DeBoer?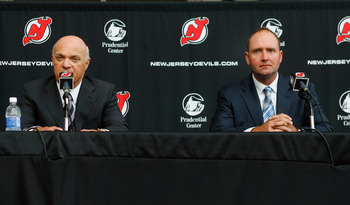 Has Lou Lamoriello found the right man?
Andy Marlin/Getty Images
Peter DeBoer found moderate success in his first year with the Florida Panthers in 2008-2009, guiding the team to its second-best point total in its history with 93. The Panthers finished ninth in the Eastern Conference, and that would be as close as the Panthers would get to the playoffs, suffering a 77-point season and a 72-point season. He was the OHL coach of the year in 1999 and 2000. He also won a CHL cup in 2003 and an OHL cup in 2008.
The Devils have had eight different coaches since its last Stanley Cup Championship in 2003. General Manager Lou Lamoriello has shown that he has no problem pulling the plug on a coach who doesn't live up to his high expectation.
That being said, Lamoriello believes he has his guy. DeBoer is in step with keeping the Devils' defensive mentality, but considers himself a hybrid. That could translate to more scoring for Parise and Kovalchuk. For DeBoer's sake, that success needs to happen early and often.
How Will Zach Parise Rebound from His Knee Injury?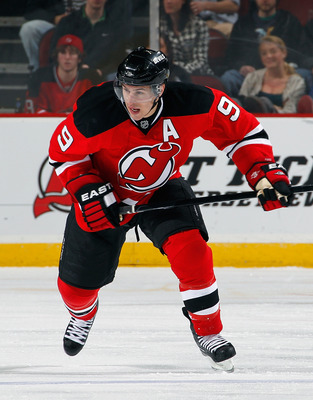 Paul Bereswill/Getty Images
Forward Zach Parise played all of 13 games last season due to an injured knee. The Devils made room to keep Parise by trading away Brian Rolston and signed him to a one-year deal. This should go one of three ways.
Parise, in a contract year, plays up to his usual standard and either earns a new contract or is traded if the Devils season tanks.
Parise's knee hampers him and the Devils either do not re-sign him or trade him if the season tanks.
The Devils lose Parise to another injury and are thankful to only have signed a one-year-deal.
Will Youth Be Served or Get Served?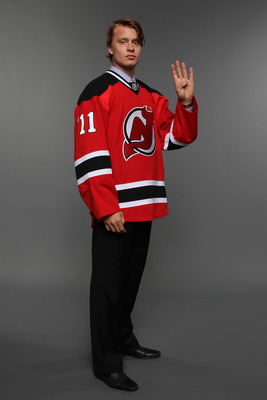 Adam Larsson could be a big part of the new-look Devils
Nick Laham/Getty Images
The Devils haven't exactly been known as an offensive juggernaut. That could change with the play of Nick Palmeiri and Mattias Tedenby. Both youngsters provided inspired play during the Devils second half run and seem to be on the path to solidify the first and second lines if their play stays course.
Not to be forgotten is Jacob Josefson, who played only 28 games due to an injured hand, but showed a great maturity in his puck-handling skills and could be the best of the three young forwards.
Mark Fayne, Alexander Urbom, Matt Taormina and Adam Larsson, among others, have the task of upholding the Devils' tradition of defensive dominance and have each shown great promise.
The Devils depth has been a huge question. These up-and-comers could prove Lou Lamoriello still has a few tricks up his sleeve or they could be the beginning of the end of his guidance.
Can the Devils Stay Healthy?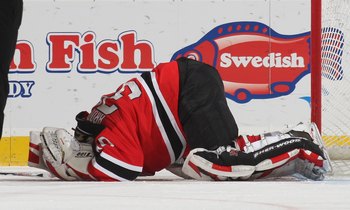 Bruce Bennett/Getty Images
With extensive injuries to Martin Brodeur, Zach Parise among others, the Devils had difficulty maintaining a strong healthy team. Center Travis Zajac has continued this trend into the new season with an injury to his Achilles tendon and is looking for a return to the ice sometime in November.
The Devils must remain healthy for obvious reasons, but one major reason is that there is a good amount of youth on this team. The Devils do not want to give their newbies a trial by fire, but rather let their veterans guide their future stars.
How Much Does Martin Brodeur Have Left in the Tank?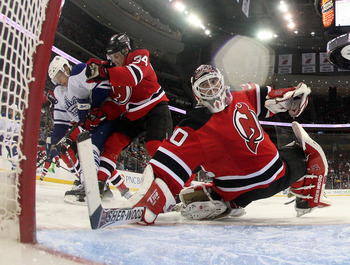 Bruce Bennett/Getty Images
The one constant of the Devils' success for nearly more than 15 years has been the dominant play of Martin Brodeur. Even after the departure of Hall of Famer Scott Stevens and a slew of other defensive household names, Brodeur has maintained an elite level of play.
Last year, however, could be an indicator of the end of the road for the NHL's all-time winningest goaltender.
Brodeur has struggled to stay healthy and consequently, his play has suffered. If Brodeur remains healthy and maintains his standard of solid play, there's no telling where the road may take the Devils.
If Brodeur suffers yet another injury or his play is as substandard as it was to start last season, this could be the swan song for the anchor of the Devils' franchise.
Keep Reading

New Jersey Devils: Like this team?