Chicago Blackhawks: Dan Carcillo's Potential to Go from Hated to Fan Favorite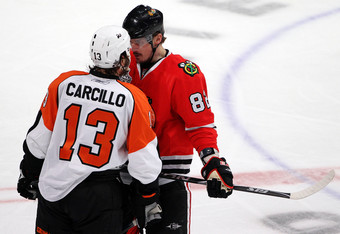 Dan Carcillo & Tomas Kopecky exchanging words during the '10 Stanley Cup Finals.

Dan Carcillo had a target on his back when he, and the Philadelphia Flyers, battled the Chicago Blackhawks for the 2010 Stanley Cup. Carcillo wasn't targeted because he was one of the Flyers' stars or even apart of Philly's core players. The Blackhawks targeted Carcillo, also known as The Car Bomb, because he was a head case.
What do you know? Less than two years later the Blackhawks signed The Car Bomb to a one-year contract. Yes, the 'Hawks signed the same player they tormented for six games before they were crowned Stanley Cup Champions.
Everything between Dan Carcillo and the Chicago Blackhawks is forgotten. Well, it's hard to forget Carcillo's hit on his own teammate, Jeff Carter, during the '10 Stanley Cup. But, the Chicago Blackhawks hoisted Lord Stanley's Cup when all was said and done, and Carcillo had to watch his then-foes celebrate on Philly's home ice.
It's apparent that both parties, Chicago and Carcillo, have moved on, and they're focusing on the task at hand. That task is to bring another Stanley Cup to the city of Chicago.
Carcillo has the potential to go from a terrible hockey player from the eyes of Chicago fans to one of the city's most loved athletes. The only thing Carcillo has to do is his job, and he doesn't have to try to be anything more.
Carcillo needs to be Chicago's enforcer. He needs to provide the 'Hawks with a physical presence the team lacked all of 2011, and he needs to bring that physicality at the appropriate time.
Carcillo's infamous hit on his teammate, Jeff Carter.
Every hockey player, especially enforcers, appear in the penalty box throughout the season, but it's when a penalty is assessed that can make or break the game for a team. Every game has the potential for two points in the standing, and as the Blackhawks learned last year, every point counts.
Carcillo needs to understand that he doesn't need to drop the gloves when his team is on the road with a three-goal lead, because his opponent, the home team, will have momentum from its sold-out crowd's whether or not Carcillo wins the fight. He doesn't need to prove how tough he is; everyone can see his toughness when he shows it at the right time and place; not when he's bored looking to throw his fists around.
A better time for Carcillo to man-up and drop the gloves would be at home, trailing in the middle of the second period or in the third, and put on a show for the Madhouse on Madison. Whether or not he wins the fight, he will fire up his teammates and, what may be more important at times, the crowd. It's surprising how often instances like this ignite a comeback that leads a team to victory.
Carcillo has the opportunity to play a significant physical role that was key to the Blackhawks' Stanley Cup run in '10. Combining physicality with playmaking and defense provided by the team's core (Jonathan Toews, Patrick Kane, Patrick Sharp, Marian Hossa, Duncan Keith and Brent Seabrook), veteran leadership and Corey Crawford's above average goaltending can be quite combination.
I'd be willing to place a significant bet that the Hawks' upcoming season will result in a postseason appearance, and it'll last longer than the team's '11 season.
Chicago's Dan Carcillo acquisition is one that may not have been very heartwarming for Blackhawks fans initially, but, with time, he has the potential to be a fan favorite.
This article is
What is the duplicate article?
Why is this article offensive?
Where is this article plagiarized from?
Why is this article poorly edited?

Chicago Blackhawks: Like this team?