2011-12 San Jose Sharks: Why This Has to Be Their Year, Part II
August 21, 2011
While I believe Doug Wilson is right that the San Jose Sharks' window is closing, just how fast that window closes is very disputable.
Pessimists say it could be in the summer of 2012. Optimists say as late as 2014.
Next week I will examine if it can go beyond 2014. For now, I see this core team having a chance to win a Stanley Cup together in at least 2013. But 2012 is the best chance they have, even if they do not sign another player.
Wilson could easily have about $4 million in cap room right now by simply sending the 21st skater down to the minors. Since space cannot carry over from season to season, if he signs someone this year to a one-year contract, it is irrelevant to next season.
But since the cap is not expected to change much and the more it increases, the more the salaries of Sharks' free agents will increase, it does tell us where they start in the budget process.
Torrey Mitchell ($1.367m), Andrew Murray ($575K), Jim Vandermeer ($1m), Colin White ($1m) and Antero Niittymaki ($2m) will be unrestricted free agents.
The Sharks do not need any of them. Only two of those players would be on the ice for even a half season. There are two young players between forwards, the blueline and in net within the organization capable of filling their roles.
That gives the team about $10 million in room. They will spend half of it on restricted free agent Logan Couture.
At least.
With his signing, the Sharks lock up the top-seven forwards, top-five defencemen, and the starting goalie. That is the core of any team, but it leaves no supporting cast currently on the NHL roster.
Thus they will also need to re-sign a bevy of other restricted free agents currently on the NHL payroll who are due as much or more than they made last season: Justin Braun (875K), James Sheppard ($725K), Jamie McGinn ($680), Benn Ferriero ($605K) and Andrew Desjardins ($540K).
The Sharks would need more than the aggregate $3.425 million they are currently paid to keep or replace their talents. Better deals occasionally happen, but no bargain player has made a major impact with the Sharks since Jeremy Roenick did it for a half-million before the 2007-08 season.
That still leaves the team with over $4 million in space. But it gives them only 10 forwards, six players on the blueline and one in net. That means the team would have to take on the contracts of at least three forwards, a defenceman and a goalie currently listed on minor league payroll.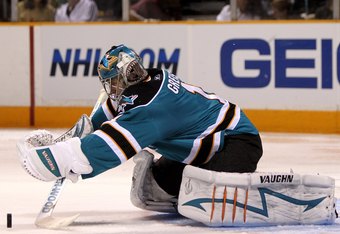 Some are free agents, but most can be re-signed or replaced at equal cost and effectiveness. The best bet is that they will keep their young talent so the prospect pool is not dry, and all the above are young enough to want to keep around.
Likewise, the best thing for the organization is to already think their own minor league prospects are worth re-signing and ready to play about 10-15 minutes a game. That is good for the long-term outlook.
For instance, if Thomas Greiss can be a decent and reliable back-up goalie to play 20-plus games a year, the team can call him up and happily take on his $587,000 contract and still have over $3.5 million left in cap room.
Again, the most favourable situation for the Sharks in both immediate impact and long-term cost for the remaining restricted free agents has them retained at a cost only a little more than what they are paid now: Nick Petrecki ($1.125m), Tommy Wingels ($875K), Brad Mashinter ($719K), Frazer McLaren ($575K) and John McCarthy ($525K).
That fully fills out the roster for less than their remaining space, but allows for no additional player's contract to be taken on without putting a player on injured reserve.
If necessary, the most costly player (Petrecki) on that list could be adequately replaced by Taylor Doherty because he may have less room for development. That leaves about another $300,000 in flexibility for a total of a half-million available in case salary increases are a little more than the inflationary average given in this example.
And players like Ben Guite, Mike Moore, Matt Pelech et.al., can be found for around the veteran minimum to give the team emergency players. They would not count toward the team's payroll unless there were injuries, in which case they would cost less than the player put on IR.
In other words, four things have to happen for this team to be as good next year as currently constructed (August 20, 2011):
1. If an extremely talented Logan Couture commands a salary closer to the Brandon Dubinsky ($4.2m) than Steven Stamkos ($7.5m), the Sharks can have their top seven forwards and top five defence intact with about $5 million in cap space.
We know he will cost somewhere between the two of them, and Wilson has done well in the past with these signings.
Thus, odds he will sign something between $5 million and $5.5 million are probably about 2:1. And even if he costs more, Wilson probably can make room by replacing a role-playing prospect or two with lower-priced veteran free agents, losing only role-playing talent from their long-term future but not hurting the team's immediate chances to contend.
Thus, the top 12 skaters are virtually a lock (perhaps 20:1) to come back with enough room for the rest of the scenario to play out...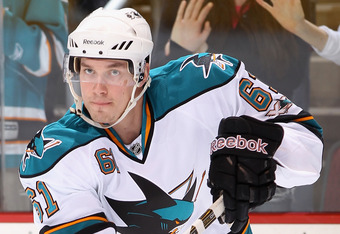 2. If almost every young restricted free agent is signed for little more than they are currently being paid, San Jose can fill out its roster. And the odds are at least 3:1 that they can get that or comparable production from similarly-priced talent among the 23 skaters under contract.
3. If they all improve from last year's contribution, the San Jose will not have a net loss on its every day roster from this season.
It is unlikely that all of them will improve, but odds are at least 2:1 that the whole, including at least one of the Sharks many goalies (Thomas Greiss, a re-signed Alex Stalock, someone else in the system or a low-priced veteran free agent), does well enough to be comparable to this season's role-playing talent on the ice daily.
4. If they do not have a significant injury to Antti Niemi or more than two at a given time to the forward or blueline units, their comparative drop in Worcester Shuttle (minor-leaguers who fill in for a few games here and there) depth will not be significant.
Once again, the chances this is the case are good: perhaps higher than four in five. But the odds are against none of the above happening (approximately 3:5).
And next season, the Sharks will not have the room to add a player like they can now.